A tour to Muay Thai Boxing Academy, Gym and CrossFit Facility
After investing more than three decades of his life in learning and teaching different forms of martial arts by visiting and staying with the maestros of every discipline, Dr. Kru Narender Kumar is the epitome figure of the Muay Thai cult in India. Kru Narender (Kru means Mentor or Master) who has devoted his life to the martial arts wants to disseminate and spread awareness in India also.
Started training at a very early age, Kru Narender has tried almost all forms of martial arts including Wushu, Karate, Tai Chi Quan, Choi Kwang, and Kickboxing and Muay Thai. To learn and practice the real Muay Thai, he went to Thailand and got trained by several grandmasters of Muay Thai, including the 'living legend' Grand Master Yod Thong Srivraluk, Grand Master Pranoom Aumpin (Kru Dang ) the 'undisputed king' of striking combat styles. Kru Narender has been trained by some of the most revered 'KRUs' (translation – mentor) of Thailand. He received Assistant Master (KruYai) the Silver and Red 13 Mongkok degree in Muaythai Boran in 2014 under the supervision of Grand Master Chinawut Sirisompan Woody and Grand Master Sane Tubtimtong and senior Master Pornkaew Limmongkhonchaikul .
After learning different forms of martial arts including Karate, Wushu, Kung-fu, Taichi Quan, Choi Kwang do & Kickboxing, Kru Narender finally adopted Muay Thai in 2004 as a one for-lifetime form to stick with. It was only Muay Thai that finally quench his quest for the perfect form of martial art as according to him he sought out Muay Thai as the most satisfying form of martial arts that can be practically used whether you are in the ring or off the ring.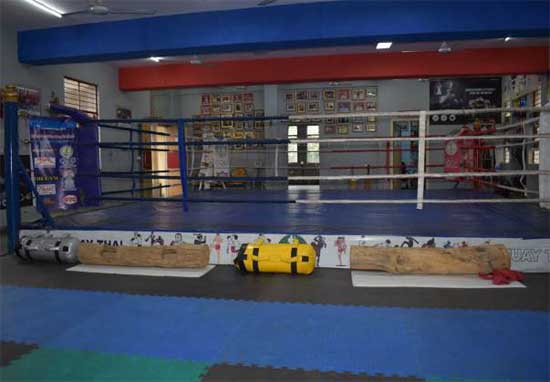 Institution of Muay Thai Boxing Academy
With a mission to bring the art in India, Kru Narender who believes one must pass his knowledge and skills to the future generation has instituted an exclusive Muay Thai Training facility in 2006 in association with esteemed bodies of Muay Thai India (Central Body), Rajdhani Association of Muay Thai (Delhi State Body) which is now operational from the 1st floor of a Sadiq Nagar based community hall and has all amenities and skilled professionals to sculpt out the fighter out of anybody. In addition, he has also introduced a plethora of facilities to meet up with an over-all athletic temperament of a person.
Running under the name of Muay Thai Boxing Academy, the facility has now added two more verticals under its roster viz. CrossFit and Gym. Spread over almost all 4-5 halls, Kru Narender has meticulously developed a holistic site to develop a mighty persona by availing a powerlifting corner, commando training dedicated space, all leg workout room and off-course a gymnasium where one can find two different machines for the same workout. According to Narender, this is just to avoid much waiting time by the athletes.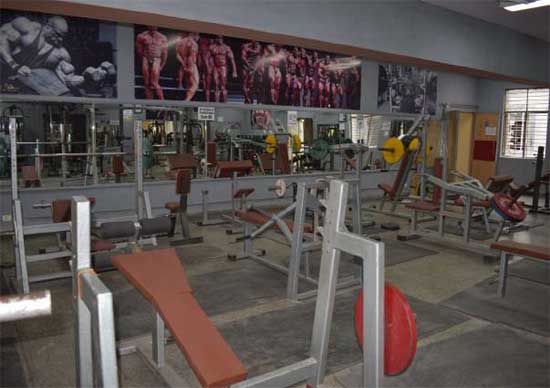 Accreditations and Trainers On-board
The institute also cherishes being affiliated with a certificate to conduct school and college games level upgrade programs and physical education training programs in India and abroad by the National Institute of Education Development Society & Sports Council (NIEDSSC Institute, India). While Addressing the certification programs, Kru Narender states, "We offer the best training to the students from our end in our Muay Thai Boxing Academy but the certificates that we provide to our students come up in association with the government bodies". He further adds "unlike other private institutes who just run for earning money, we run keeping government sports development authorities in cognizance, this how the probability of such candidates getting a government jobs increase."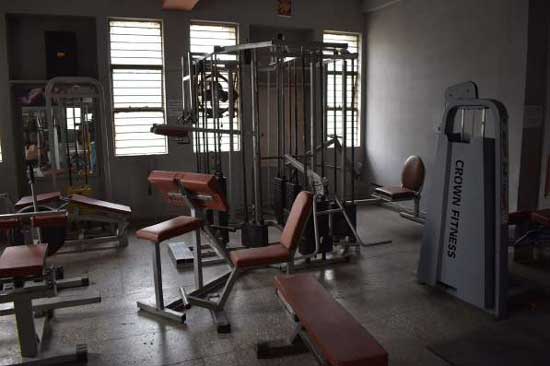 Cherishes to have all kinds of clients' better call students, Narender states, "got all kind of people here including athletes, working professionals, students, advocates who generally come to do Muay Thai and fitness". Talking about the trainers at the academy, Narender enlisted a few names and said, "We got 3 gym trainers and 6 Muay Thai. Generally, my previous students are the ones who train here, trainers like Harish, Lalit, Aditya, Dharmendra Bhati, Mahesh Namdevan, Ayush and one female trainer Saira are my previous students who have proved themselves in their respective fields whether take it in bodybuilding or Muay Thai Combat Sports,". The timing of the academy and the gym goes like: 6 am to 10 am to 4 pm to 9:30 pm.
A Tour Muay Thai Boxing Academy, Gym and CrossFit Facility
Giving a tour to his wide-spread Muay Thai gym and CrossFit Facility, Narender showed us a dedicated room full of leg workout machines, nothing but leg muscle one can do. Loaded with iron finish heavy leg machines, one can find different sorts of machines for strengthening their leg muscles. Following the dedicated leg workout room, Narender also shows us a wide-open area in the middle of the facility, where he trains students in different sorts of commando training and other functional training like rope climbing and wall hanging. Just adjacent to the wide-open space, there is a huge oldschool gymnasium which got all plates made of iron and press machines twice in number. While telling about this, Narender explains, "As we don't want our students to wait in the queue while doing their chest press or any other workout, we installed two chest press machines, two legs press machines and two dec fly machines." Keeping abreast of the emerging cult of CrossFit, Narender also spaces huge rubber tires along with other functional training utilities.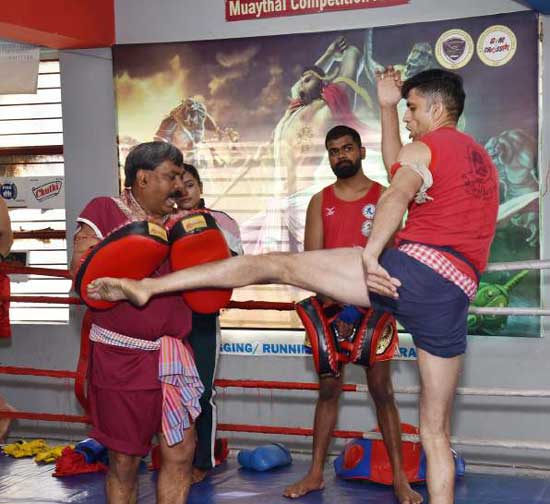 Moving ahead Narender also showed us some of the makeshift weights and customized equipment that he gets done. In a bid to develop specific kind of equipment which was not available at the time and import most of the pieces of stuff while expanding his Muay Thai Academy, he understood the need of bringing a company to manufacture such gears, and subsequently, he started manufacturing such gears under the name of Steel Knuckles. However, due to less amount of demand in India, Narender had to defunct the manufacturing. This simply shows still India has to go long way in this particular form of Martial arts.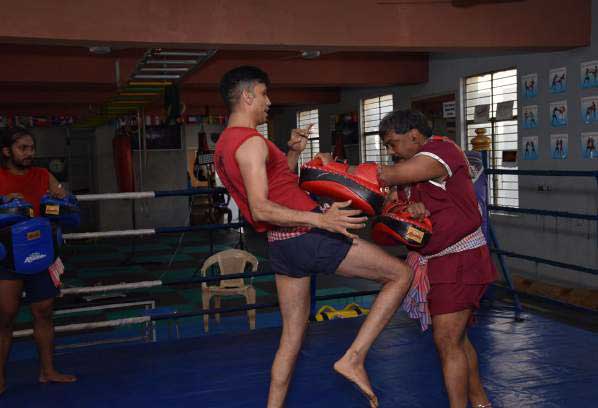 On the final note, Kru Narender concludes, "Muay Thai is the toughest yet scientific form of martial arts, besides if we infuse fitness to the training it delivers incredible results by bringing both altogether self-defense and fitness. Muay Thai brings a balance of both mental and physical attributes of our body, so people should do this."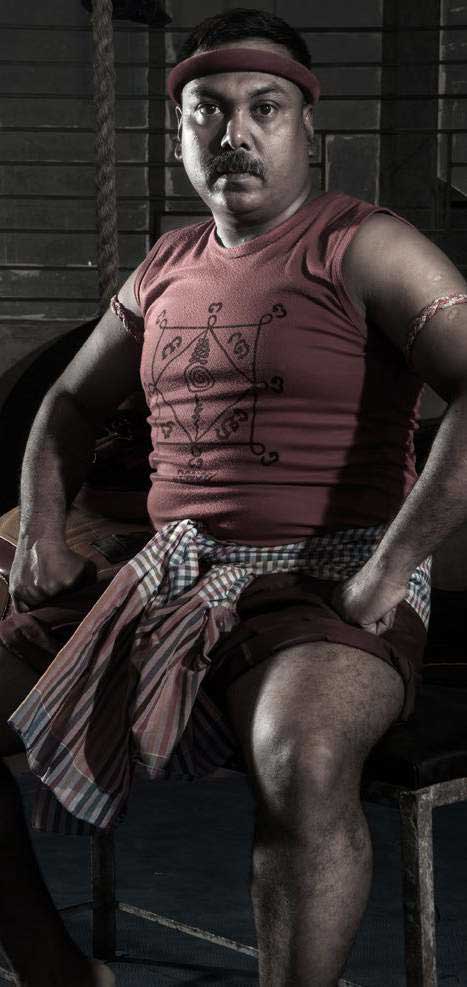 Disclaimer:
The information contained in this article is for educational and informational purposes only and is not intended as a health advice. We would ask you to consult a qualified professional or medical expert to gain additional knowledge before you choose to consume any product or perform any exercise.