The rainbow symbolizes colour, hope and happiness, and so does the rainbow diet. The more colourful the food the better it is. Like a rainbow, a plate filled with a rainbow diet also represents inclusivity and diversity.
Let us understand first what a rainbow diet means. It is basically a concept wherein you include a lot of colourful fruits and vegetables in your meal. In simple words, your plate is supposed to look like a rainbow and is considered extremely healthy and nourishing. These colourful fruits and vegetables are a bundle full of different nutrients and grace us with good health.
According to Dt Rajat Jain, the rainbow diet if supported by a balanced diet can prove magical. This diet which is full of colours not only makes the plate look fun but at the same time each colour provides a specific phytochemical which helps create a disease-free body. These phytochemicals provide such antioxidants which detoxify the body and help to build immunity in our body.
In fact, the reality is that fruits and vegetables do not fight disease, it is their absence in the body that causes disease. So by the inclusion of these diverse fruits and vegetables, we fulfil the nutrient requirement of our body and hence promote a healthy body, mind and soul.
Each colour in the rainbow diet has a different and its own independent role in providing nourishment to the body. The red colour found in apples, apricots, watermelons, strawberries and pomegranate is because of lycopene- known to fight heart diseases because of its marvellous antioxidant properties. Also, fruits like apples are rich in fibre which is essential for good gut health and bowel movement.
Green-coloured vegetables which are abundant in calcium, potassium, iron, magnesium, and vitamins B, C, E and K help to neutralize the effect of free radicals in the body and clear toxins from the body. Yellow fruits and veggies like banana, mango, pineapple, and peach, are the secret to glowing skin and sparkling hair. Their Vitamin C content and collagen possess anti-ageing properties and carotenoids help fight cancer.
Blue and purple colours found in blueberries, grapes, and eggplants contain Anthocyanins and resveratrol which act as anti-inflammatory and anti-ageing agents and also possess anti-carcinogenic properties. Orange colour is beneficial for eyes and immunity. Its vibrancy exists because of beta carotene and is found in oranges, kinnows, carrots, and pumpkins. White colour has its own value. Cauliflower, mushrooms, turnips, tofu, chickpeas and potatoes may lack colour but do not lack nutrition. They enrich the body with calcium, proteins, and probiotics.
So basically adhering to a rainbow diet plan ensures that you don't miss out on any important nutrient required by the body to fight the enormous number of diseases that enter into the body only due to the effect of toxins. Because of its varied variety, it is a wholesome diet and includes an apt amount of antioxidants, phytochemicals, vitamins and minerals in our everyday meals. These have amazing healing properties and help prevent chronic diseases.
Again not to forget, any diet if not followed under proper guidance or not consumed in a balanced way can have its own disadvantages. Similar is the case with the rainbow diet. If a rainbow diet is not supported by proper dairy, meat, fish or poultry may lead to protein and vitamin – B12 deficiencies.
This rainbow diet did appear like a trend but because of its innumerable benefits has stayed and remains by far one of the most liked and followed diets. In fact, we can say that it is not just a diet but a holistic approach to making your lifestyle healthy and happy.
About the Author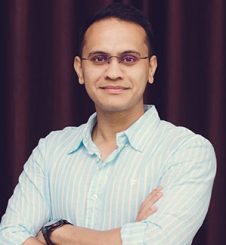 Dietitian Rajat Jain is the Founder & Director of Health Wealth Diet Clinic, the leading nutrition and weight loss clinic in North West India as recommended by numerous fitness platforms. Dr Rajat is a weight loss expert, clinical & sports nutritionist and certified diabetes & wellness educator. He is one of the most trusted and award-winning dietitians in North-West India.
With his experience of more than 5+ years including working with reputed hospitals and fitness centres, Rajat has positively influenced the health of over 7000+ people from different walks of life. Rajat enjoys his distinctiveness of being affiliated with various fitness centres and gyms across West India where he works with the members as a nutrition and diet consultant and engages with their workout and performance on the floor, which offers him a deep understanding of his client's unique level of nutritional response towards their body.
Dt. Rajat Jain has been awarded 5 times in a row as the 'Best Dietitian in Rajasthan' and ranked among the 'Top 10 Most Promising Dietitians in India'. Among various associations, he also works with the Rajasthan Police Academy and Rajasthan Royals Colts & Sparks as their official and consulting sports nutritionist.
Disclaimer:
The information contained in this article is for educational and informational purposes only and is not intended as a health advice. We would ask you to consult a qualified professional or medical expert to gain additional knowledge before you choose to consume any product or perform any exercise.