Have you ever noticed that after a good, nutritious meal you feel happy and can connect to others mentally and emotionally? Have you noticed how you feel low when you crave your favourite food but decide not to have it? Well, that is because our mood is directly related to the food we eat.  The connection between mood and food stems from the close relationship between your brain and your gut which is also called the "second brain."
90% of the serotonin receptors are found in the gut. Serotonin is a chemical in the brain responsible for regulating happiness, anxiety, and mood. Low levels of serotonin are linked with depression, mood swings, and anxiety. In simple words, what you eat affects your mood. Your gut is home to billions of bacteria that affects the production of neurotransmitters, chemical substances that constantly carry messages from the gut to the brain. (Dopamine and serotonin are two common examples.)
Eating healthy food gives rise to "good" bacteria, and a diet of junk food, on the other hand, can cause inflammation and decrease the number of good bacteria and promote bad bacteria. When neurotransmitter production is good due to good bacteria, your brain receives these positive messages and your mood is enhanced, but when production is disturbed so is your mood.
Simple sugars found in candy or soda can cause blood sugar levels to spike and drop. Fluctuations in blood sugar can affect energy levels and mood badly. Highly processed foods high in trans fats like potato chips, pizza, and fast food can cause inflammation and thus affects serotonin levels. Too much coffee can leave you feeling shaky and anxious because of caffeine content. Alcohol which is thought of as a mood lifter directly affects your central nervous actually acts as a depressant.
According to Dt. Rajat Jain, eating whole grain foods and cereals and avoiding packaged or processed foods, which are high in unwanted food additives and preservatives, give rise to good bacteria in the gut. Increase intake of fresh fruits and vegetables for additional fibre in your diet. Include foods rich in probiotics such as homemade curd for promoting good bacteria in the gut.
Dt Rajat Jain emphasizes having a rainbow diet which is full of colourful foods including whole grains, nuts and seeds, fresh leafy veggies and fruits, milk and milk products, etc. A balanced diet takes care of gut bacteria and serotonin levels are always maintained which is important for the regulation of happiness.
About the Author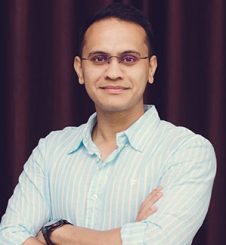 Dietitian Rajat Jain is the Founder & Director of Health Wealth Diet Clinic, the leading nutrition and weight loss clinic in North West India as recommended by numerous fitness platforms. Dr Rajat is a weight loss expert, clinical & sports nutritionist and certified diabetes & wellness educator. He is one of the most trusted and award-winning dietitians in North-West India.
With his experience of more than 5+ years including working with reputed hospitals and fitness centres, Rajat has positively influenced the health of over 7000+ people from different walks of life. Rajat enjoys his distinctiveness of being affiliated with various fitness centres and gyms across West India where he works with the members as a nutrition and diet consultant and engages with their workout and performance on the floor, which offers him a deep understanding of his client's unique level of nutritional response towards their body.
Dt. Rajat Jain has been awarded 5 times in a row as the 'Best Dietitian in Rajasthan' and ranked among the 'Top 10 Most Promising Dietitians in India'. Among various associations, he also works with the Rajasthan Police Academy and Rajasthan Royals Colts & Sparks as their official and consulting sports nutritionist.
Disclaimer:
The information contained in this article is for educational and informational purposes only and is not intended as a health advice. We would ask you to consult a qualified professional or medical expert to gain additional knowledge before you choose to consume any product or perform any exercise.