Amid so much technological advancements in the sports sector, it has attained a new height of perfection. Ranging from bio mechanics, data collection, data analysis, smart wearables and other allied AI based gadgets are changing the pattern of not only of playing a sport but also upgrading viewer's experience.
Then there are data analytics which is transforming the competitiveness of the sport today, by tracking down the athlete's performance on and off the field.
Other developed countries like USA, UK , Germany and even China are the forefront contenders for using sports technologies in a major way, improving the performances of their athletes, however, India has still long way to go in attaining such precision over the application of technology in sports.
 This is quite evident seeing the number of medals these athletes bringing home being the world seventh largest and 2nd most populated country in the world. The athletes from these super power nations always stay one step ahead to our indigenous athletes. This doesn't mean that our athletes don't have that talent to hunt medal but there is something which give those international athletes an extra point as in technology backed training module which has carved the finest athleticism out of them.
With the application of technology, UK and USA improvise talent of their athletes every day by analyzing their performance data.
Setting more personal best as in outcome, these athletes take themselves to their utmost limit. Other way round coaches are also using this tech backed tool to extract desired performer out of amateur players.
With a deliberate record accumulated by the video recording and data collecting gadgets, the sportsman committee members including coaches and trainer can further plan out athlete's meal plans, schedule training and evaluate their performance. It won't be wrong to say that with the application of technology, the team's chances of winning a match or tournament has increased. As for the same they keep an eye over the performance of young players and prepare them for the major events.
American Olympic Team following the same trend has shown tremendous surge in their medals tally by bagging 126 medals in 2016 as compared to 103 in 2012.
Some major verticals of technology in sports:
Self:  In this segment technology is being used to enhance and modify sportsperson's physical or genetic makeup by using stuffs like Vaccines, Performance Enhancement drugs, and Prosthetic Limbs. With the advent of hybrid stuffs in the international market, it has augment the competiveness at sports meets as well as surging the number of cases for violating anti-doping policies of these tournaments.
Turf: In this segment, technology is being used to enhance and change the appearance on which game is played. It includes shifting from dry-ash tracks to synthetic tracks, natural grassy filed to a astro turf known for better speed and grip to the players' boot s.
Sports Equipment:  In this segment, technology is being used to improve and change the sports equipment which players use at the time of game. It includes high end bats with better engineering over their grips, data collecting tennis racquets and other.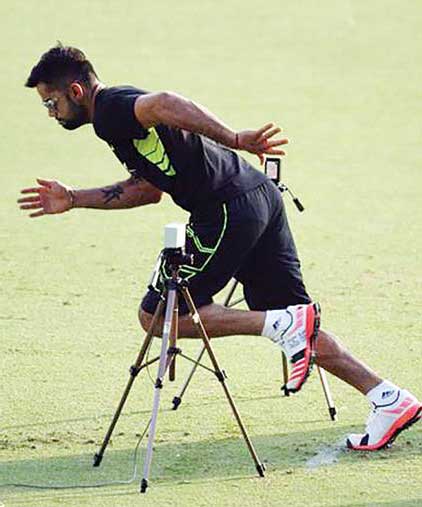 Movement:  In this segment, technology is being used to record and analyze sportspersons' physical movement earnestly by using Videotapes Analysis, GPS Performance Trackers.
Smart Wearables:  In this segment, technology is being used to record athletes daily physical, suggesting them the right posture for a particular sport and other physical activities. It also record how much energy one has lost while exercising. Some of the best knowing examples: Smart watches, T-shirt with Nano chips, Running shoes and others.
Database:  Athletes majorly use these tools to store player's performance statistics which is further used to review and compare with the other players. In the market, one can find FitBit, Player Stats and other allied database gathering tools.
Despite such advantages come with the introduction of technology in sports, this paradigm shift also comes with some allegation questioning the essence of using too much technology in a game.
As sports are the domain where humans strive to overcome mental and physicals barriers in order to attain crest of human body's achievement. Such an elongated usage of technology can evade 'Human factor' off the field. Experts are quite concern with such phenomenon changes coming in the field of sports in order to reach crescent performance of an athlete, they are also question over it, whose answers are yet to find.
Where does Indian Sports sector amid such a paradigm shifting?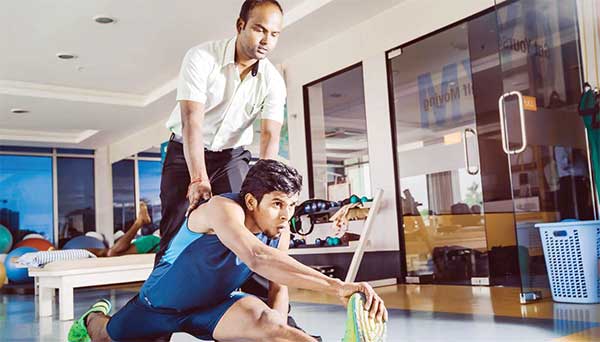 Being such a large country (World's no7) and the 2nd most populated country, Indian athletes has not started bagging many enough medals as the world stage. At a time, when athletes are getting all sort of technical assistance improving their own personal performance, in the contrast Indian athletes are still deependent on their conventional mode of training.
The fact can be realized seeing still Indian wrestlers from Haryana who usually represent the country in the sport of wrestling, they practice it in Akhadas, which is cherished by the old generation of orthodox wrestlers.
If India really wants to ascend on the medal tally of global sports meets like Olympics, there is an immediate need to invest in sports science and infrastructure of international quality.
Taking a cue from China, which also happens to be the most populated country in the world, India needs to learn the way they train their athletes using technology and always end up giving a solid competition to America on Olympic medal tally.
The Chinese government welcome new entrepreneur to start investing in sports infrastructure and technology. They don't see this sector to only producing better sportsperson but also see the sector as an important pillar in their steadfast economy.
In India, there is a need to invite private players to pour in money in sports technology. Following the same effort Times of India has been organizing a three day exhibition viz. Global Sports Business Show since 2016 and recently concluded its third version in October last year in Mumbai.
The Exhibition focuses on developing the sports technology and infrastructure market in India. Indian Olympian Association, being one of the few sports federation ties up with this TOI's Initiative. It is commendable to have such efforts to promote non-cricket facet of Indian sports which pose positive sign for India's preparation for the upcoming Olympics.
Disclaimer:
The information contained in this article is for educational and informational purposes only and is not intended as a health advice. We would ask you to consult a qualified professional or medical expert to gain additional knowledge before you choose to consume any product or perform any exercise.