Rebound Ace India Pvt Ltd is a leading indoor and outdoor games flooring service provider which has been active on the Indian turf since 2008. Being specialized in sports flooring systems, performance athletic surfacing, indoor sports flooring, and others sports flooring service, Rebound Ace is hugely appreciated by their clients.
Following a holistic approach of meeting the requirements of every client, Rebound Ace pays minute attention to every detail of their client's specification; Rebound ace never compromises the qualitative state of their offered flooring service and products. Owing to their impeccable way of accomplishing project, the Rebound Ace cherished to cater many educational institutions, public and private sports facilities and others.
In their service offering section, Rebound Ace has included all sorts of flooring solutions ranging from tennis court's turf, Synthetic turf mats, synthetic sports flooring, and synthetic cushioned surface. Coming to their product section, the company offers qualitative range of Non-cushioned Surface, cushioned surface and prefabricated mat cushion. In an exclusive interview with Sportz Business, Sammir Kapoor, the director ReboundAce talked to Kumar Abhinav, he sheds more light on their organization. He also mentioned that Rebound Ace India Pvt Ltd is standalone Indian company to work under the international brand of California Sports surface.
Q. First and foremost question, why there was any need of synthetic courts?
It should be noted that all games are not played on synthetic courts. Let us take cricket or football…the main games happen only on natural turf. It is said that maintaining natural turfs became expensive and therefore alternatives were needed initially for practice games and later for main games. The best example is Tennis. It was known a 'Lawn tennis', until now we have synthetic options and it became 'Tennis'.
Q. How synthetic sports flooring enhance a sport-person's performance?
Since synthetic courts require negligible maintenance it helped players practice more and master their skill. Synthetic cricket practice wickets is best example here. This product almost replicates the natural turf and therefore player can play indoor to enhance his/her skill.
Q. Please share with us one of your most cherished installations. What were the challenges you faced in that installation and how you overcame them?
For Rebound Ace team every work is a challenge. We all know that every job we do is different and has its own characteristics. We had introduced PU cushioned courts in year 2012. We received a call from CAG to build a synthetic court at Jinnah House Shimla. This site had many challenges. Due to paucity of flat land a metal bed was made of full size of tennis court i.e. 120' x 60'. The area was surrounded by lots of trees and almost 2/3 of the court was always under the shade. Since this site was on one side of the cliff, there was scant sunlight and that was only for few hours. The challenge was timeline. We were handed over the site very late and forced to start our installation. Rain is big enemy of PU installation. So the story goes devoid of proper sunlight and threat of rain, we started our installation. And as feared, the layers were not drying up complete and it rained much before the expected time. We finished the court but it did not turned out the perfect one. Instead of being hard surface it became like gum hard. So if we pressed the surface with hand it could wrinkle up.
After rains we removed the entire PU installation installed earlier. All machinery failed and we did this manually and it took us two months to do. Then winter came in. so could not install the courts. So when weather became conducive we installed our new courts and today this court is still in use.
Q. What are the major differences among Cushioned Surface, Non-Cushioned Surface and Prefabricated Mat Cushion?
Well for many outdoor ball games, we need a flat and hard surface. The two options to make are concrete or asphalt. Both these surfaces are flat but not good for foot grip. Therefore the first basic system to apply on this is non cushioned which gives it the required characteristics like anti glare, anti slip etc.
Cushion surface is required to reduce the fatigue of player playing for longer hours. Presently for outdoor there are two technologies available 1) rubber cushion 2) PU cushion. In rubber the SBR or rubber crumbs from scrap in desired size is mixed in resin or liquid rubber and applied in site to provide cushion to the system. In PU water based PU is applied to provide cushion to the system. Liquid rubber system mixed with SBR is the most economical one. Another option is Pre fabricated SBR mats in certain thickness like 4mm or 8mm. They are glued down on the floor and then acrylic or PU based systems can be applied on it.
The major difference is cost. Also the cushion effect of pre fab system is far superior to cushioned system. And one major difference is that cushion effect of pre fab system last for many years where as liquid cushioned system tends to become hard over period of time.
Q. How do you ensure a consistent quality of your cushion?
By adhering to the right mix ratio we ensure that cushion effect remain consistent.
Q. Has rebound ace ever worked with any foreign client?
Yes. We have done installations in Afghanistan and Nepal. We are recently preparing to make 8 Tennis courts in Nepal and some 10 courts in Bangladesh.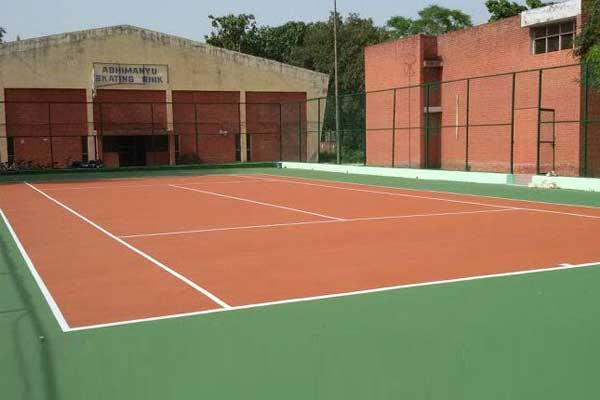 Q. What is the USPs of your flooring products?
We deal in many types of flooring like Acrylic, PU , Wooden Synthetic Grass etc. As our company policy, we only promote those floorings or systems which are suited for our country, are durable and long lasting. For instance we are probably the only company selling wooden flooring with right Moisture content as per the region required. Our wood installation in say GOA will have different rating to wood installed in Delhi NCR.
Q. How distinct is tennis court flooring WRT other courts including badminton and others.
They are poles apart. For instance Badminton is indoor game and wooden is the best surface for it. Tennis is outdoor game and acrylic is the best surface for it.
Disclaimer:
The information contained in this article is for educational and informational purposes only and is not intended as a health advice. We would ask you to consult a qualified professional or medical expert to gain additional knowledge before you choose to consume any product or perform any exercise.