When you think about how you feel when you are hungry, what comes to mind? Is your stomach growling? Or are you experiencing indigestion or heartburn? Are you feeling grumpy and irritable because of low blood sugar levels? Or do you have an overwhelming urge to sleep when you're really hungry? It turns out, your health and emotions aren't the only things affected by hormones and nutrition your mood, focus, and energy level can all be improved with proper nutrition that helps balance hormone levels in your body.
Hormones are chemical messengers that are released by cells in one area of the body to influence cells in another area. They help regulate many functions of the body, including metabolism, growth and development, mood, sexual function, reproduction, sleep cycles, stress response, and even our immune system. When we don't eat well, our hormone levels become out of whack. This leads to things like weight gain, mood swings, and fatigue. Women especially can experience changes in their cycle if they're not getting enough nutrients from the food they eat.
There are also a few hormones that are created when we metabolize our food. These include leptin, ghrelin, cortisol, testosterone, estrogen, progesterone, and DHEA-S. Leptin is responsible for regulating energy intake and expenditure by balancing energy intake with expenditure. Ghrelin is a hunger hormone that tells you when it's time to eat again after you've eaten too much or not enough at your last meal.
Eating well also helps balance our hormone levels. With every bite we take, we're sending messages to our brains that can affect our moods, energy levels, stress levels, weight management and many other functions. Hormone production is controlled by the hypothalamus in the brain. This means that if you don't eat enough food or if you overeat, your body will not produce hormones in the right amounts. If this happens often enough, it can lead to a hormonal imbalance.
While every person is different, some foods seem to affect hormone levels more than others. For example, eating a lot of refined carbohydrates has lowered testosterone levels. This can cause symptoms such as low sex drive and low energy. And it's not just about the carbs themselves; it's what they do to insulin levels in the body that matter.
Some foods to help balance your hormone levels may include:
Cruciferous vegetables like broccoli, cabbage, cauliflower, and Brussels sprouts.
Omega 3s from sources like wild salmon, tuna, flaxseeds, or chia seeds. You can also find it in eggs, whole milk, or nuts. These are important because they're high in anti-inflammatory properties which are needed for a healthy reproductive system.
Herbal supplements like ashwagandha and maca root have been shown to regulate thyroid function by increasing the amount of T3 in the bloodstream while reducing inflammation; making them a good option for those struggling with weight loss due to hypothyroidism.
Fermented foods such as yoghurt, sauerkraut, and kimchi are rich in probiotics that help regulate digestion and keep gut bacteria at the proper levels which is essential because these bacteria can influence metabolism via the production of serotonin.
According to Dietitian Rajat Jain, avoid processed food as much as possible. Processed foods typically contain a lot of added sugars, which can disrupt hormone levels. Get plenty of exercises. Exercise helps to regulate hormones and also burns fat, which may reduce the risk of some hormonal imbalances due to weight gain or weight loss. Eat a wide variety of fruits and vegetables because they are rich in antioxidants, fibre, vitamins, minerals, and other phytonutrients that help regulate hormone production in the body.
Conclusion
There is a definite connection between hormones and nutrition. When one is off balance the other will follow. Hormonal imbalances can be corrected with proper nutrition, so make sure you are mindful of your diet when balancing your hormones. There is an optimal way to eat for every individual depending on their specific needs, so explore what works best for you!
About the Author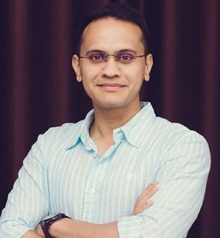 Dietitian Rajat Jain is the Founder & Director of Health Wealth Diet Clinic, the leading nutrition and weight loss clinic in North West India as recommended by numerous fitness platforms. Dr Rajat is a weight loss expert, clinical & sports nutritionist and certified diabetes & wellness educator. He is one of the most trusted and award-winning dietitians in North-West India.
With his experience of more than 5+ years including working with reputed hospitals and fitness centres, Rajat has positively influenced the health of over 7000+ people from different walks of life. Rajat enjoys his distinctiveness of being affiliated with various fitness centres and gyms across West India where he works with the members as a nutrition and diet consultant and engages with their workout and performance on the floor, which offers him a deep understanding of his client's unique level of nutritional response towards their body.
Dt. Rajat Jain has been awarded 5 times in a row as the 'Best Dietitian in Rajasthan' and ranked among the 'Top 10 Most Promising Dietitians in India'. Among various associations, he also works with the Rajasthan Police Academy and Rajasthan Royals Colts & Sparks as their official and consulting sports nutritionist.
Disclaimer:
The information contained in this article is for educational and informational purposes only and is not intended as a health advice. We would ask you to consult a qualified professional or medical expert to gain additional knowledge before you choose to consume any product or perform any exercise.