Navaratri is an annual and one of the most revered Hindu festivals observed in honour of Mother Goddess Durga. The festival is associated with the prominent battle that took place between Durga and the demon Mahishasura to celebrate the victory of good over evil. These nine days are solely dedicated to Durga and her nine avatars i.e. the Navadurga.
This time we are going to cover many things such as, what are the things that you need to do this Navaratri related to diet and nutrition with Do's and Dont's. For those people who think, how do we get enough nutrients from Navratri diet food then here are some examples of what you should eat. For carbs, you can have sabudana, kuttu ka atta ka stuff, roasted makhane, peanuts, chiwda, etc. For protein, you can have dairy products such as milk, paneer, curd, buttermilk, Flavored yoghurt, etc. For healthy fats, you can use ghee to cook all the food, And for vitamins and minerals, you can have fruits and veggies as per your religious fast culture. This way you can get all the required nutrition and feel full and energetic throughout the day.
There are various myths related to Navaratri. Let's answer some of them on how Navaratri food impacts your body.
Will fasting have a negative impact on all the progress you've made in your body? You might feel that a change in diet has changed your entire hard work into nothing but "No", If you stay consistent and give your body and diet a little break as in to enjoy the festival, let's just say it won't affect much! You all have cheat days too anyway.
Is Navaratri Fasting Healthy?
Good news for those who are facing lower blood sugar levels or high insulin in the body. One of the Navaratri fast benefits is support in the reduction of insulin resistance which is good for diabetic patients.
There are a few things to keep in mind during Navaratri. Stay hydrated throughout the day, prefer milk/curd/yoghurt, start your day with nuts & seeds in the morning, prefer homemade non-fried snacks include at least 3-4 servings of fruits throughout the day. Avoid deep-fried food for breaking especially packaged namkeen & snacks, Limit tea & coffee intake, don't snack frequently, instead have balanced meals and avoid sugary beverages.
According to the Dietitian Rajat Jain, during Navaratri fasting, some people in the name of healthy food start overeating from their usual diet, so it is requested to all those people who are fasting that don't forget the actual culture of fasting and follow it accordingly.
About the Author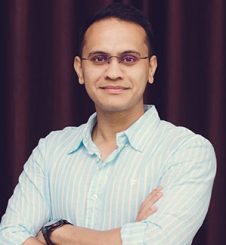 Dietitian Rajat Jain is the Founder & Director of Health Wealth Diet Clinic, the leading nutrition and weight loss clinic in North West India as recommended by numerous fitness platforms. Dr Rajat is a weight loss expert, clinical & sports nutritionist and certified diabetes & wellness educator. He is one of the most trusted and award-winning dietitians in North-West India.
With his experience of more than 5+ years including working with reputed hospitals and fitness centres, Rajat has positively influenced the health of over 7000+ people from different walks of life. Rajat enjoys his distinctiveness of being affiliated with various fitness centres and gyms across West India where he works with the members as a nutrition and diet consultant and engages with their workout and performance on the floor, which offers him a deep understanding of his client's unique level of nutritional response towards their body.
Dt. Rajat Jain has been awarded 5 times in a row as the 'Best Dietitian in Rajasthan' and ranked among the 'Top 10 Most Promising Dietitians in India'. Among various associations, he also works with the Rajasthan Police Academy and Rajasthan Royals Colts & Sparks as their official and consulting sports nutritionist.
Disclaimer:
The information contained in this article is for educational and informational purposes only and is not intended as a health advice. We would ask you to consult a qualified professional or medical expert to gain additional knowledge before you choose to consume any product or perform any exercise.