Bodybuilding, being a sport, really needs recognition as far as sports is concerned. However, to empower this particular sport, people like Tarun Gill leads the way out for many inspiring bodybuilding enthusiasts. With his YouTube channel, Tarun has been well known as India's first fitness promoter and influencer, changing the lives of many young bodybuilding talents across the nation.
With a fan base of over 3 million across his social networking platforms, Tarun Gill's storytelling is inspiring everyone. His interviews have garnered more than 10 billion views and have changed the lives of over 200 Indian athletes helping them with sponsorships and recognitions. In his YouTube talk show TG Talks, Tarun has featured over 500 Indian athletes cutting across all sports including bodybuilding, wrestling, kabaddi, and athletics.
In a bid to know more about this fitness YouTuber, Rajeev Biswas, from Sportz Business Fitness Magazine, manages to speak up with Tarun Gill, who has been one of the prominent voices of Indian fitness and sports over a very short period of three years. Speaking to us, Tarun Gill revealed the gruelling makeover that he has been doing for the Sheru classic competition, which is India's biggest fitness and bodybuilding competition to be held this year. Besides all, Tarun has also been an amazon bestselling fitness author and has written six fitness bestselling books under his belt.
Let's read him and find out what he has to say regards to his journey so far.
Q Hi Tarun, tell us more about your life and journey so far?
Well, my life has been like a roller coaster ride so far. I started as a corporate guy because I did my graduation in History Honours from St. Stephen's college. Then I did my Masters in Journalism from the Indian Institute of mass communication. I have had a corporate curriculum of good ten-twelve years. Then in my thirties, I realised that this is not something I want to do. I wanted to take up fitness as a career, not as a trainer or as a coach but as an influencer and I am proud to say I was India's probably first few fitness influencers who change the game when it comes to content creation, and I was India's first full time fitness YouTuber. So, I've always been the first, I've always tried to do things which have never been done before and this is something that I'm trying to do now, changing the landscape as a career of a fitness model.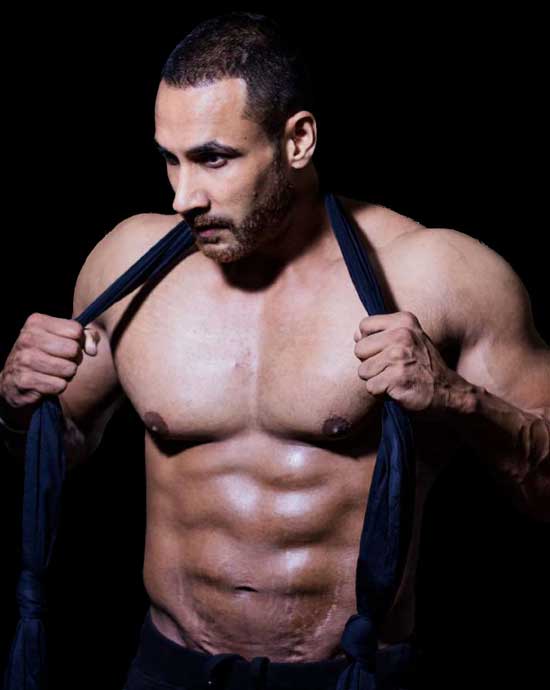 Q You are going to participate in India's biggest fitness and bodybuilding competition Sheru this year and have taken 100 days challenge to transform your body, kindly share your experiences with regards to that?
Yes, so this hasn't been done before. 'Sheru classic' is one of the biggest international competition in India. It's a bodybuilding competition but I'm competing in men's physique. Men's physique is more of a beach body wherein you have a proportionate shoulder, your abs and you don't wear trunks, instead you wear a Bermuda. So, you have to look at your best and you have international athletes coming in and you know putting out the best physique out there on stage and I am going to be turning thirty-nine when I compete this 'Sheru classic'. So, with this I'm giving a message to everyone that there is no age to compete. You are ready when you are ready. Mostly what I've seen in sports career is that people usually retire in their thirties. And I'm starting my professional fitness career at the age of thirty-nine by participating in 'Sheru classic'. So that is why I took this hundred days challenge which is every day I put out one video on my youtube challenge telling people what I've been doing. My training, my diet, my structure and how am I looking and I'm changing my body every day in front of the camera and the journey has been truly inspirational. Every video is getting about good one to two lack views, people are really loving it the transparency of things I've been doing and trust me it's a memorable experience. But at the same time very challenging because you have to put your body to test with genetics and with how much you can do and deliver in these 100 days.
Q You have left your comfortable corporate job to follow a career in sports and fitness, how has that come to your mind?
Actually, it hasn't come to my mind just like that. I always wanted to do something in fitness but it's just that I had no direction and in India you are always being told that you got a go to the best college and after college you got to do your MBA and after an MBA, go find a nice job and me being the only child, I was exposed to such mindset. And I obviously didn't want to let my parents down so I did what I had to do to grind, but after ten to twelve years of serving this corporate, I realized that this is not something that I want to do. I wanted to do something that keeps me happy, what makes me happy from within and fitness was only one thing that I could think of because I had spent most of my time in gym, I had spent most of my time playing sports. Then I though let me build a career around it but in India when you think of fitness, you only think of two three things which is either open up your own gym or become a trainer, or open up a supplement store and all the three something that I never wanted to do. I wanted to educate people and wanted to inspire people so that's how YouTube came about and I started making videos. My wife was extremely supportive and from there onwards we never looked back. I was India's first fitness Youtuber. And that opened up doors to a whole new dimension for us and we realized that this could be a full-time career and that's how I took up fitness as an influencer.
Q Shed some light on the initiative that you have been doing to change the lives of over 200 Indian athletes, helping them with sponsorships and recognition?
So, when I started this fitness journey, my idea was bodybuilding is one sport which hasn't been gone mainstream like cricket or football or tennis as such. These are unsung heroes and while I was training, I realized the kind of hardship that these guys actually go through, so it was very important for us to showcase that hardship. What exactly do they go through? They died, the rigorous training what does an athlete a bodybuilder go through to compete at a particular level and that's why we started interviewing these athletes and we interviewed over two hundred actually now we have interviewed over three hundred athletes.
From Mr India to Mr Delhi to Mr Mumbai and Mr Maharashtra, all top-notch Indian athletes and through the help of an event which is called 'TG Connect' at a web based platform. We help these bodybuilders with some sponsorship because for sponsorship for these athletes would mean a plane ticket. Ticket would mean a sponsorship from a supplement brand which can help them with their daily protein intake. So, we've done over twenty-five TG connection over twenty different cities including Guwahati, Hyderabad, Bangalore, Delhi, Mumbai, Gurgaon everywhere and these athletes have been our heroes and will always be.
Q Being India's leading Fitness promoter and influencer, how you see the growth of the bodybuilding cult in India?
I would not say it is a cult but yes. I think bodybuilding has come a long way while. When I started off, I didn't start bodybuilding to compete at a bodybuilding stage, I just got into the gym with the hope of getting fit with the idea of getting into the best shape of my life that's the only way I started but once I started seeing results, I realized that I should put my body to the test and see how does it take to get the best shape to be in the best shape of your life and that's how we, are interviewing people. It is very proud to say with Instagram coming in, with social media taking off and you will be surprised that Instagram viewership has gone up because of fitness influences and because of the kind of bodies. People want to see great bodies on Instagram. So, I think the growth has been tremendous for Indian athletes as well where brands are coming forward. It is a whole influence of marketing which you have a chess kind of gone to another level. Companies and brands paying these athletes and these influencers to promote their product. I think we have come a long way from what a bodybuilder was like ten years ago to what he is now. He is making a living now with social media while ten years ago this guy did not know how to go about things now. So, I think there has been a huge change. The industry has grown and this is just the tip of the iceberg, it's going to grow. I think 10x more with the way things are going right now.
Q You have been the face of Manhunt Mr India International 2016, kindly share with us some of your experiences?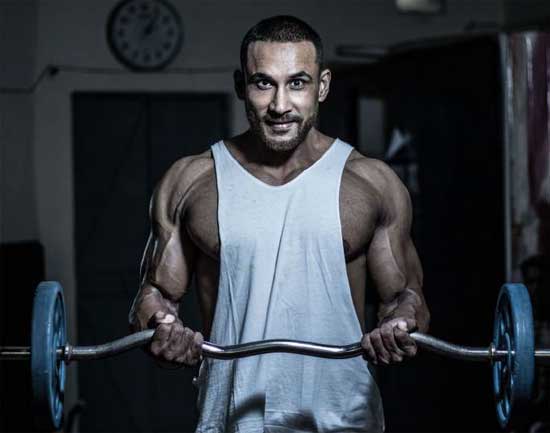 So, I keep participating in different competitions. I used to back them so it was in the year 2016, this thing happened to me and I was like sure this is going to be fun and this was all about mentoring new kids. It was a great learning experience by seeing young talent and how they pursue fashion modelling as their career. So, did play a small on it and my experience was truly wonderful.
Q Kindly take us through your everyday workout training?
So right now, I am actually doing my workout training three times a day. My morning cardio, my stretching and cardio again in the evening and my cold workouts. Because I'm training for 'Sheru classic' world's biggest international championship, I have to be in the best shape. So, with about four to five hours of training every day, keeping meals in check on point. I think bodybuilding gets very tough at this level because gyming is the easy part, you only train for a couple of hours but keeping the diet in control twenty-one to twenty-two hours where you have to eat very limited food what your body needs. So, this is where my everyday workout routine is controlling myself saying no to the food.
Q Share some of your experiences as a fitness author, and according to you which one would be your favourite book that you have written so far?
So, I love to share my experiences. That's what the idea of me creating so much content. I have written about six books. One is how to get rid of chest fat, how to get your six-pack abs. My favourite book will be how to get rid of your chest fat because most of the Indian men seventy to eighty percent are suffering from this problem and nobody addresses this because when I had this issue when I was a kid, I used to go up to my parents and ask them what exactly this is and they would have no answer. We sold many copies of this and became an Amazon bestseller. It was a testament to the fact that there are many people actually who are suffering from this issue and this has been my favourite book. And it still gets such a good response from everybody, it just makes me really overwhelmed.
Q We would like to know more from you about your supplements. Do you favour recommending supplements for building muscular strength?
Well supplements are definitely needed at a competitive level. The kind of level that I'm competing at so definitely they do give you an, edge but I think eighty to ninety percent is your diet if your diet is in check and you are eating limited food which your body really needs. You only eat for nutrition and not eating for taste. So that is what I believe and ten to twenty percent supplementation like multivitamins and BCW as you need to take care of the deficiency in your body. But I don't think they're needed but at a competitive level you need it to perform at a higher level so that you can get the maximum out of your body's potential.
Q Tell us something about your diet as a part of your daily routine? Also, tell us your favourite cheat day diet?
You know what the kind of training I'm going through right now is very rigorous. It's something that that really pushes me. So, my diet right now is very high protein diet. I take a lot of eggs, mushrooms. broccoli and I believe this are what just keeps you going and plus in very limited quantity. So, I'm not taking too many carbs right now because I'm trying to get in shape. My favourite cheat includes two three things, it could be either momos or chocolate or a third if I'm really craving for something sweet as I have a very bad sweet tooth.
Q If you can also suggest any supplements that can be taken by aspiring individuals, who are training for bodybuilding to help them build their muscles in a better way?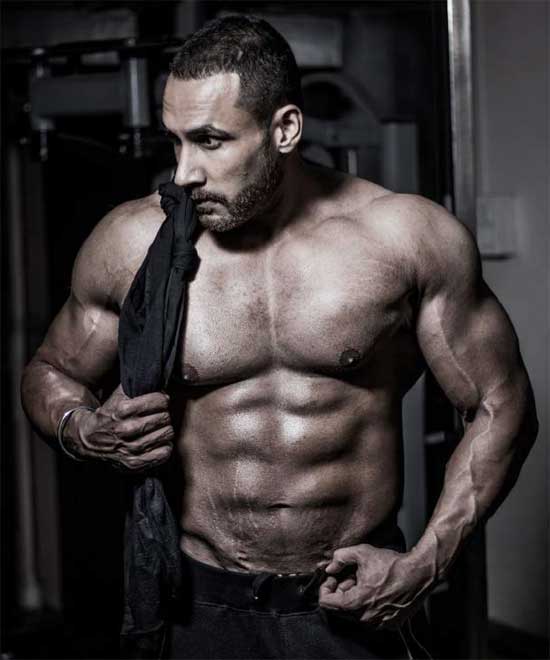 I would say the only protein you can take it and is one of the best across the globe is Whey Protein. I think it's a building block of the muscle and it's made from by-product of milk so I think it will definitely help with recovery but it's not a miracle product that overnight you build your body but it will definitely help you recover faster so that next day you'll be able to perform better in the gym and you will grow muscles
Q Any message that you would like to give to aspiring bodybuilders, fitness enthusiasts?
Yes, the only message that I would like to give them is simple decide your goal, what is it that you want to do with your body, do you want to take it at a competitive level or you just want to stay fit because if you just want to stay fit, you don't have to put in that much of an effort. You just have to be little discipline with your diet and boom you'll get it but if your goal is to be a competitive bodybuilder or a fitness model then you have to start thinking like an athlete not like a regular fitness enthusiast. Decide on your goal because most of the youngster's don't know what they want to look like. So, decide on your goal what is it that you want to do or what is it that you want to do with your body.
Disclaimer:
The information contained in this article is for educational and informational purposes only and is not intended as a health advice. We would ask you to consult a qualified professional or medical expert to gain additional knowledge before you choose to consume any product or perform any exercise.