Women always have been doing wonders no matter whatever stream they follow. The latest example is Dr Rita Jairath, who has been an entrepreneur and one of the pioneering athletes in women's bodybuilding in India. She is an IFBB ProCard holder and presently the only woman IFBB PRO-LEAGUE bodybuilding International Judge from South East Asia. Being a mother and currently at the age of 51, Dr Rita Jairath has been a successful Bharatnatyam dancer. She travelled to the USA and got training in fitness from some of the best coaches in the world.
Being able to put Indian women's on the world map, Dr Rita Jairath went into various bodybuilding competitions across the world and got the privilege to represent India abroad, winning medals and accolades through her accomplishments. The inspiring Dr Rita Jairath had been felicitated an honorary doctorate by the United Nations Diplomatic Mission in Women and Child Empowerment. She has been listed first in the Forbes magazine on Women's Day in 2020.
Knowing more about her, Rajeev Biswas, from Sportz Business Fitness Magazine brings an exclusive interview with Dr Rita Jairath, who has been a successful business owner, a bodybuilder and a guiding mentor to upcoming athletes.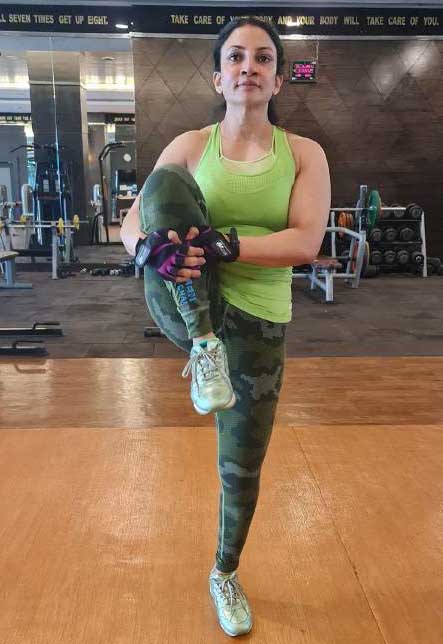 Let's read her what she has to say about her life and bodybuilding.
Q Tell us more about your life and journey so far?
My father was an Air Force Officer and I was fortunate to have traveled and lived in different states of India, since he used to frequently get posted to different cities. This helped me to develop my ability to adapt to various situations.
Unfortunately, my mother was a patient of schizophrenia. Her condition majorly got deteriorated after my birth. Due to that, I always felt a void and a need for love and acceptance. And since I lived in isolation I used all the time I had, to do my best in whatever I did. I wished to do well in sports. But I used to feel weak and exhausted. I was fragile because my mother was not in a condition to take care of my nutrition. But I continued to push myself. Striving for perfection and excellence, in spite of challenging circumstances became a habit.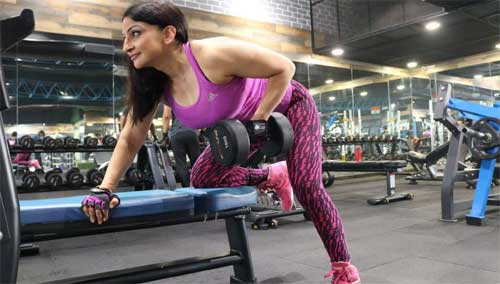 And eventually, after my marriage my son was born, however he was diagnosed with autism, which again raised my responsibility taking care of him. I tried my best to help him talk and get educated. Then one day, he said, he wanted to build a body like a film star. This was the first time he had said something in his own. I felt that it was my supreme duty to help him do that. And thus began my journey in the gym.
Right from the very first day, I faced a lot of opposition. That woman should not train with heavy weights. I was discouraged and humiliated a lot. But somehow, I had to be around my son and teach him everything. During this process I realized that I had a natural flair for training with weights. I could effortlessly lift as much weight, which people who had been training for a very prolonged period would only struggle with. I took to it like fish takes to water. And so to counter all the opposition, I decided to educate myself and get qualified in fitness science.
Eventually I also competed in fitness competitions, and travelled to USA, to get training from some of the best coaches in the world. I had found something that I could relate to and excel in. I have represented India on international platforms and brought many medals and accolades to the country.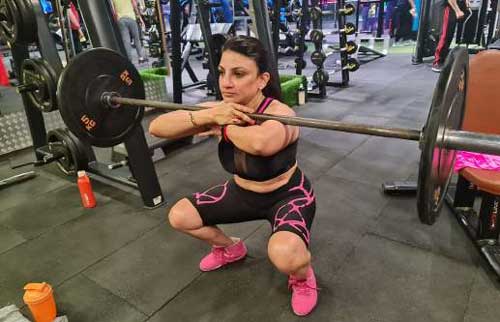 Q How Bharatnatyam helped you to be fit? And what really admired you the most?
In my childhood days, I had lived for a few years in Chennai and in Belgaum. In those years, I had learnt Bharatanatyam. So after retiring from competitive bodybuilding, I decided to work towards my dream of completing my education in Bharatanatyam. Bharatanatyam is an all-encompassing field and I felt that it would help me make my fitness journey very complete and well rounded. Not only that, I have recently also started Kalaripayattu to improve my speed, lightedness, flexibility, response time and reflex action. I am fortunate to get a great Guru, Ms. Sudhana Shankar, who is a disciple of the legendary Padma Shri, Padma Bhushan Saroja Vardyanathan.
Q Share your opinion over women brigades coming in bodybuilding?
Women have indeed come a very long way in the last decade. Just the idea of convincing a woman to take care of herself in an Indian society can be challenging. The very idea of forming a body and reconstructing oneself for a competitive bodybuilding stage can apparently look very intimidating. In fact to break barriers and convince the people in the family and immediate vicinity, overlooking opposition and going on stage is not easy.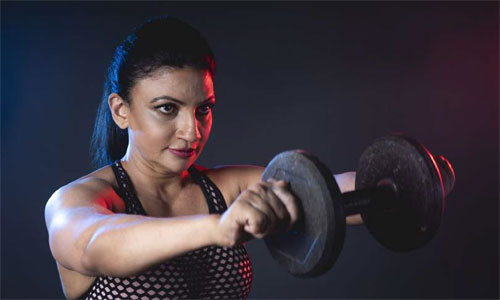 Besides, taking care of nutrition, training, competition suit, travel, tanning, supplementation requires considerable time and money. One also needs to equip herself with authentic knowledge and the right psychology and attitude. This is a process that is still evolving but definitely the women in India have to lead a long way and are fondly pursuing this beautiful and amazing sport.
Q Kindly take us through of your everyday workout training?
To be truly fit and healthy, one must be fit physically, mentally, emotionally as well as spiritually. I wake up in the morning and begin with pranayam and prayers. This for me is also a form of meditation and helps me to keep moving with strength throughout the day. Then I do my cardiovascular exercises, either by going for a jog at the sports complex, or practicing the various Bharatanatyam basic steps. I do my strength training exercises in the evenings. But irrespective of anything, I never miss training my legs. To develop fitness, strength, flexibility and adaptability is a process. The key is consistency and there is absolutely no short cut. It has to go on forever.
Q During your journey of body building, how have you managed to take care of your family and personal life?
Especially in the days when I was competing, I was the only one constantly traveling and competing internationally through the federation in various countries. In those days, it was not only a challenge for me to look after my family but also earn the money for my travel, competition expenses besides the challenge of actual preparation with diet and training. I have a grown up son, challenged with autism, that is what I did. At every point, I prioritized what I needed to do. The energy that is saved by weeding off unnecessary stuff can help immensely in saving a lot of energy. A fixed routine for exercise, family, meal times also gives clarity in our thoughts regarding what and how things should be done.
Last but not the least, when we are clear about what we want to achieve and respect ourselves and our work, our family and our near and dear ones also give value and respect to it.
Q Tell us something about your family?
Me and my son are best friends of each other. Both of us have lived unconventional lives. My bodybuilding career began at a time when there were hardly any women doing it in India. My son being an autistic child has always yearned for acceptance and love. And nothing matters to us, because we stand by each other, unconditionally. We do our own unique things together, support each other and enjoy and respect the individuality and idiosyncrasies in each other.
Q Kindly tell us something about your diet as a part of your daily routine?
Also, tell us your favourite cheat day diet? I strongly believe that we must eat in accordance to our calorie needs. I don't care for cheat meals. The only time I indulge in something that I shouldn't be eating is when I am in a situation where I need to exert physically, but I don't have access to my actual home meals. In that too, I try to choose the healthiest options.
I begin my day with apple cider vinegar with water. My breakfast consists of egg whites, asparagus, green leafy salad, blueberries and half cup oats, while my mid-morning snack consists of almond, macadamia and fruits. My lunch contains grilled chicken, salad, vegetables, and a cup of legumes, evening tea is without sugar, with dates and a small portion of dry fruits like walnuts and macadamia, whereas dinner includes grilled fish, vegetables, lentils and salads. At bed time I prefer glass of milk with raw grated turmeric and honey.
Q We'd like to hear something from you on supplements. Do you favour recommending supplements for building muscular strength?
Supplements are made with the intention to support, the requirements. For example, a protein supplement will have a very high bio-availability with very good nitrogen retention and this would be achieved with least calorie consumption. The same holds for all supplements. Therefore I do recommend a judicious and wise use of supplements, according to individual and specific needs, whether it is for sports, or for a person who is deficient due to any disorder or socio-economic circumstances. Coming back to protein supplements, after workout, there has been a lot of micro-trauma and micro-tears in the muscles. After an intense workout, the most abundantly present amino acid, glutamine also gets depleted from the body which can lower the immunity in the body.
Q If you can also suggest any supplements that can be taken by individuals especially woman's who are training for bodybuilding to help them build their muscles in a better way?
Muscles primarily need proteins and irrespective of the gender, whey protein and glutamine are highly desirable. Women can also go ahead with BCAA and EAA supplements and take creatine supplements intermittently. It is very important to take calcium, Iron and Vitamin D and get yourself tested regularly. A multivitamin for women who do heavy training can be very beneficial. Vitamin C helps not just to enhance immunity but also to build collagen that helps improve skin and is useful to keep the cartilage and joints healthy. One must not forget to have omega-3 fatty acids.
Q Your message for woman's around in this challenging world?
Women find it very challenging to sustain themselves in the world of sports. However, it is far more relevant and beneficial for the society when more and more women participate in various sports. It helps in inculcating the intrinsic value of sports and having a healthier, happier and stronger society. My message to all women is that follow your passion unapologetically and fearlessly. Take pride in being a sportswoman. The benefits are far more than you can see superficially on the exterior. You and your entire family will be proud of you. So eat well and play hard.
Disclaimer:
The information contained in this article is for educational and informational purposes only and is not intended as a health advice. We would ask you to consult a qualified professional or medical expert to gain additional knowledge before you choose to consume any product or perform any exercise.