Amidst the COVID-19 pandemic, the sale of indoor home fitness equipment get sored as a large chunk of gym-goers are still hesitant to hit back to the gym, Stationary Bikes have emerged as the sought after fitness equipment that fitness enthusiasts love to order online during this pandemic. Owing to its major effective results, fitness experts suggest stationary bikes have some really good effects on your fitness journey. From improving your cardiovascular health to strengthening your legs and quads, stationary bikes catapult your weight loss goals incessantly. Getting a stationary bike at your home is a great option to meet your fitness goals. Having a great cardiovascular machine at your place gives you liberty to use one can use the bike anytime as per your day-long schedule. Quite safe to use, stationary Bike not only tone your overall body fat but also strengthen your legs, if done correctly. In order to do the same, you need to know basic forms of cardiovascular exercise that you can do with different types of stationary cycles already available in the market. According to the American College of Sports Medicine (ACSM), Stationary Bikes provide a low-Impact cardiovascular exercise. Talking about the India, the Indian fitness equipment market has a plethora of fitness equipment brands from which you can choose one as per your specifications, space available and of course budget. In order to make your purchase easy and sorted, we have come up with some major types of Stationary Cycle or Bike available in the market helping you guide before you plan to buy one:
Types of Stationary Bikes UPRIGHT CYCLES
Designed identically to normal outdoor bicycles, the Upright Cycles are the kind of cardio machines that give you the the same experience that you can get with a real bicycle. These cycles or Bikes can affect your back if not done perfectly, in order to complete an Injury-free exercise session, you need to keep you straight and erect while using the cardio machine.
Note: Small seat in comparison to the recumbent one.
An Upright Bike gives you a more identical workout compared to outdoor riding as it puts the rider in the same body position. While using an upright bike, you can target your glutes quads, hamstring, calves, and tibialis anterior muscles. An upright bike engages your abdominal muscle as you are keeping your body upright while sitting on it. Besides, you can also target your upper body arm workout as you are engaging the biceps, triceps, and shoulders in the upright position. The best part of it which makes it perfect fitness equipment to install at your place is its smaller footprint which in the fact requires less space to mount.
RECUMBENT CYCLES
As you can sit on a recumbent bike, you can feel the major difference between it and an upright bike. The recumbent bike goes easy on your lower back with its support to it which even makes it more comfortable to use in comparison to an upright bike. Owing to this advantage, Recumbent Bike encourages better spinal posture and perfectly suits old people and rehabilitating patients. Considering these people, the designers of the recumbent bike install broad and comfortable seats on its body. Unlike an upright bike where you can stand on pedals to hit gluteus and other major muscle groups of legs which can also lead to injuries if not done properly, in contrast, Recumbent Bikes don't let its users do so that makes it safer by avoiding such injuries. Perfect low impact total body workout fitness equipment, a recumbent bike works on building strength devoid of any risk of pain. In the case of rheumatoid arthritis, recumbent bikes give comfort to those persons affected to it with its reclining position where your weight spread over your back and buttock.
Things you need to Seek before buying a Stationary Bike
It is suggested to only invest in that bike, that has appropriate features to it. On the contrary, if you get yourself an expensive and multi-facilitated bike, it might be possible that you won't be able to use its full range of features.
Must-Have Basic Features:
Compactness and its stability
Resistance Level
Adjustable Seat
Wide and Strapped Pedals
Moving ahead, we have enlisted a few top-ranking stationary bikes brands available in the Indian market, check out the list to know more:
Proline Fitness 335L Recumbent Bike for Home Gym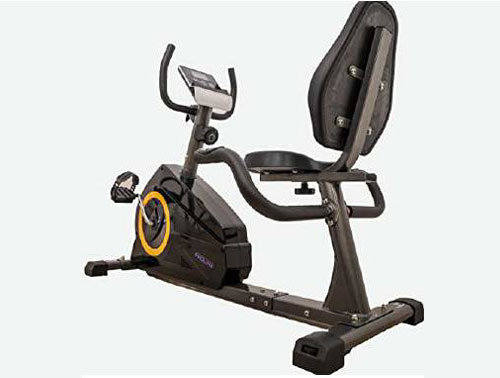 Proline Fitness is one of the top leading fitness equipment brands in India and maintaining the same trend, the brand has introduced Fitness 335L Recumbent Bike for all customers. A perfect bike for those who wants to install a home gym, Fitness 335L Recumbent bike, the bike is equipped with 6 functions computer on the front handles. You can handle all of your workout statistics from the functionality.
Major Features:
5 Kg flywheel
8 level tension or friction
Durable steel body
Adjustable seat and comfortable back support
Hand grip sensors measuring heart rate
Cockatoo CFB-01 Smart Series Fan Bike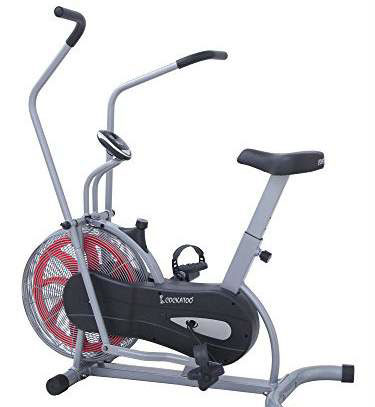 If you are looking for versatile bikes with additional features that strengthen your overall fitness, then the Smart Series Fan Bike by Cockatoo is the one for you. An attractive, Cockatoo is known or introducing best in class stationary bikes in the international market. The Cockatoo CFB-01 allows its user to pedal as well as use moving handles to do some real good shoulder and core workout. The bike got a LCD monitor, where you can get all the required information. Owing to its mesh belt transmission along with magnetic resistance, you will never find the machine making any kind or eerie sound effect. And, in addition to that, the 17 inch fan alongside the wheel creates more air resistance to provide a better workout experience.
Major Features:
Moving Handles for shoulder
LCD Monitor
Adjustable Height
Knob adjusting resistance & workout Intensity
Flywheel: 1.44KGS
Anti-Skid Floor Grips
Premium Build Quality (SS Frame)
SS Wheel with 17" Fan
1 Year Manufacturer Warranty
Max User Weight: 110 kg
Kobo Magnetic Exercise Bike for Home Gym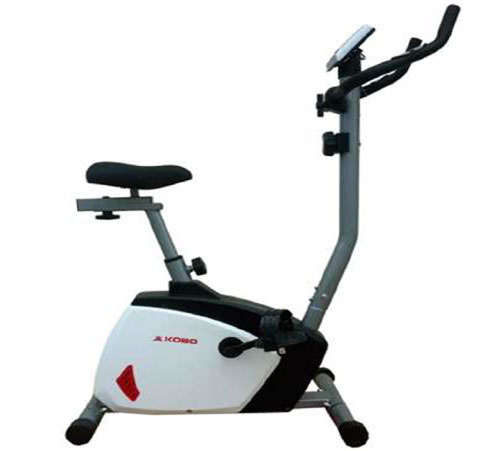 Kobo is yet another better acclaimed fitness brands in India and this Magnetic Exercise Bike is the best offered one. Available in a two way inner magnetic system coupled with a 4 kg flywheel, the magnetic exercise3 bike have fixed handles with padded grips ergonomically developed for the users. You can adjust them if you want to.
Major Features:
Compact size and lightweight
8 level resistance knob
Adjustable seat and handles
Max weight: 120 kgs
3 month
Body Gym Exercise Bike featured with pad support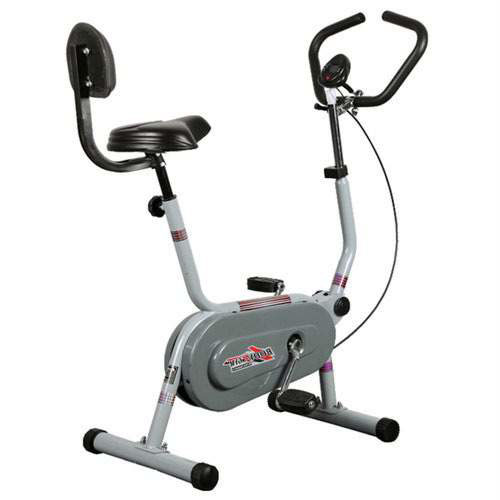 Another budget friendly brand, Body Gym is the most preferred fitness brands in India. The Body Gym offers a manual resistance exercise cycle that comes with an adjustable seat and back support. Owing to its dual action moving handles, the exercise bikes offers you a good workout for your arms and upper body. There is a digital display that shows you up to 5 metrics like time traveled, distance, calories burned, pulse rate and speed. The maximum weight the cycle can handle is up to 90 kg. So, it is not for heavyweight persons.
Main Features:
Resistance adjustment knob
Height adjustment of seat is possible
Comes with a backrest
Moving handles for upper body workout
Flywheel: 1.4 kgs
Max Weight: 90 kgs
PowerMax Fitness BU-201 Dual Action Air Bike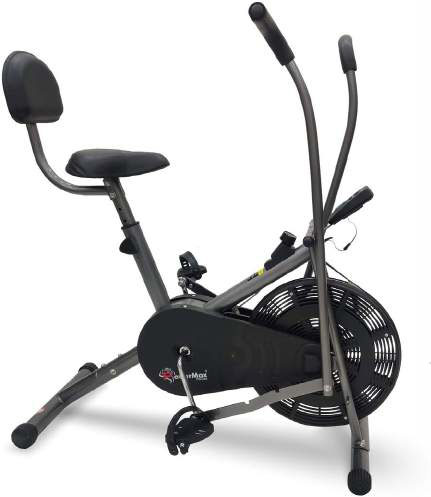 And the last entity on our list, Powermax is the most sought-after fitness brand that makes quality assured equipment for both domains viz. home and commercial use. A dual-action air bike, the BU-201 comes with moving handles and back support or a backrest option. Owing to its comforting cushions and adjustable seats, you can work on the air bike for long hours tirelessly. The resistance can be maintained as per your preferred intensity using the knob designed at the front. The anti-slip pedals are an added advantage, especially for seniors.
Major Features:
Moving handles
Adjustable seat with backrest
Heart rate monitor
Flywheel: 3 kgs
Max weight: 100 kgs
1 Year manufacturer warranty
Disclaimer:
The information contained in this article is for educational and informational purposes only and is not intended as a health advice. We would ask you to consult a qualified professional or medical expert to gain additional knowledge before you choose to consume any product or perform any exercise.