The "normals" have changed in this pandemic and so has the routine and the health status of individuals. This year we all got introduced to new words and issues like the –Pandemic, quarantine and also "WORK FROM HOME". [WFH] As fun as it sounded in the beginning, we could slowly see newer issues emerging because of this new structure. In fact, this new work regime is not only affecting us but also affecting the people around us, as there is no line between working from home and coming from work.
Bachelors, married men, working mothers, new parents, the older generation etc., all of them have their own set of issues and problems.
What are the common health problems arising from working remotely?
No physical movement and activity.
Muscle pain, back pain, neck pain, headache and migraines.
Increase in weight and fat percentage.
Reduced stamina, and endurance
Increased gadget and screen exposure, straining the eye and also negatively impacting the sleep and wake up cycle.
Loss/ increase in appetite, because of mindless eating.
Hormonal imbalances
Mental Health Impacts –WFH has not just affected the health of workers physically but also negatively impacted the mental health of not just the workers but also of the ones staying with them. Low social support or limited support from colleagues, decreased human interaction, poor communication, and isolation, increased exhaustion, constantly being surrounded by negative news on screen, no travel, desperation and the regular monotony has resulted in anxiety, irritation and stress. It has also added to disagreements and quarrels in the house thus affecting the environment.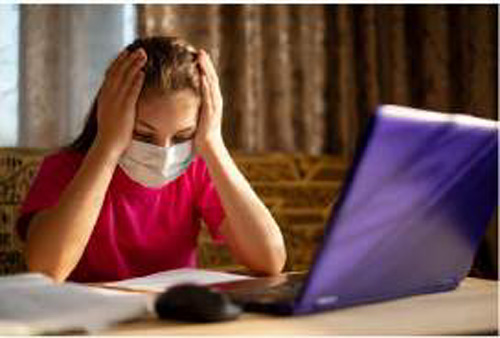 Well, now that we have looked upon the problems, it's now easier to assess the situation, pause, reflect and then work upon the solutions. Any change has never been easy, and is bound to cause some discomfort, uneasiness and some time to settle in. If we think from a more calmer and positive perspective the work from home can be really beneficial in terms of productivity, work-life balance, and sustainability.
Your house can now be your restaurant, gym, recreational area, office, and retreat centre. It's all about pausing and planning. Let me help you do the same-
Set a designated workspace – A space that allows you to sit with a straight back. No lying down and working or working from the bed
Keep a fixed bedtime – and 30 mins before this, no screen usage
Exercise – If you have never exercised it's now time to start it, as the activity levels are very low these days. The simple trick to exercise planning is that it has to be well planned, progressive and for at least 150 mins in a week.
Eat more of home-cooked foods – ensure you cook in your traditional styles and use more seasonal ingredients. Even with the lack of time, there are so many recipes which are faster than "ordering". You can quickly make a dosa/ khichdi/ gudpodi/ pulav/ tehri/ sabudana khichdi/ stir fry sabji/ kanji/ curd rice etc which are not just quicker but also fresher, nutritious and tastier
Don't miss your mid meals – Starving for longer hours and then overeating after a long gap is a pattern which results in abdominal weight gain, gastric issues, constipation and acidity. Try keeping tiny mid meals handy
Stay hydrated – Keep a bottle of water handy, and try refilling it every 2 hrs. Less water intake results in poor elimination of toxins and also affects digestion and the detoxification process of the body. Ensure that the urine colour is crystal clear at all times.
Physical activity – Move while you are on your calls, Or you can try to set a standing workstation for every 2hrs of sitting. At Least one meeting in the day can be done with your laptop kept on a table or bed. Sitting is the new smoking after all.
No gadget day – Have a strict "No gadget day" in a week. Where you are not using any gadgets or basically no screen time, You can use this day to spend quality time with friends or family, cook for yourself, read, or cultivate your hobby, listen to music, play a game or just prepare some snacks that can be handy for you throughout the week like a chivda, khkara, makhana or chikki.
Don't forget to breathe – Pay more attention to your breath. Try breathing equally and take deeper slower breaths or atleast before sleeping, try doing 12 rounds of equal breathing or abdominal breathing. This will help you unwind, relax and enjoy a deeper good quality sleep.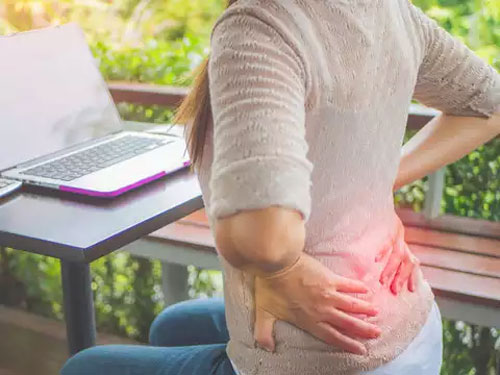 You may not be able to implement all these points immediately, but try picking one which you find easier to adapt to and keep working on the same. The key to good health is just CONSISTENCY. In these tough times, try to not just improve your health, but also check on the people around you. Some days sharing a khichdi you made or an exercise video or planning a weekend together for gardening, can be all the help and support that someone desperately needs in these tough time.
About the Author
Amita Mishra – Holistic Nutritionist and lifestyle coach Founder, Anushasan
Amita Mishra is the founder and chief nutritionist of the online holistic health management company – ANUSHASAN. She practices in the field of integrative lifestyle medicine and lifestyle coaching. With an academic background of Master's in Food Science and Nutrition, she is also a qualified yoga instructor.
Having been awarded with three prestigious awards "Mid-day Iconic Nutritionist in Mumbai-2019" and the "101Most fabulous global healthcare leaders -2020 and 2021", Amita believes in addressing the disease and health condition from its roots and parallely changing the lifestyle, eating habits, exercise and mental health of an individual.
Her online health program "Anushasan" is globally known for being personalized and customized and revolves around all the pillars of holistic health and nutrition.
Disclaimer:
The information contained in this article is for educational and informational purposes only and is not intended as a health advice. We would ask you to consult a qualified professional or medical expert to gain additional knowledge before you choose to consume any product or perform any exercise.