These days when we all are fighting with the second wave of COVID we need to pay extra attention to our fitness and health. Of course, having a healthy diet will help in maintaining your fitness but exercise will be marked as the important helping route. Various cities and states are imposing partial lockdown and night curfews we need to avoid going to the gym. But this should not act as a bar in your fitness routine. Yes, we can switch back to workout from home to maintain our health and fitness. In this article, we will be talking about the Top 5 exercises that can be performed at home with no or minimal equipment.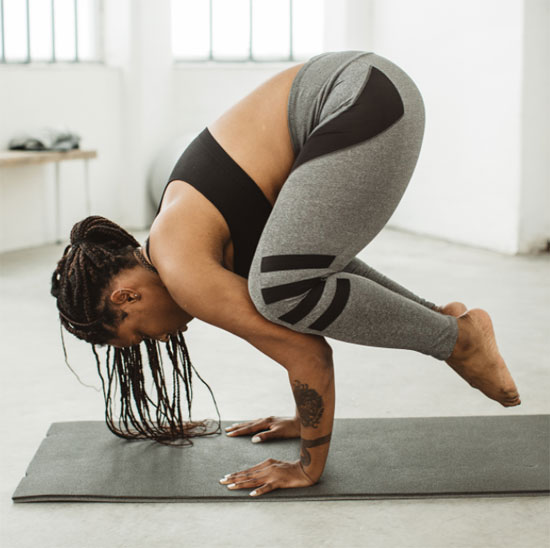 At a time of tremendous stress and risk, the slow movement and controlled breathing of yoga can relieve anxiety and assist with physical stress. You can try these easy yoga exercises:
Start in Child's Pose, with the knees bent under the chest and the torso and head down.

Now spread the legs out and push up onto the hands into Downward-facing Dog and make sure your hips should be in the air so that the body forms an inverted V.

Next is to bring one leg forward between the hands, with the foot flat on the ground and knees bent with the hands-on on either side of the foot.

Lift the upper body and arms, straighten the back leg, and turn the back foot at a 45-degree angle.

Stretch one arm behind the body and one arm in front of it and stretch and breathe deeply.

Repeat the entire sequence by switching sides.
Yoga is not just for adults but your kids and parents can accompany you in this. You can even try different yoga asanas to have a complete body workout. Yoga is great in the days of PMS so women can try doing yoga to reduce pain and cramps. Also, you just need a mat to perform yoga which is easy to keep and not some expensive equipment.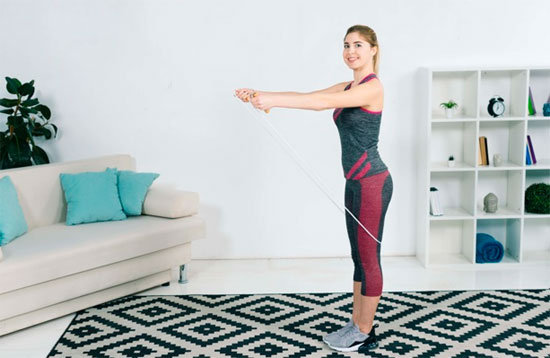 Another easy and simple exercise to perform that will help you in maintaining your shape. You just need a simple skipping rope to execute this exercise. You can add variations and modifications to make it more beneficial. It helps in improving heart health and comes under the best cardio exercise as it increases the heart rate. It helps in increasing concentration and improves coordination. It also helps in increasing stamina and boosts mental health and decreases belly fat.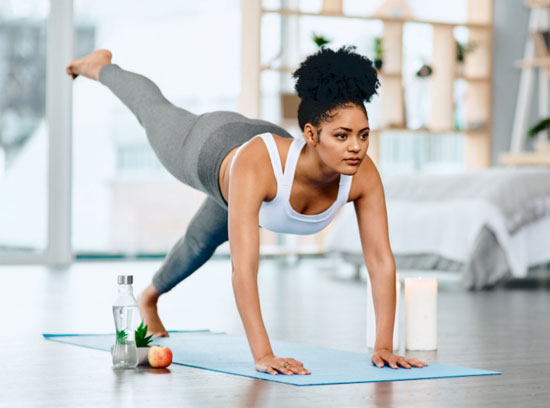 Pilates helps in improving flexibility and increasing muscle strength and tone. It mainly works on your abdominal muscles, lower back, hips, and buttocks (the 'core muscles' of your body) and helps in balancing muscular strength on both sides of your body. It also helps in enhancing muscular control of your back and limbs. The plus point is that you can add modifications and variations to make it more effective. You don't need any equipment for it but make sure to have pre-workout and post-workout to add extra effectiveness to your intense workout.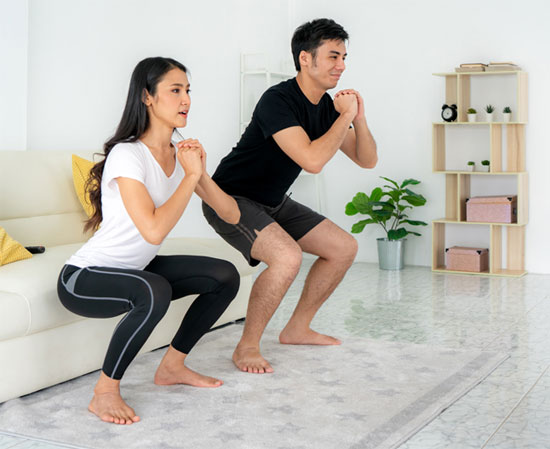 It helps to strengthen your core and helps in reducing the risk of injury. Squats will also help you in cutting your calories and boosts athletic ability and strength. It will help in strengthening the lower body and will also help in reducing stress and anxiety. You don't need any specific equipment for this. You can try different types of squats and add variations to them.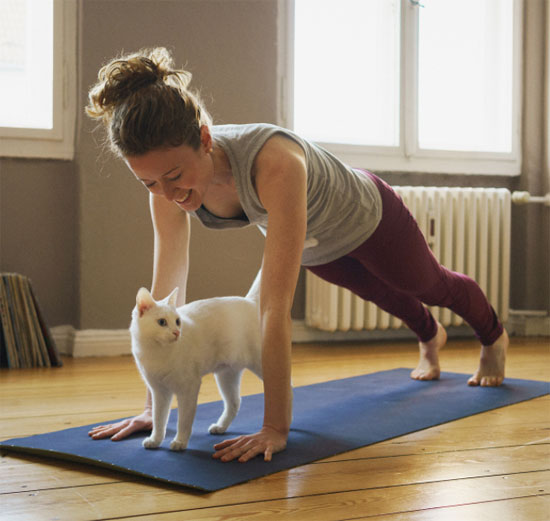 Workout seems incomplete with pushups. It is the favorite warm-up exercise for weight lifters but as we don't generally have dumbbells in our home so we can use this warm-up exercise to help us maintain our body. Pushups are beneficial for building upper body strength and they target your triceps, pectoral muscles, and shoulders. When done properly and with accurate posture they can also strengthen the lower back and core by pulling in the abdominal muscles. Pushups are counted as the fastest and effective exercise for building strength.
Disclaimer:
The information contained in this article is for educational and informational purposes only and is not intended as a health advice. We would ask you to consult a qualified professional or medical expert to gain additional knowledge before you choose to consume any product or perform any exercise.