Meet Diksha Bhatt, an ACE Certified Trainer cum a certified nurse who has been making quite hustle in the male dominated field of Bodybuilding, breaking the stereotypical image associated with women that they can't lift and train. Started with an urge to be fit watching YouTube workout videos, Diksha now aspires to represent India at the international platform of bodybuilding. It must be inspiring for many female bodybuilders and trainers out there to read more this amazing strong lady who have never give up on her dream i.e. bodybuilding and fitness.
In a bid to know adventurous journey of this power-puff lady, Abhinav from Sportz Business Fitness Magazine talks with Diksha Bhatt, an ACE certified trainer, where she vehemently shared her fit life's journey till now besides shedding some light over her future plans in the field of fitness and bodybuilding.
Q: Tell us about your transformation journey from being a certified nurse to an ACE Certified PT?
It all started while pursuing a career in Nursing. During the period, I used to be a chubby girl, not in good shape at all. It was my urge to be fit that inspired me to start workout initially watching YouTube videos.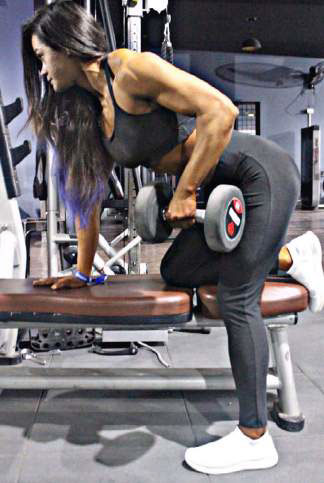 At that time I was a hosteler and I didn't know anything about fitness and diet however, I used to do fasting and eat very less. Day passed by and my physique improved, and later through Instagram I got influenced by weight training and subsequently I started weight training. Initially, I didn't have weights so i used to put all my books into a bag making it a makeshift weighted gym bag and do squats. The hostel where I used to stay follows quite strict rules regarding curfew timing and going out however, I want dumbbells so one day in association with one of my friends, I stole a pair of 5kg dumbbell from the hostel's old gym. After having a pair of 5kg dumbbell, I started workout s like shoulder press and dumbbell press.
During one of my summer vacations leave, I joined a gym at my hometown and the owner judged me being a woman and suggested me to do cardio workouts on treadmill and cross-trainer. His in general attitude towards women (women can't do weight training), infuriated me and from the very next day, I started doing weight training being by self teaching through some YouTube videos.
During one of my summer vacations leave, I joined a gym at my hometown and the owner judged me being a woman and suggested me to do cardio workouts on treadmill and cross-trainer. His in general attitude towards women (women can't do weight training), infuriated me and from the very next day, I started doing weight training being by self teaching through some YouTube videos.
As the days passed my intensity increased day by day so was my appetite to become a woman bodybuilder for which I was often ridiculed by some of the trainers in the gym, however it didn't affect my consistency. Such consistency can realised with the fact, that I did workout even on the last day of my college.
After my college results, I met a guy at the gym, he had good physique and soon we became good friends, he told me about the ACE i.e. American Council on Exercise, notably he was also an ACE certified trainer. I told my parents about ACE but they didn't have any idea about that. I tried to convince them that I will do part time job at gym and simultaneously will join a hospital. One day I got a job interview as a nurse but when i reached the hospital the guard told me that the interview is over, come next Wednesday for interview. The very next day, I got a call from my mother reprising me that my farther agreed for my ACE certification as my brother convinced him and told him about various scopes for females in fitness. My parents didn't know about that however, they agreed and sent me Delhi to pursue ACE certification.
It's true, whenever you dream for something from the core of your heart and you strive to overcome all your problems and face all those obstacles, the day will come when you finally will find your path to achieve that dream of yours. As soon as I moved to Delhi, I joined Classic Fitness Academy to pursue ACE PT Certification course.
Q: What were the early hiccups came in your life while pursuing a career in a male dominated space? And whom you want to recall who stood by your side during the period?
It is very difficult to start a job as a trainer. I started my career from Anytime Fitness. In India there are very less female trainers as compared to male trainer. And it was like to prove myself that i can also do well like other male trainers and i did so, but still some male clients of my gym think that I can't spot them during heavy lifting. Some of the male clients wanted to train with me but due to hesitation they didn't talk with me because of my gender. Also in India I don't know why people think that workout for male and workout for female is different. Female can also do squats, bicep curls and bench press too. The stereotypical attitude for female trainers continued to haunt me in my initial stage of the profession as a fitness trainer as I didn't even had a single male client at first. It was only after my intense preparation for Women's Physique Category in Amateur Olympia Mumbai 2019, People start noticing me and subsequently I got my first male client who wanted to train under my guidance.
Talking about the people who supported me, my family, my mother (Ms.Usha Bhatt), my father (Mr.Rakesh Bhatt) and specially my younger brother (Anurag Bhatt), who believed in me that i can achieve my goal and convinced my parents indirectly. I also want to thank my friend Shailendra Negi who told me about the ACE certification and guided me. Without him I would have never knew about ACE certification. In addition, I also want to recall one of my colleagues and my mentor Narendra Singh who always motivated me that i can perform better and inspired me that i have that bright spark.
Q: Can you tell our audience what fitVibe is all about?
Fitvibe is our online training page that is on Instagram and now we have decided to open fitvibe as an offline fitness centre in Dehradun, Uttarakhand.
Basically Fitvibe will be a Fitness Studio where different form of Physical Activities will be performed like Olympic Lifts, Strength and Conditioning, Functional Training, Yoga, Zumba, HIIT and much more. The Training Area is about 1200sqft and the training will be carried out in Groups. And the key trainers of fitvibe are Diksha Bhatt (ACE-PT, certified in-The Corrective Exercise Library and registered Nurse), ShailendraNegi (ACE-PT, Strength & Conditioning Level 1 Coach) and Shubham Gusain (ACE-PT and Functional Training Specialist).
Q: One who workout has a set goal to reach ultimately, what is yours?
My goal is to win a Pro Card in India so that I can participate at international bodybuilding competitions. I want to set an example for all females especially for those who are from Uttarakhand and are missing out somewhere in this field . And the last but not the least, I also want to break the age old stereotypical thinking of people that women can't lift and train.
Q: And the last, your word of suggestion for the young fitness aspirants who want to pursue a career in the space?
To all the aspirants, I want to say that there are a lot of people who will demotivate you and try to try to tap you down; all you need to do is to keep moving no matter what situation comes before. Initially may be everyone is against you but you have to prove them wrong and show yourself what you are capable of. Just keep on moving, God will automatically make the path for you, there will be obstacles on your way you just have to overcome those obstacles and one day you will reach your goal. "If you can't fly then run, if you can't run then walk, if you can't walk then crawl, but whatever you do you have to keep moving forward.''
Disclaimer:
The information contained in this article is for educational and informational purposes only and is not intended as a health advice. We would ask you to consult a qualified professional or medical expert to gain additional knowledge before you choose to consume any product or perform any exercise.