Following your passion and making a healthy living out of it is no less than a dream come true. Though their inspirational stories are mesmerizing but being one is no less than a brave heart. Following the footsteps and maneuvers of his 'role model', Taimur Malik, a MMA fitness trainer and an ardent fan of Bruce Lee has been teaching martial arts induced fitness regimes since quite a time.  Started as a young practitioner of MMA, Taimur's journey is worth mentioning in the quest of MMA. From leaving home behind and sleeping in a MMA club to participating in several championships winning coveted belts (including nationals), Taimur Malik is an example of being stubborn as a mule to follow his passion. Unfurling more about this MMA champion and Master Personal Trainer, Abhinav from Sportz Business Insights brings an exclusive interview of Taimur Malik. In this interview, Taimur shared his insights about the contemporary state of MMA in India and its effectiveness to be incorporated as a fitness regime and many more untold stories in this edited nub.
Q Tell our audience about your journey in MMA and what role is it playing in your life?
My knack towards martial arts was since childhood to count since the age of 5 or 6, a time when nobody knew about Mixed Martial Arts (MMA). Although, there were other forms of martial arts present including Karate, Judo, Taekwondo. Taking more interest into the art, I was acquainted with Bruce Lee, a famous martial artist of all time. In no time, Bruce Lee became my role model and I started copying him in all shape let it be strength and physique. During the course of my exploration through internet, books and documentaries about Bruce Lee, I revealed that, he knew a lot of traditional arts but created his own philosophical art of 'Jeet Kune Do', on which MMA is based. In fact Bruce Lee is considered to be the father of MMA as said by Dana White- President of UFC.  Jeet Kune Do is based on three things- Absorb what is useful, reject what is useless, and add your own. That's what exactly MMA is!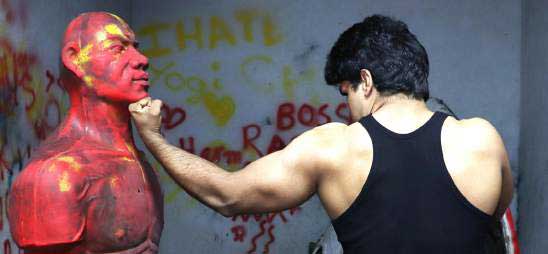 Fitness wise, Bruce Lee also debunked many myths followed by Shaolin philosophy- like weight training slows down a martial artist. He followed a training regime that worked on the holistic development of the body and his training involved everything like compound lifts, HIIT, Plyometric moves, calisthenics, long distance running etc.
In the contrast of all these information, my passion for MMA grew and subsequently I started dreaming of opening my own MMA gym. Dreams apart as a matter of fact, my parents were not in support of my career choice in fact they wanted to focus on the studies. And since my career choice was not supported by my father, I left home and started sleeping in Knockout Fight Club where the gymnastic mats were my bed; pads were my pillow and I had just a quilt. Thereafter, I started working there as a sales person, a trainer and a manager. From there my professional journey in MMA started and now there is no looking back and I continue to work as an MMA and fitness coach.
Moreover, one of my main motivations and reason to be a martial artist was that I never get bullied by anyone and also help anyone in need. MMA has been important to me as it has helped to build so much confidence in me as I'm not jittery of taking punches on my face and body and has made me tough and fearless. It also helps me lead a healthy lifestyle, but most importantly MMA lets me empower others.
Q Being a consistent MMA athlete, how do you see its state, amid several combat sports?
MMA continues to get more and more attention worldwide.  India now has its own MMA tournaments like the Matrix Fight Night (MFN), Brave 20 etc. Our Indian fighters are participating and winning big international tournaments like One Championship. More and more MMA gyms are coming to India like UFC gym, SFL gym. Today, we have an Indian UFC fighter named Bharat Kandare. Also, as compared to other combat sports, MMA has much more handsome winning amounts and fame for fighters. These proves that MMA is growing considerable compared to other sports in the country.
Q Out of different forms of arts that MMA constitutes within, which one is the most effective for fitness?
The most effective for fitness is Muay Thai with wrestling workout drills. Muay Thai works on upper and lower body strikes, coordination, speed, agility, stamina, and the wrestling workout drills work on strength, power, and endurance.
Q Throw some light over Plyometric movements, how it can affect someone's fitness?
Plyometric movements require explosive stamina, not static stamina i.e you have to generate force, power, and strength within short amount of time. In these movements, lungs and heart play major roles, thus increasing their capacity. All this is very useful for athletes in striking and sprinting.
Q Any specific reason why Indian MMA athletes are not making into international MMA sports brands?
MMA was introduced in the world in mid 90s, hence being very afresh and new compared to other fighter styles like Karate, Judo, Taekwondo, Boxing etc. Currently, India does not have the correct knowledge of MMA. Most of the fighters who have mastered only one form of fighting style enter into the ring and get overpowered by MMA fighters. For e.g., a boxer doesn't know how to deal with very strong, intense kicks, knees and elbows thrown at his body; a wrestler does not know how to deal with hard striking on his face, and a standing striker doesn't know what to do on ground. Also, MMA is not taught in stadiums and training in MMA gyms is expensive.  The MMA fighters who managed to train well in MMA have won tournaments like Ritu Phogat , Rajindar Singh Meena in One Championship.
Q Amidst several fitness regimes including Crossfit, Pilates, Zumba, Functional Training, which is the most effective tool to lose weight?
The best way to lose weight and burn fat is by lifting and Crossfit is the best for weight losing. Crossfit involves Olympic lifts, gymnastic moves, bodyweight workouts, functional movements with HIIT format, due to which it burns a huge amount of calories. During this process, the metabolism shoots up not only while doing the Crossfit workout but after the workout too, unlike other fitness regimes like Zumba, Pilates, yoga , long distance running.
Q Tell us about the experience of your recently concluded 'Master Trainers' program under GSB academy?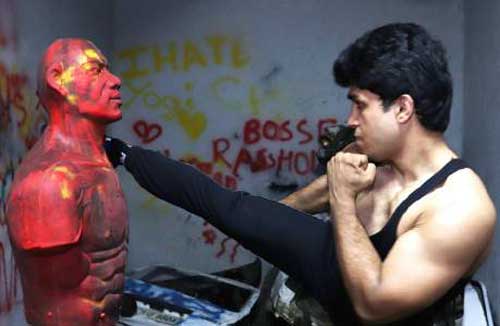 Following Bruce Lee's footsteps, I always wanted to learn everything about the human mind, body and soul. I have 56 books at home to which one of the aspects I wanted to get a better understanding of steroids or human performance-enhancing drugs. So I attended the 'Anabolic Steroid Workshop' by GSB Academy where all my doubts were cleared regarding steroid cycles. To get an even more in-depth knowledge of the human body and exercises for fitness I joined the course of 'Master Personal Trainer' by GSB academy. The course greatly helped me with advanced technical knowledge regarding fitness and how to plan different training regimes for different types of clients.
Disclaimer:
The information contained in this article is for educational and informational purposes only and is not intended as a health advice. We would ask you to consult a qualified professional or medical expert to gain additional knowledge before you choose to consume any product or perform any exercise.