We are living in a progressive world where almost everyone is rushing in the progression of a professional lifestyle cult. Amidst such hullaballoo, a working couple couldn't manage to spend quality time together, there are a few things that they can do to garnish their lost love!
How about doing a workout together!  
You must know that we workout for our fitness, but what will happen if you ride on different fitness regimes to resonate with your idle relationship?  Apparently, it's quite exciting to try something new every time in a relationship, which not only rejuvenates your energy as a couple but also heightens your intimacy.
Besides, working out your couple goals, if you led your partner into the gym, it can benefit your health as well as great wellbeing. All you need is to convince your partner to accompany you into the gym or any fitness center to sweat together and sweeten your relationship.
In this article we will enumerate the reason why a couple should sweat together:
Spend the best time together:
You can always spend your after-work hours cuddling on the couch but this won't do any good to your mood and physical attributes. In order to improvise your relationship step out of your home and head to a health club or a gym, this will definitely improve your sexual life.
In addition to going to a gym, you and your partner can always jog together, sprint together.  You can set some fitness goals that will again inspire you both to take these sessions seriously.
Let the motivation to come:
According to research, the couples who engage in fitness together are most likely to stick to a regular exercise plan. At a time when you find it hard to hit the gym alone, your partner can be a motivational figure to take your steps into the gym.
Your female partner can always be your driving force in the gym as she is the one for whom you are doing this. And if you and your partner live together then that would be cheery on the top, as you can always your prowess on the bed, and believe it or not, exercise improves your sexual drives.
Hit the efficiency of your workout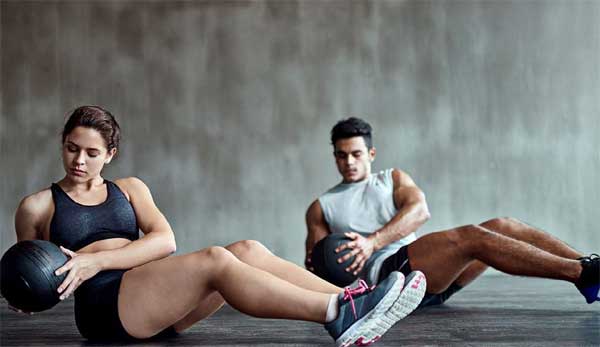 It's normal psychology whenever your boss hovering around at the office, you give your best effort into the work. The thing also happens in the gym, when your partner (he or she) observes your workouts; you are more likely to push your limits without realizing it. A friendly show off that you can do more reps can eventually work positively on your health.
Rekindle spark in your relationship
Doing an intense exercise alone infuses Endorphins which are also known as 'The Happy Chemical'. Now, if you and your partner exercise together, both can intensify the release of endorphins which eventually make either of you happy and blossom love with your partner. If you try some specific couple exercises (illustrated in our earlier editions) including double trouble, Bodyweight squats, and side plank pass, you can create a sense of togetherness by imitating what are you doing and finding a rhythm during reps.
Stress! Sort it out with a workout
In the contemporary period, stress is the most inevitable thing that comes into our life. It can be a potential reason for a mental disorder. Believe some reports, it's an undeclared disease that should be taken care of from time to time. Stress can haunt you in any way, let it be your scuffle with your boss, government mal-function practices, and of course from the person you love the most. Well, In that case, there is the only way to combat a stressful lifestyle is to be a happy soul. Endorphins which are also known as happiness chemicals can be a key solution to this stressful plight.
It helps improve your mood, shunning stress and trigger a calm and sound sleep.
By exercising not only you can divert your mind off those stress but also you can release the most essential mood-setting hormone i.e. endorphins.
And if this is your beloved one who is the sole reason for your stress, you can workout together to sort out stressful things common in between you two. Try to infuse mild conversation in between sets so that you can cement your connection again on a positive note.
Disclaimer:
The information contained in this article is for educational and informational purposes only and is not intended as a health advice. We would ask you to consult a qualified professional or medical expert to gain additional knowledge before you choose to consume any product or perform any exercise.