Getting fit and healthy doesn't always involve tedious trips to the gym. Responding to rhythm is hardwired in our genes. Says Sanaa, the founder of Soul to Sole. In an interview with Sportzbusiness, this dancer-turned-fitness trainer explains how she is elevating people's souls with a call of music.
How did you first start with the idea of this gym?
My name is Sanaa and I am the founder of Soul to Sole. Soul to Sole is a boutique fitness and a dance hub for everyone in Delhi and Gurgoan. I founded this when I was 17 to turn my passion for dance and fitness into something I can share and inspire with everyone.
How did you come up with the name Soul to Sole?
I read it somewhere when I was really young. I wanted something that connected the movement from our feet to the movement for our heart. That was the thought behind it. It was just literally from my heart to my feet.
What are the dance forms you experiment with?
So, in this fitness studio we do both dance-based and nondance-based workouts. Most of our classes are group classes. And we offer soulwork dance cardio or Bollywood dance cardio. We offer HRET, Pilates, Yoga, strength and conditioning. We offer a combination of classes. This studio is an one-stop solution for everyone who dances.
Is dance is the only thing you use to change people's dance? Or is there other elements too?
So, Soul to Sole is a place where it is mind-off and body-on. When you simply walk into this place, it is a stress-free zone to come, work-out and leave all the worries outside. So, the moment you walk-in the vibe, the energy will make you feel like this is where I want to be. The place, the people, the instructors, they themselves are very convincing about this being the right place for everyone to workout.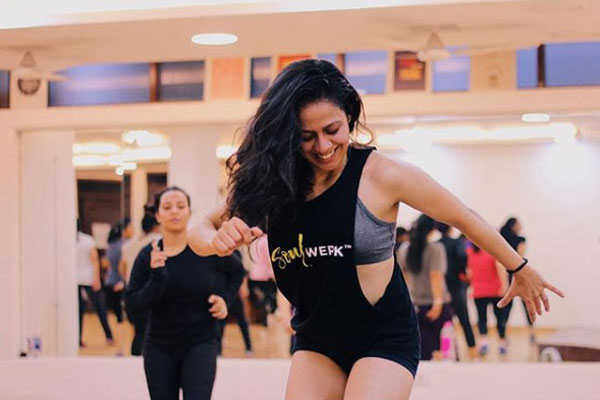 Describe a usual session at your establishment.
We do something called Soulwork dance cardio which something we developed in house. Now it is just one hour of follow-along cardio. But it involves around hundred squats, lot of arm workout and lots of core workout. At the end of one hour, you don't feel like you have done a workout, although you have possibly used every single muscle of your body without getting to know even one bit of it.
So, how many students you have under your wings?
So, on a monthly basis, we have about 200-250 student. Overall, we had about 6000 students so far.
Tell us a little about your trainers.
Overall, we are ten of us. Six of us are dance cardio trainers. And four of us train strength and conditioning, Pilates, Yoga and all the other classes that we offer.
How do you spread awareness about your institute and fitness?
So, we started in 2013. And to be honest, the awareness was very organic. It was only and only through referral. We got a few clients through references. And the reason the clients spilled up because they were referred by other clients. So, the only thing that has ever worked for this studio is the clients enjoying themselves and telling other people about it.
You guys have a huge social media presence. How did it help your institute to have a better visibility?
To be honest, social media is a huge game changer. If you know how to use it right, if you want to make a positive impact on the people, instead of telling them what they can't do, if you tell them everything that we do here is possible by you also. This is something we do it very often is that through our social media, we try to create this image whatever we are doing you can do it too. So, that what was the game changer for us. And social media played a very big role for the last two and a half years when our studio was shaping up. Because, now it is so easy get information out to our audience. And nowadays every business is about real-time. Anything that happens today needs to be updated today. It becomes very easy to connect to your client. Nothing is better than that.
Is there anything you are trying to introduce to your gym in the coming days?
Well, we are trying to introduce a lot of things. Most of them are about how people feel about themselves, particularly how women look at themselves when they see themselves in the mirror. So, we are trying to bring a good positive change when you walk in here how you feel about yourself. So, that's the only future role for us.
Disclaimer:
The information contained in this article is for educational and informational purposes only and is not intended as a health advice. We would ask you to consult a qualified professional or medical expert to gain additional knowledge before you choose to consume any product or perform any exercise.