Cycling can be intimidating in a densely populated city like Delhi. To promote cycling and healthier lifestyle, Noida Cycling Club is working around NCR. A community of cycling enthusiasts is encouraging people to take up cycling and explore the streets. SportzBusiness interacts with Noida Cycling club and learns what motivates them to hit the streets of capital.
1) Who are the people behind Noida Cycling Club? How and when did it come into being?
Noida Cycling Club was started by Mr. Aman Puri on 10th April 2011 with the idea of having a recreational cycling community of like-minded people.
2) What are the fundamental aims of Noida Cycling Club? 
The fundamental aims of NCC are as follows- To promote cycling as a sport among the masses, to promote cycling as a means of transport and promote the concept of bike to work,  to increase awareness about traffic, pollution and sensitise people about the environment and benefits of cycling to the environment, to promote fitness, lead a generation of fitter India, to reduce lifestyle diseases and improve overall health, to form a community of a like-minded people and provide a platform to interact and socialize, to encourage women and children to take up outdoor sports, to improve endurance of members for competitive cycling events.
3) How many people are associated with NCC?
We operate through Facebook mainly and currently have 6375 members.
4) How can someone join NCC? 
People can join through various social media platforms. Like- Facebook Group, Facebook Page, Website:www.noidacyclingclub.in, Instagram, Whatsapp .
 5) Tell me about the women-only tour that NCC has been conducting and how has been the response towards it?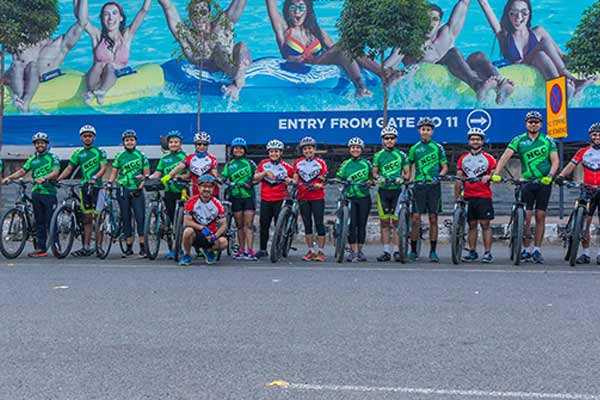 Noida Cycling Club has conducted few only women specific rides and kids and women special rides. We make the event route traffic free, the ride is started later in the morning than usual ride hours. Bike marshals support the ride and the event is carried out in the most safest manner. The purpose of women centric ride is to motivate females to take up cycling as a sport and attend group rides. The response has been very good, women who participated felt empowered, respected and safe which led to in 2017 Noida Cycling Club had the most number of female riders in any recreational group in India.
6) In a concrete jungle like Delhi, what advice would you give to beginners for a safe ride?
Best advice to beginners is to join a cycling group in your city. Today there are over 100 sub and major recreational cycling clubs in Delhi-NCR. Group rides are safe, motivating and gives great experience. Noida Cycling Club is among the oldest cycling community in India and the biggest cycling community of Uttar Pradesh.
7) What kind of infrastructural upgrades would be beneficial for cyclists in Indian cities?
Delhi-NCR is highly populated and extremely polluted. We have traffic issues. We have tried and tested the dedicated cycling tracks and it does not suffice the needs of the cyclists. A better solution is to have a cycling marked lane across the city roads and a little more awareness about the 3-feet rule among motorised vehicle drivers can be a good idea.
8) What are the programs NCC is conducting to engage more people in cycling?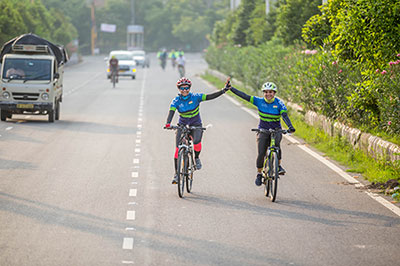 Noida Cycling Club is a dedicated cycling club with a mission to improve the health and fitness of its members. We give nutrition seminars, bike fit technical sessions, competitive cycling awareness, social meetings and cycling meets.
9) In your experience, what kind of changes NCC was able to bring in people's lives? 
People started appreciating Cycling as a Sport. 2. Many started the concept of Bike to work. 3. Overall fitness and health of people improved. 4. Awareness of Environment and Health was increased. 5. Noida Cycling Club has change lives of people at both professional and personal fronts.
10) What is your future plan regarding NCC?
In coming years, Noida Cycling Club is likely to be Asia's biggest and most active cycling community. We are working on it currently and foresee a great future for Noida Cycling Club, Cycling in India and its members.
Disclaimer:
The information contained in this article is for educational and informational purposes only and is not intended as a health advice. We would ask you to consult a qualified professional or medical expert to gain additional knowledge before you choose to consume any product or perform any exercise.