Creating India's very first privately owned High Performance Sport Science & Medicine Centre, Sporting Ethos has been transforming the way Indian athletes are addressing their development and performance needs with respect to physical fitness, sports injuries, nutrition, psychology and multiple aspects surrounding their Sport.
Rishabh Jaiswal, the Managing Director of the company has instituted a Scientific cum Sports Performance Centre in 2012 with a name of Sporting Ethos.  In its list of services, the center offers services which include Strength and Conditioning , Physiotherapy for Injury Management/Prevention, Performance Nutrition, Sport Psychology in an individualized and scientific manner. Besides, in order to provide a speedy recovery post an intense workout or training sessions, the performance Centre offers Ice baths to their athletes that further lower down inflammation and pain caused by exercise.
With its specialized team of experts such as Sport Physicians, Sports Psychologist, Strength and Conditioning trainers, Sports Nutritionists and Bio Mechanist,  Sporting Ethos is vehemently  handling athletes' individual performance, recovering and training process.  In the wake to develop a sound foundation for upcoming athletes, the Performance Centre makes use of high-end scientific equipment, methodologies and training processes along with shot-term and long-term goal-setting for athletes
While interacting and telling more about his Performance Centre in an interview with Abhinav of Sportz Business, Rishabh Jaiswal highlighted the contemporary state of athletes and their approach towards science and technological tools of performance enhancement process.
1.What inspired you to start an Athlete Development and High Performance Centre?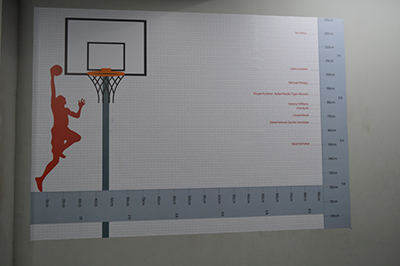 I have always been passionate about sports and had always wanted to venture into it with the purpose of providing an in-depth solution which would contribute to Indian Sports. At that time, quite a few of our elite athletes were seeking rehabilitation for their injuries abroad and since I was working in the medical sector, I saw no reason for the same to happen and this piqued my curiosity.
Upon extensive research during 2011-12, I realized that it was not just injury management or Sports Medicine, but overall, a scientific system of athlete development in our country has been largely missing and this aspect needed to be addressed in a comprehensive manner for us to becoming a sporting powerhouse.
 2. How do you see the future of sports science and technology in India?
 Having started the first privately owned entity in Sport Science in India 2012, I knew it would take us time to reach the level of developed countries where universities also contribute immensely to Sport Science support for athletes. My thought process is that only way we can go forward is, given the exposure and understanding to Sport Science and technology, though much more is still largely limited.
Having said that, a lot of work in creating awareness among upcoming athletes, sports coaches and parents needs to be created to help them understand that they could achieve longer-term goals with more efficiency and greater chance of making it, if they rely on 'Sport Science' instead of following the traditional pathway for athletes.
It needs to be kept in mind that Sport Science and Technology are not just about the equipment and infrastructure (which are a vital part of it) but is also about the behavioral aspect, communication among the individual athlete and his/her team.
 3.What are the main challenges faced by the Indian athletes?
 Almost all the athletes across the world face challenges of some kind of the other. In most developed countries, the challenges are often internal or controllable by the athletes themselves, to a great extent.
In India, in addition to the internal challenges, there a much higher number of external factors often beyond the athlete's control, which an Indian athlete has to contend with and learn to cope with.
If we could provide the 3As: Access, Awareness and Assurance to the Indian athletes, it would certainly help their development a great deal.
 4. What is the response of sports industry towards these new verticals coming for the holistic development of an athlete?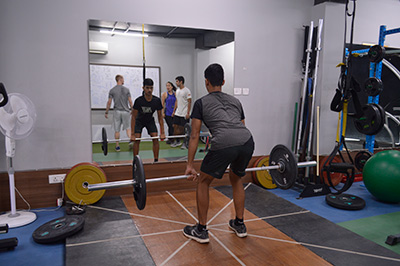 If we consider private ventures and initiatives, the Sport Industry in India is still at a very nascent stage and is beginning to organize itself. Sport Science and High Performance are a much newer concept for the Indian Sports, Sports industry and are still in the process of being understood by other verticals. Most private ventures which are aiming to provide solutions to various issues faced by Indian Sport cannot overlook or avoid the fact that athlete development would be central to sport at all times and understanding, appreciating and incorporating the science behind it which is evidently necessary.
 5. Tell our readers, the wholesome approach of Sporting Ethos for an athlete?
 We identify ourselves as the support system of our athletes where each individual is different and our approach is customized accordingly. Apart from the technical skill acquisition and refinement (coaching), we oversee the entire process of an athlete's development and High Performance.
We follow the LTAD (long-term athlete development model) in principle, which originated in Canada in the early 2000s and we have continued to apply and modify our approach in the context of the Indian athlete.
This includes conducting comprehensive assessments with regards to the athlete's health, injury prevention, functional movement, physical fitness, nutrition and mental aspect and also providing Strength & Conditioning, Sport Nutrition, Sport Psychology, Recovery, Performance Planning and Analysis as integrated services where our team of highly qualified experts works together.
Our approach is derived from the latest scientific practices emanating from research and over the last 6.5 years, we have developed a very strong and efficient communication system which is process based and we continue to refine it further every day.
 6. How do you create awareness about scientific approach to playing Sport?
 Initially, we mostly relied on conducting workshops, setting up awareness desks at tournaments and sports complexes. While we continue to do that independently and in partnership with some corporate sponsors, the rise of social media in the last few years has helped us reach out to athletes beyond the local geography.
We have created a lot of research backed content and disseminated it free of cost through our social media handles. This year, we are creating awareness about 12 High Performance Habits, where every month, our experts share tips and details about habits all athletes must incorporate to make consistent improvements in their particular sport.
 7. How does Sporting Ethos groom a young athlete coming to the facility?
 Apart from the services we provide (mentioned above), education is a very important part of our communication and interact with athletes. The good thing about this communication is that it is both ways wherein, we encourage the young athletes to ask questions and clear their concepts, whether it is about physical literacy, nutrition habits or aspects of their lifestyle such as sleep quality and quantity, balancing sport and school, or decision-making on workload and recovery management. All this plays a huge role in grooming and shaping the thought process of a young athlete. Also, at the end of the day, we encourage the athletes to enjoy the effort the processes they are following as this is the most crucial aspect for an athlete to continue in the sports, whether it is the beginner or elite level.
 8. Tell us about Sporting Ethos clientele which constitute elite Indian athletes.
 Our clientele includes Olympians, Commonwealth Games Gold and Silver Medalists (2018), Arjuna Award winners, Asian level medalists in shooting, Junior Grand Slam winners, Junior Olympics participants and many players who are part of the national team including Basketball, Football, Squash at the junior and senior levels.
Our first athlete, who joined us in 2014, represented India at the Asian Games, 2018 in Golf and has just turned a pro. Similarly, we have a lot of young talent who is doing very well but our focus is to help them enjoy the sport and build gradually so that they can have longevity in their respective sport.
9. Tell us about your grassroots program that you undertake for young athlete. How effective are these indeed?
So far, our grassroots approach is limited to the young athletes who come to our facility. We do realize that there is a lot of talent out there which needs to be developed and nurtured scientifically and we are now in the process of starting a scholarship programme which will be directly managed by us with the help of some corporates.  'Through your magazine, we would like invite interested sponsors for the same'.
In 2018, we also launched India's first ever helpline for athletes called Athlete First which is a toll free number, where any athlete can call and speak directly with a Sport Science expert: physiotherapist, Sport nutritionist, sport psychologist or a Strength & Conditioning trainers. We have received calls from Gujarat, Jharkhand and, West Bengal apart from Delhi/NCR and we hope to reach out to more athletes at the grassroots level to provide them any guidance we can. The helpline number is '1800 120 2024'.
 10. What kind of services do Sporting Ethos provide to Indian athlete?
Our services include:
1. Comprehensive Assessments using latest equipment/technology and standardized assessment process
2. Strength & Conditioning for athletes
3. Sport Nutrition
4. Sport Psychology
5. Sports Physiotherapy
6. Gait Analysis
7. Performance Recovery services such as Ice Bath, Soft Tissue Release
8. Performance Planning & Analysis
11. What do you offer as in service to your recreational athlete, how often do they come to seek your service?
 The fact that we provide highly individualized and scientific solutions to elite athletes is appreciated by recreational athletes including runners/ultra-runners, triathletes, cyclists and other fitness and spot enthusiasts and we do provide the above mentioned services to them as well.
Sport Physiotherapy constitutes our most sought after service from the recreational population and with the launch of Gait Analysis 2.0, we are confident that a lot of people will benefit from it.
Disclaimer:
The information contained in this article is for educational and informational purposes only and is not intended as a health advice. We would ask you to consult a qualified professional or medical expert to gain additional knowledge before you choose to consume any product or perform any exercise.