When you think about dehydration and overhydration, the first thing that probably comes to mind is the feeling you get from drinking too much water or not enough water, respectively. However, in addition to these physical symptoms, it turns out that overhydration can result in serious health problems as well. Overhydration is when your body contains too much water, in contrast to dehydration, which occurs when you have too little water in your system. Thus, dehydration and overhydration occur on opposite ends of the spectrum and are both dangerous conditions if left untreated. The Institute of Medicine recommends that adults consume about 10 cups (about 2.4 L) of water per day, but this number can vary depending on your size and activity level. So the question to ask yourself is how much water do you drink in a day? If it's less than 10 cups, then you may be at risk for dehydration. The bottom line is that if you're feeling thirsty or are experiencing other symptoms of dehydration, then you should drink more fluids!
Dehydration is a serious condition that can lead to many health problems. If you are experiencing any of these below symptoms, it is important to consult a doctor: thirst; dry mouth; swollen tongue; dark, sunken eyes; dizziness or lightheadedness; decreased urination or an inability to urinate at all, headache, nausea or vomiting, confusion and muscle cramps. You should also take note if you have been exerting yourself in the heat but not sweating much or if your urine is colourless (concentrating on the water as opposed to sports drinks). Dehydration can be caused by not drinking enough water or not getting the right balance of electrolytes. If left untreated, severe dehydration can result in death. If you're dehydrated, try to drink fluids that contain electrolytes like coconut water or sports drinks. Dehydration is most likely to occur in hot weather when people do not drink enough fluids.
Oversupplying the body with water can have severe and deadly consequences, so it's essential to be mindful of how much you drink. Some common signs that someone may be over-hydrated are headache, dizziness, nausea, or vomiting. Excessive fluid intake can also cause swelling in the arms and legs. If you think you or someone else might be experiencing these symptoms, seek medical attention immediately. A human's body regulates electrolyte balance by sensing changes in the osmolality of body fluids (a measure of the number of dissolved particles). When you drink too much water without replenishing electrolytes it can lead to hyponatremia or water intoxication.
According to Dietitian Rajat Jain, to know how much water you should actually drink is impossible because it varies from person to person but the best way to know if you are overhydrated or under-hydrated is to check the colour of your pee, if the colour of your pee is dark yellow then you are under hydrated and if it's crystal white then you are over hydrated. So, it's best if the colour of your pee is an off-white or pale yellow, not too dark or fully white, which shows you are enough hydrated. Do not unnecessarily drink an excess of water yet do not drink less as well.  Always try to maintain an adequate level of water so that your body can function properly. Most body physiology function depends on water intake so drink accordingly.
About the Author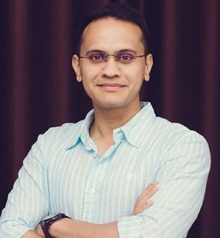 Dietitian Rajat Jain is the Founder & Director of Health Wealth Diet Clinic, the leading nutrition and weight loss clinic in North West India as recommended by numerous fitness platforms. Dr Rajat is a weight loss expert, clinical & sports nutritionist and certified diabetes & wellness educator. He is one of the most trusted and award-winning dietitians in North-West India.
With his experience of more than 5+ years including working with reputed hospitals and fitness centres, Rajat has positively influenced the health of over 7000+ people from different walks of life. Rajat enjoys his distinctiveness of being affiliated with various fitness centres and gyms across West India where he works with the members as a nutrition and diet consultant and engages with their workout and performance on the floor, which offers him a deep understanding of his client's unique level of nutritional response towards their body.
Dt. Rajat Jain has been awarded 5 times in a row as the 'Best Dietitian in Rajasthan' and ranked among the 'Top 10 Most Promising Dietitians in India'. Among various associations, he also works with the Rajasthan Police Academy and Rajasthan Royals Colts & Sparks as their official and consulting sports nutritionist.
Disclaimer:
The information contained in this article is for educational and informational purposes only and is not intended as a health advice. We would ask you to consult a qualified professional or medical expert to gain additional knowledge before you choose to consume any product or perform any exercise.