The ideas of healing and treating are diametrically opposed. The process of healing an interior or external wound is referred to as treatment. It also means fixing a mistake in another way. On the other hand, healing is a process of recovery. This recovery encompasses not only physical recovery but also mental, spiritual, and emotional recovery. "Healing" is defined as "a holistic, transformative process of repair and recovery in mind, body, and spirit that leads to positive change, finding meaning, and movement toward self-realization of wholeness" per Kimberly Firth and others.
Your body must simultaneously experience mental, emotional, and spiritual healing in order to respond to treatments. Working only on your body won't yield the desired outcomes unless you also put equal effort into holistic wellness.
Working on 12 aspects of your life at once is the best method to include holistic therapy. Making progress requires attacking a problem from all sides. To get good grades, a student must put up an equal effort in all of his or her classes. So, in order to be attentive, you must practice holistic healing.
The following are the 12 areas of life on which you must concentrate:-
1.) Health and Fitness: Getting healthy is the first step on your path to recovery. Every healing process starts with the person seeking to improve their physical and mental health. You can begin by doing something modest, like taking regular 5-minute meditation breaks, 30-minute walks, or even a thorough blood test to make sure there are no surprises in store for you.
2.) Sociable Life: Humans are social animals. You can find happiness and calmness by surrounding yourself with like-minded people. Good times with your friends can lift your spirits. Even happy memories of your group can cheer you up on difficult days.
3.) Intellectual: Your intellect is constantly changing as the years pass. Your intellectuality is reflected in your personality. You should stay current with knowledge because it is continually evolving. Your readiness to advance increases as your intellect grows. Only your thinking stands in the way of progress. Start small, pick up a new skill, or develop an existing one.
4.) Spirituality: An individual's personal beliefs determine their level of spirituality. Your life has a deeper meaning when you practise spirituality. It is the supreme power you trust. This can be anything, including the cosmos, God, or even just you. Start practising yoga or meditation to get in touch with the source.
5.) Emotional Life: Your daily existence is greatly influenced by your emotions, according to your emotional life. Your whole day could be miserable if you are in emotional turmoil. Your feelings can help you heal on a deep level. Your body's capacity to heal is compromised if you are not in a healthy emotional state. By cultivating thankfulness, you may alter this and enhance your emotional well-being.
6.) Quality Of Life: What quality of life are you looking for? Nobody should suggest what your life objectives should be because they are your own. Whether the dreams are emotional or materialistic is irrelevant. Want a bigger house, to live in a better neighbourhood, or even to eat a certain food? Start working toward and manifesting the life you desire. The cosmos will take care of the rest after you take the first step.
7.) Character: Over time, people start to lose their identity. You begin acting in ways that are not typically you. You may explore inside of yourself, find out who you are, and be true to yourself by focusing on your character. That's not all, though. What if you find that you have a character flaw? Start by personalizing your character and making minor adjustments. A character may constantly be improved while still being authentic to oneself.
8.) Career: Yes, career progress is important, but a successful career does not always entail holding a position of authority. A promising career is one where you are content and are positively challenged on a regular basis. Analyze your current position and start working toward either becoming an authority in your industry or locating the ideal career path for you.
9.) Love & Relationships: People are not solitary creatures. You can manage your mental health difficulties by maintaining healthy relationships. By conversing with a loved one, you can emerge from a funk. Friends, siblings, and lovers can all have loving connections. Self-love is the most important individual to strive for. You must first love yourself before you can receive love from others.
10.) Parenting: This feature has to do with how a child and their parents interact. One of the most significant connections you will ever have is this one. It is vital to improving this connection. Many people who experience anxiety and despair think that their issues with their parents or child are the root of their difficulties. This relationship needs work from both parties. Therefore, you must work hard no matter which side you support. Increased communication is one option. Relationships that are healthy depend on open communication.
11.) Finance: Your financial situation may be the cause of all of your stress, workaholism, and insomnia. Although it has been said that money rules the world, there is another adage that states that "money can't purchase happiness." Struggling with money might make you sad, but chasing after money can also make you unhappy, according to these two proverbs. The key is to find a healthy balance between the two. Your financial beliefs should also be unaltered. Setting attainable financial objectives is one method to achieve this.
12.) Life Vision: You will be aimless and lost in this world without a purpose. You can accomplish your objective thanks to all of the aforementioned sections. So, set a goal as your top priority. You won't know which route to take if you don't have a destination in mind. You will remain where you are stranded. If you don't have a goal or drive for your life, there is no reason to keep going. Therefore, take out your diary and list your "Life Goals".
About the Author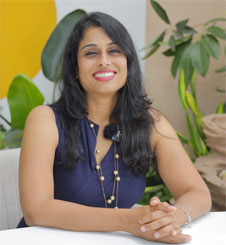 Mugdha Pradhan, CEO & Founder of iThrive, TedX speaker, Serial Entrepreneur, Author, and Orator has a Master's Degree in Nutrition. A few years ago, when she struggled with her personal health issues, learning the nuances of Functional Medicine transformed Mugdha's health and made her fit, happy and healthy. She moved from Canada to introduce Functional Nutrition for the first time in India through iThrive – Healing & Beyond in 2019.
Mugdha also delivered a Ted talk in 2019 about how she dared to reinvent the current healthcare model to reverse the chronic disease epidemic. iThrive is centred on the concept of food as a tool for disease treatment. 'How I dared to reinvent the current healthcare model to reverse the chronic disease epidemic,' says Mugdha, following a period of ill health, she was inspired to change her life for the better and began researching the functional nutritive powers of food – an approach that is revolutionizing the nutrition industry.
iThrive is a health and wellness startup that focuses on reversing chronic health conditions and lifestyle diseases through Functional Nutrition using root cause analysis. It is backed by a team of highly qualified functional nutritionists that help people in reversing a multitude of health dysfunctions through their expertise, science-backed functional nutrition coaching and real-time response.
iThrive recently raised $350,000 in a pre-Series A round, which will be used to accelerate iThrive's growth and scale all three verticals with technology: iThrive, iThrive Essentials & iThrive Academy.
Disclaimer:
The information contained in this article is for educational and informational purposes only and is not intended as a health advice. We would ask you to consult a qualified professional or medical expert to gain additional knowledge before you choose to consume any product or perform any exercise.