Magnesium is a very important mineral that the human body needs in large quantities. It plays a very vital role in energy production, by activating ATP, which is a key molecule that energizes body cells. It also helps muscles and nerves to function properly and also maintaining a healthy heart. Magnesium has great advantages as it regulates blood pressure, cholesterol production, and blood glucose levels. Besides keeping us healthy, magnesium also controls our body's stress-response system and hormones that elevate or diminish stress.
It has been observed that many people have a deficiency of magnesium because of an inappropriate diet. This deficiency can be eradicated with the consumption of foods rich in magnesium that is available in different types of possible food sources. Foods that are rich in magnesium include green leafy vegetables, whole grains, beans, and nuts etc. Magnesium is also considered a performance booster for athletes. Consumption of magnesium allows the movement of blood sugar into your muscles allowing the disposal of lactate, which acts as a boon while performing strenuous exercises.
Health Benefits of Magnesium
In the human body, magnesium plays a vital role, as it helps to support muscles and the functioning of the nerves. Low levels of magnesium in the human body can increase the risk of high blood pressure, heart disease, type 2 diabetes, and osteoporosis. Here are some of the benefits of foods rich in magnesium, allowing you to lead a healthy life.
Prevents sleep disorders – Having a sleep disorder is a major issue, to eradicate such problems, magnesium is required as it prepares your body for sleep by relaxing your muscles. It is also essential to maintain a healthy sleep cycle to prevent sleep disorders
Improves bone health – For bone formation and to maintain bone density, magnesium is highly recommended. With the intake of magnesium, our body gets effective to have strong bones, which further evades all joint-related problems as we age.
Regulate blood sugar levels – Magnesium is important to regulate blood sugar levels. The more the magnesium levels are high, the greater the chances to reduce type 2 diabetes.
Improves digestion – Magnesium is highly needed for digestion, as its deficiency will lead to constipation leading to poor gut problems.
Maintains a healthy heart – Low magnesium levels in the human body lead to an increased heart disease risk. Being the most important for your health, magnesium helps to keep calcium out from the tissues of blood vessels, allowing you to maintain a healthy heart.
Top 5 Foods Rich In Magnesium
Magnesium can be used in various forms both as a supplement and also in various foods and vegetables. Many food items contain high levels of magnesium, which include nuts and seeds, dark green vegetables, whole grains, and legumes. Availing these food items will nourish your daily dose of magnesium needed for your body.
1.) Nuts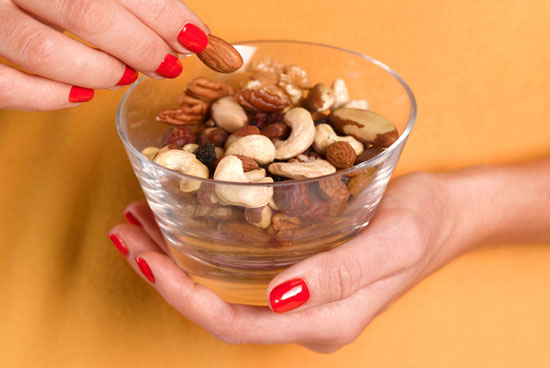 Nuts such as cashews, peanuts and almonds are considered the best foods rich in magnesium. Apart from healthy nutrients, nuts contain fibre which helps to promote a healthy gut, preventing gut-related disorders. Well, nuts do contain fats, but their fats do not harm you. Nuts contain monounsaturated fats which help you to lower down your cholesterol and blood sugar levels. Nuts like almonds are rich in protein, fibre, vitamin E, calcium, copper, magnesium and riboflavin.
2.) Kidney beans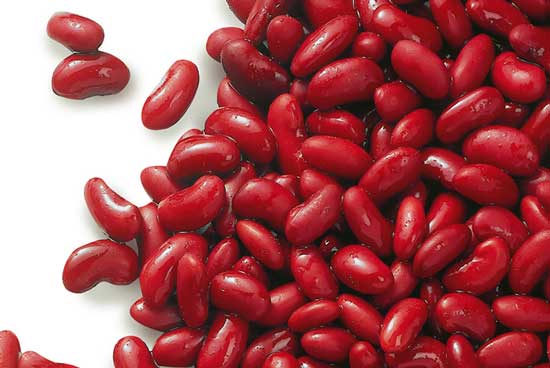 Kidney Beans or Rajma has extraordinary amazing health benefits, and it also comes under the category of the best foods rich in magnesium. Kidney beans lower down the cholesterol levels in the body, due to the presence of high content of complex carbohydrates and dietary fibre. Being the best foods rich in magnesium, kidney beans are rich in Vitamin B1, which ensures correct functioning of the brain and boosts concentration and memory.
3.) Spinach
Being one of the best foods rich in magnesium, Spinach is also the best sources of dietary magnesium. Consumption of spinach helps to maintain muscle and nerve function, and also allows maintaining regular heart rhythm. In addition to being foods rich in magnesium, spinach also contains calcium and vitamin D, dietary fibre, potassium, magnesium, and vitamin C, all of which are important nutrients that are good for our bone health. Apart from all, spinach consists of a unique and beneficial mixture of phytonutrients and antioxidants, flavonoids, and carotenoids.
4.) Pumpkin Seeds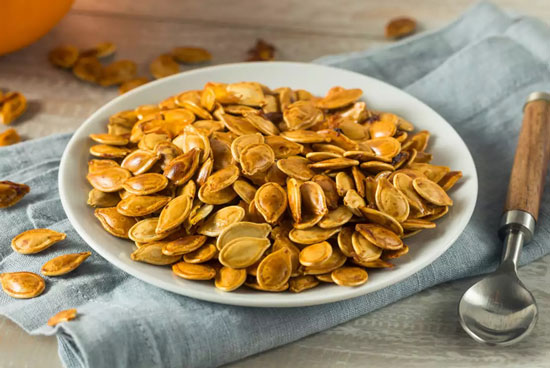 Pumpkin seeds are a well-known source of magnesium and are considered the best foods rich in magnesium. According to studies conducted globally, including pumpkin seeds in your dietary intake has an array of benefits. These benefits not only boost your immunity but also cures various cardiovascular problems. Well, if you are thinking to shed extra kilos, then pumpkin or pumpkin seeds should certainly be considered to achieve your weight loss goals. Due to its inflammatory abilities, adding pumpkin or pumpkin seeds to your daily diet helps to maintain the good functioning of your liver, bladder, bowel, and joints.
5.) Raisins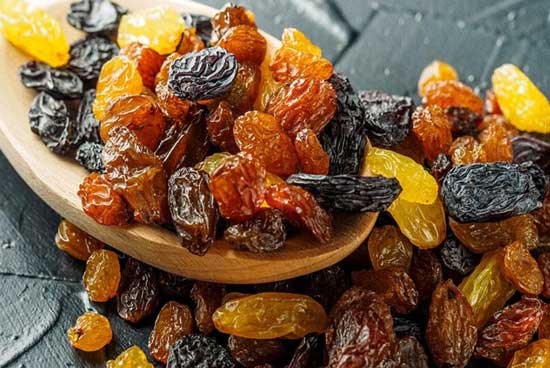 Being one of the foods rich in magnesium, raisins help our body to flush out unnecessary toxins and harmful fluids that might be the sole reason for many internal problems. Being consider as an energy booster, raisins help to keep our hair and skin glowing. It also aids our digestive system because being rich in fibre helps to maintain proper gut health and allows to keep bowels movement smooth. Raisins being loaded with calcium does wonders to keep our bone stronger. It has been observed that raisins contain boron, which is one of the major nutrient required for the formation of strong bones, thus helping you to maintain strong bone health.
Disclaimer:
The information contained in this article is for educational and informational purposes only and is not intended as a health advice. We would ask you to consult a qualified professional or medical expert to gain additional knowledge before you choose to consume any product or perform any exercise.