We had the wonderful opportunity of getting in touch with Monica Rastogi, who is currently the founder instructor of Studio Pilates Retreat, a boutique Pilates Studio based in New Delhi, which she had started a decade ago in the year 2010. Prior to that, she had worked with several studios as well as luxury spas as a health consultant. Possessing a little over 15 years of experience in teaching Pilates to various individuals, this fitness instructor had undergone training with Michael King, a veteran in Pilates and owner of Michael King Pilates based in London. Being a Pilates Expert who had obtained her certification in Equipment and Mat from Stott Pilates, Toronto in Canada, she had also received the certification for Spirals and Pilates for Pregnancy, with Michael King London. She specalizes in Rehabilitation for back problems and injuries related to sports or lifestyle with Stott Pilates Canada and Ulrik Larsen Austriallia. Moreover, she is the first certified instructor for GYROTONICS® and GYROKENSIS® from the United States of America (U.S.A.). In an exclusive conversation, Monica Rastogi chats with Claus from Sportz Business Insights about her journey and experiences in Fitness and how she got introduced and ultimately fell in love with Pilates, the exposure she got from training several individuals for Pilates, that included ambassadors, expats, professionals, individuals in public life and a few more. This interview covers a lot about the journey of Monica Rastogi with Pilates, her journey as a fitness consultant and subsequently as a Certified Pilates Instructor which she had started off a decade ago and the plans that she has for her studio in the near future.
When did you get your first introduction with Pilates and how did you fall in love with it?
I was introduced to Pilates in 2003 which was being conducted by one of my Instructor Trainer friend in one of the studios in Delhi and I knew at that instant, that this is what I would like to pursue in near future.
How did you get inspired to start the business of conducting Pilates coaching sessions for the residents of Delhi? Since, how long have you been conducting Pilates classes for the residents? Was there any special reason behind starting this form of exercise for individuals?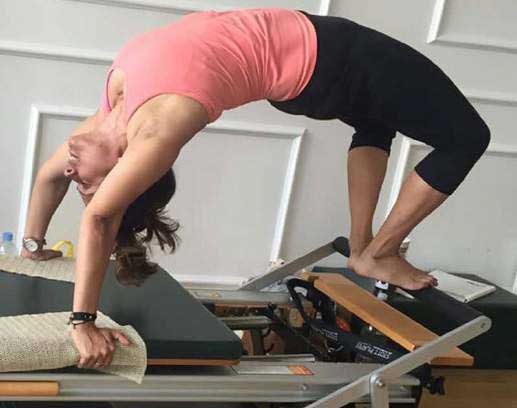 I got the opportunity to work as a fitness consultant for one of the most eminent luxury Spas of Delhi in 2005 and introduced Pilates there. There was a good response from the clients in the Spa. At the same time, I independently trained few expats in groups at their residence and the numbers started growing considerably over the years and this inspired me to become an entrepreneur and start a studio of my own and fulfill my dreams of offering Pilates and Rehab Pilates. I had suffered a back injury in 2002, no treatment or therapy was helping me, most of the time I was in pain. In 2003 when I was introduced to Pilates, for the first time I felt a little relief from pain in my back. This created a ray of hope that this form of exercise might alleviate me from pain completely and it did over the years. This is why I decided to pursue Pilates and the science behind it.
Can you tell us your favourite Pilates exercise and why you like doing it?
Most of the exercises in Pilates are great exercises but if you ask me particularly I like the ROLL UP, because it helps to articulate your spine and at the same time challenges you to work with your deep abdominal muscles. It also allows you to create suppleness and ease in your spine, in case it has become stiff for whatever reasons whether lifestyle, sitting long hours, etc..
Tell us about the most popular exercise or exercises that are currently trending at your fitness studio?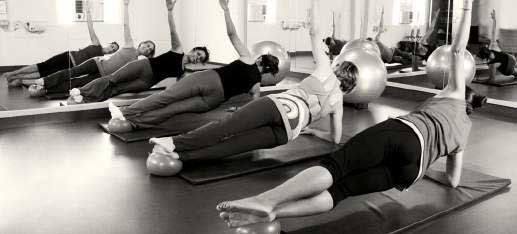 Most popular are the Mat based exercises, but trending today are the equipment-based exercises on Reformer and Cadillac at the studio. These equipments help overcome the limitations of an individual and make them feel achieved and happy about their body.
Have you come across any other exercises that bear resemblance to the moves that are done in Pilates?
Joseph Pilates the founder of "Pilates" Exercise Form incorporated the concept of Yoga too in his repertoire of exercises, therefore some exercises do replicate Yoga postures.
Do you suggest any diet plans or food for consumption by your clients? Are you willing to recommend a snack or drink post workout for the benefit of the readers? 
I leave the diet plan to be taken care by the Nutritionist. But yes, I do suggest to my clients to consume any light snack hour an half before attending the class and avoid having too much liquid before the class. I do help them to understand the reasons behind eating healthy and on time and how this will help them to maintain their weight and improve their metabolism to remain active and vibrant in their day to day life.
What according to you would be the right time for doing a Pilates workout?
Early mornings are the best time for any kind of exercise and that would include Pilates too. But if the situations do not allow to take morning sessions, it can be done any time of the day also evenings are good, keeping in mind that the stomach condition should be light.
If you were to suggest another exercise that can be done by individuals in combination with Pilates, what would that exercise be and why do you feel so?
In combination with Pilates, Cardio is good because Pilates helps to build up strength, flexibility, toning, while any kind of Cardio for e.g.; walking, running, cycling, swimming etc. that will help build lung capacity and stamina.
Where do you see your fitness studio in the coming years? Can you tell us any plans that you have in the pipeline to engage more individuals on to Pilates?
 I see my fitness studio on the world map as one of the training centers which will create more professionals of repute, not to miss integrity and responsibility towards their profession.
Post COVID-19, many fitness centers have started conducting online sessions for workouts? You have also started conducting online sessions for the workouts. Do your clients feel online sessions are better or are they waiting to get back to your fitness studio sooner or later?
I was conducting online session for my clients during the pandemic, but when the studio opened, clients slowly started getting back to the studio, as online training do not reach satisfaction compared to live trainings in the studio and this was experienced by both the client and self.
What are the general expectations that you often hear from almost every client of yours at the fitness studio and what are the main reasons for most of your clients to join your studio?
The general expectations of clients are: flexibility, strength, good posture, feel good factor and they want to be challenged each time they enter the studio. Some Clients who come with injuries want to feel confident and at ease with regards to their body and movements, gain strength, overcome their limitations gradually. Each client have their own personal reasons to join my studio, but what I could gather as a common view over the years from them is what attracted them to my studio as being an exclusive women's boutique studio. This makes them feel comfortable and adding to it is the passion, knowledge, customized programs as per the individual requirements which they receive coming here. Not to miss the ambience of the place which is very serene and quiet and gives the feeling of a retreat as the name suggests in the midst of chaos and noise in Delhi.
Can you share with us any unique experience you have had from doing Pilates that you really feel would persuade more individuals to take up this form of exercise?
Pilates changed my life as an individual. It made me a strong individual both in mind and body from all that mental and physical trauma that I suffered with the back injury over the years. My personal Rehab process involved lots of experimentations, ups and downs, learning new techniques and generating new ideas. This journey was so evolving for me that it made me more and more passionate about my profession, inspired me to take up Pilates Rehabilitation and help people who need to overcome the bridge of fear, disappointment and hopelessness and turn it into strength, confidence and hope for them. Every day in my studio is a unique experience.
Any suggestions on fitness that you would be happy to share for the benefit of our readers?
I say this from my personal experience ""Being Fit and healthy should be the Mantra of life." One can compare Body as an Investment in a bank. If you invest in your body well and take care of it, the returns will be very fulfilling and gratifying. One can achieve anything with a fit and a strong flexible body, may it be physical or spiritual. So, give it a thought, pick up your shoes and get going.
Disclaimer:
The information contained in this article is for educational and informational purposes only and is not intended as a health advice. We would ask you to consult a qualified professional or medical expert to gain additional knowledge before you choose to consume any product or perform any exercise.