Introduced in the early 20th century (1920), Pilates has now emerged as a well-known fitness activity across the world. Joseph Pilates, the mind behind the fitness regime had designed the fitness system with the intent of strengthening the mind and body. Owing to its innumerable benefits, people from across the world have started loving Pilates as a low-impact exercise that aims to restore the human body's natural alignment, flexibility, and strengthen muscles.
Pilates which has a huge market in the western world, is also marking its presence in the Indian subcontinent area which resulted from an influx of Pilates studios opening majorly in the metros and tier-1 Indian cities. Despite, the classes of Pilates vary from studio to studio, depending on the kind of equipment they got at their studio, they share six major principles viz. Concentration, Control, Center, Flow, Precision, and Breathing. Pilates can be done with or without any equipment. But if you are planning to open a Pilates Studio, you will have to install allied equipment depending on your budget and space available at your studio. In this article, we will try to enlist top Pilates equipment and machines that you must consider before opening a Pilates studio.
Several Benefits of doing Pilates
• Improves Mobility and Flexibility of the spine
• Improve Posture
• Promotes healthy joints
• Promotes a more efficient and supportive core
• Increases muscle strength, endurance, and tone
• Promotes healthy joints
• Encourages deep and efficient breathing
• Improves well being
• Alleviates aches and pains, particularly back problems
• Through weight-bearing exercises, it helps to improve bone density
• Builds stamina and increases circulation
• Improves posture • Relieves stress and tension
• Improves mobility and flexibility of the spine
• Increases stability for the pelvis and shoulders
• Heightens body awareness
• Promotes a more efficient and supportive core
• Facilitates injury prevention and physical rehabilitation
• Improves motor skills such as balance and co-ordination
• Improves quality of life
Types of Pilates Machines
There are mainly four types of Pilates machines created by Joseph Pilates, the inventor himself to facilitate the performance of a wide variety of exercises. Let's know more about these four machines suggested by the inventor himself.
1. Pilates Reformer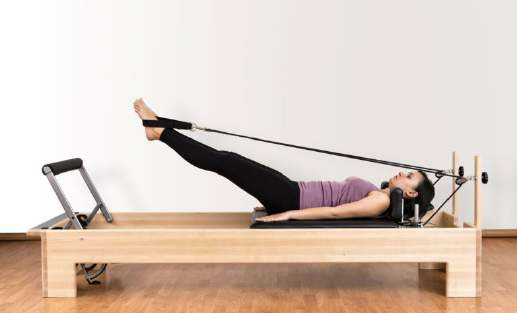 The Pilates Reformer is the most essential equipment for the traditional Pilates sessions. It is the most used Pilates equipment that is quite identical to a bed on which a platform moves along by the rail slides. A rectangular platform, the Pilates Reformer comes with a sliding carriage that gives resistance to the movement using springs or modern water-pumping systems. Equipped with springs, grips, and pulleys, the Pilates Reformer allows its user to go for different resistance and subsequently to combine different kinds of ideal workouts to improve physical health. The trolley moves along the platform with variable resistance, enabling all the exercises that can be performed on the mat with resistance control. The Pilates Reformer has a padded area for the back, another for the shoulder area, a last one for the head, and a foot bar at the end of the machine. There are modern versions available that feature extra equipment such as a jump box and some new adjustment features. These modern features also include changing resistance springs or rails.
The pattern of the machine enables you to work on your abdominals, and simultaneously you can carry out arm strengthening exercises by stretching them and can also perform abdomen flexibility exercises while strengthening the legs. Pilates Reformer is a very versatile Pilates machine that combines rubber work which further helps in stretching and enables us to maintain a correct posture at all times.
2. Cadillac or Trapeze Table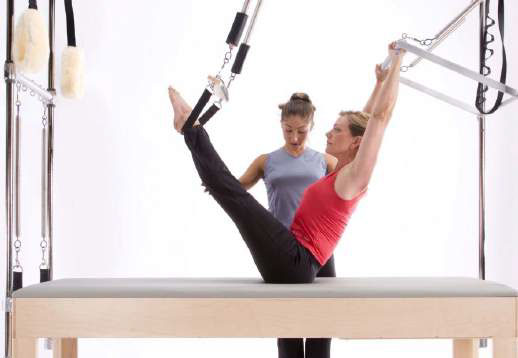 The Trapeze Table is the machine that has the largest dimensions as compared to other Pilates equipment. Also known as the Cadillac trapezium Pilates, Trapeze Table is a kind of raised bed with a steel structure on it, in which the person doing the exercise can hang in different positions by using different ropes and pulleys. Also, you can even hang upside down and face up. The Cadillac is a stretcher with a metal frame on the top equipped with garters, pulleys, and mobile bars that allow you to perform more than 80 Pilates exercises in different positions and stretches. It is the perfect combination of various traditional weight training Pilates machines, including a high pulley, a high bench press, and a low bench press, and a trapezius machine.
Cadillac Pilates kits are now made of wood leather, aluminum, and even carbon fiber, earlier it used to be made with iron or steel. Also, with the improvement of technology, the latest machine has a sliding structure. Trapeze Table is usually made of wood, steel, and comes with a semi-rigid mat.
To perform these Pilates exercises, the push bar, the trapezius bar, and the adjustable springs for arms and legs are practiced to tone the muscles and strengthen and give flexibility to the back. It is ideal for rehabilitation and back injuries. Cadillac Pilates helps in increasing flexibility and agility and can work on your pelvic area, abs, shoulders, arms, legs, and more.
3. Pilates Chair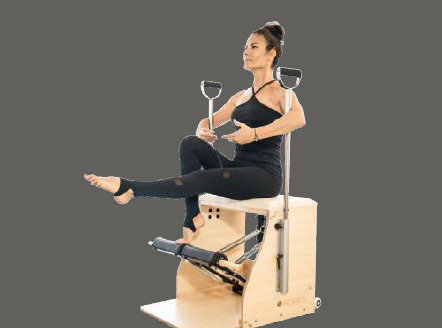 An amazing space-saving solution, the Pilates chair is used to practice traditional as well as new exercise techniques. Basically, designed as a chair, Pilates chair help to enhance the stability of your upper and lower body. Pilates chair that can be adjusted, it has four springs and five spring attachment positions that provide complete resistance.
The Pilates chair is available with custom split-step pedals and provides resistance training for the legs and arm. It is majorly used by high-performance athletes. In the market, there are different kinds of Pilates chairs available. And the popular ones are Wunda chair, Pilates High Chair or Electric Chair, Arm Chair or Baby Chair.
Pilates Chair offers 75 different varieties of possible exercises that include standing up, lunge, push up moves. It is useful for homes as well as commercial Pilates studios. With an assurance of giving the whole-body movements besides effective cardiovascular exercises, the Pilates chair is quite beneficial for shaping your legs, arms, and thighs and also provides support for your lower back and abdominal muscles.
4. Ladder Barrel or Barrel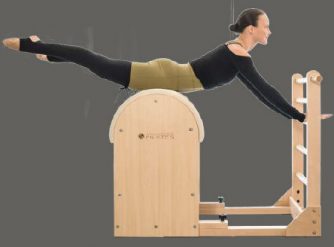 A wooden piece of equipment t h a t h a s curved padded, leather/ PVC covered coating at its interface. It is a unique piece of equipment that offers both active and passive back extension exercises. The rear part of the wooden Pilates equipment has three different poles connecting to the upper structure and at the top, it has a longer bar that extends the structure itself. The Ladder Barrel is quite beneficial for developing back strength and promoting trunk extension which is essential in developing good posture. Pilates Barrels use gravity rather than springs for resistance.
5. Mats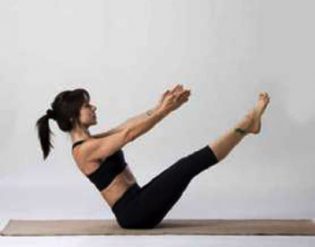 Mat is a great thing to grab to start your Pilates session that doesn't occupy much space and is quite inexpensive. Mats can be great equipment to keep in your studio attracting lot many clients. Mats cater a more comfortable way of doing some Pilates workout keeping your back safe. Smaller studios typically can start with one or two Mats and then add more as they grow. Larger studios should often begin with four or five.
Disclaimer:
The information contained in this article is for educational and informational purposes only and is not intended as a health advice. We would ask you to consult a qualified professional or medical expert to gain additional knowledge before you choose to consume any product or perform any exercise.