"FEEL TRULY ELATED NOW WITH THE ARRIVAL OF YOUR DOSE OF FITNESS AND WELLNESS MOTIVATION."
Yes Indeed!!! It's none other than Vesna Jacob. We are talking about this awe-inspiring woman who's had her roots in Bosnia, a country that was part of the erstwhile Yugoslavia in South Eastern Europe and has now made India her home for quite some time now. Vesna's been a woman who's worn many hats over the years. She has been a physiotherapist, author, an accomplished Pilates Teacher, a Functional Applied Science Specialist and the list doesn't end here. She is also a Lifestyle Coach, Motivational Speaker, Clinical Hypnotherapist and a Healer. Further, she was the creator of her own unique "3D Functional Pilates" which is based on Postural Alignment Fundamentals along with Functional Science Principles. Besides, she has been the Master Trainer for Power Plate India since 2007. Currently, she is a brand ambassador for a premium Pilates equipment company known as BASI Systems India.
Apart from that, she is a Country Director of Education for Focus Fitness as well as the International Master Coach for FreeMotion Fitness. She had authored two successful books by names "Work It Out Without A Workout" and "Fit To Fight" that has been published by Random House India. She is currently working on her third one. Speaking to Claus from Sportz Business Insights, Vesna opened up on her journey that contained some bitter experiences she had to go through as a youngster, her love for basketball ever since she was young, including her experimentation with different kinds of workouts, after her injuries had applied the brakes to her sports career, her discovery of Pilates that led her to once again become fitter and stronger, the role played by her in bringing Power Plate to India in an organized manner and a few more.
Can you give us a brief introduction about yourself and what drove you to choose fitness as a career in the first place?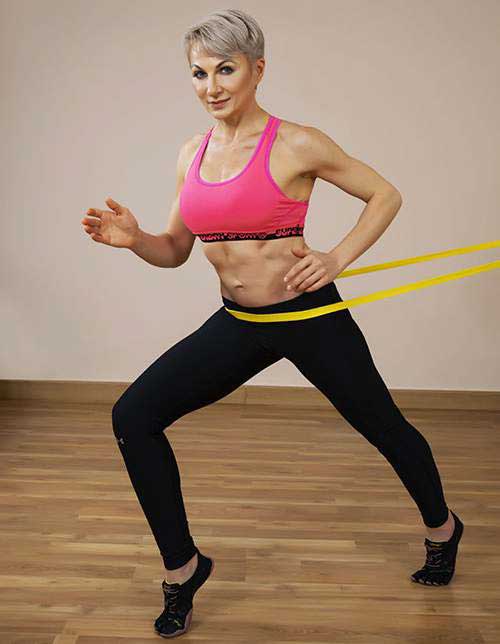 I was born in Bosnia which was part of Yugoslavia. Movement and fitness have always been integral part of my life. I started with middle distance running in primary school, and soon fell in love with basketball which became my life. I played basketball for my club in my hometown at pretty much every age level there was. My life was going to be about basketball a till the civil war in my country turned our lives upside down. A few years later I got out and went to Germany, but a career ending injury few days before signing my first professional contract put paid to my hopes of playing the game professionally. I was told by the doctors in Germany, that not only will I not be able to play any sport, there was a good chance that I will walk with a limp, never be able to wear high heels, sit cross legged for the rest of my life: I was 18 at the time.
Deep down inside I knew that I could heal, and I learnt to trust that inner voice that told me not to give up. I began exploring how I could make myself feel better and heal. After a few years of experimentation with different kinds of workouts and plenty of trial and error, I discovered Pilates and here I am in many ways fitter and stronger than I ever was even when I was a basketball player who won her country's national championships for her club. Pilates taught me to treat my body as a whole and not a collection of parts that I was working individually. This realization changed the way I viewed fitness and helped me recover.
My career in fitness really came about when I made India my home and people were curious after seeing my practice at the gym we used to go to workout at and wanted to learn more about Pilates. Questions about what I practiced turned into enquiries if I could teach what I knew and from then onwards it took a natural progression to where I am today. On the way, I was instrumental in bringing Power Plate to India in an organized manner. I am the only person from India and Bosnia to have become a GIFT Fellow from the Gray's Institute of Functional Movement. I also studied Yoga more seriously. This past year I have opened my biggest studio which is also Delhi's first Holistic Therapeutic Clinic Vesna's alta celo.
Please tell us about the Vesna's alta celo?
Vesna's alta celo is another big milestone in my fitness journey. 'alta celo' which means higher purpose in Esperanto and is born out of my life experiences and my core belief that true wellness is achieved by harmonizing the body, mind, and soul triad. When I got injured, my peace of mind, my emotional equilibrium took a big hit. I did not initially realize how closely were my emotional and spiritual sides linked to my physical health. For us to achieve true wellness, all three have to be in balance. I always questioned why we needed to go 3 or 4 different places for this. I wanted to create a space where one could heal, nourish and strengthen the body, mind and soul under one roof. We have teachers who teach to move without pain, to get stronger, more confident about your own body. We have counselors and healers to help you get emotionally balanced and well in order to help you to reconnect with your spiritual side. True Therapeutic Holistic Wellness Clinic.
What according to you is the major difference between 3D Pilates and the other Pilates?
Pilates is an amazing system. It has withstood the test of time: it is almost 100 years old. Joseph Pilates was an exceptional human being who understood how the body works as a unit which is stronger than the sum of all its parts. I am a living testament of how it transformed my body when the doctors' prognosis on my fitness was as dire as it gets. So how do you improve such a fantastic system? The answer lies in context, Pilates lived in a world where people used their bodies more naturally than we do now. Technology wasn't as pervasive, and people were not as sedentary as they are now. I just felt that in today's day and age, making people exercise parts of the system upright was needed. To work in all the 3 planes of movement, just makes Pilates more relevant today. On the other hand the 3D Pilates is also about using Pilates Principles and layering them under and over everything else you may be doing being in the gym or outside. I use classical Pilates equipment by fantastic BASI Systems (we are the first studio in the country to have BASI Systems equipment) which is amazingly innovative and versatile and add elements of traditional conditioning to achieve best results, so 3D Pilates works inside and out.
Being a Fitness Coach yourself, do you believe that a person is never too old to hit a fitness studio or a gym? If yes, why do you think so?
I have always preferred using the term 'teacher' to describe myself. I also train and encourage members of my team to use the same term for themselves. I definitely believe that nobody is too old or too young to exercise. People just need guidance to find what works for them. I also place a lot of value on the emotional connection people have with a certain style of exercise, that connection makes a difference, the efficacy of the workout. So, no matter what age you are, go and try different forms of exercise, find what suits you best and go for it.
Home workout or a workout at a Gym or a Fitness Studio? What would be better according to you?
I think the answer to this question is in many ways linked to the question above. The kind of workouts that appeal to you will determine where and how you will workout. Having said that, our current circumstances because of the Covid-19 pandemic have a big say in where we can exercise just now. As a fitness business owner, I am well aware of the challenges everyone in the industry is facing. There are understandable apprehensions for customers about whether it is safe to work out in a commercial establishment or not, even though all of us have gone above and beyond to provide a safe way to exercise.
But coming back to the basic question, if you like to workout with people around you, go the gym. If you like getting detailed instruction and having the full attention of the teacher, workout in fitness studios that give you that particular attention. If you have the self awareness to be able to exercise on your own, then home workouts can be the solution for you. But workout one way or the other almost every day.
Would you please let us know something about the Boot Camp Workout and why individuals can take up such classes and how they stand to benefit from participating in bootcamp training?
Boot Camp workouts evolved from military training and are based on high energy and intensive calisthenic movements. If your fitness level allows you to join a Boot Camp, you are quite likely to receive a great workout that challenges your stamina as well as your endurance and can ramp up your fitness levels quickly. Another good thing about these classes is that they have a variety of exercises you perform so the interest level stays high during these classes. The downside is that the trainer usually is not able to watch and correct either the technique or posture of the participants, given the nature of the class. As the concept has evolved, different boot camps have developed, e.g., throughout the lockdown, I was offering an online Pilates boot camp for my clients. So nowadays you just might be able to find the boot camp that is tailor-made for you.
You had been the first to set up a Power Plate Studio in India. Being a Master Trainer yourself, can you let us know in brief about the benefits of working out with a Power Plate Machine and the time that individuals would be required to spend for doing such a workout?
I have now been working with Power Plate for 13 years and I love the machine. Power Plate uses vibration training to induce a reflex response in the body that allows both a super fit person to get more out of their workout in a shorter period of time, and at the same time lets a person with a serious condition like MS or ALS to be able to stimulate their muscles in a safe manner. It is a very versatile machine where you can practice a large variety of exercises safely and more efficiently.
According to you, individuals belonging to which age category are expected to find it more interesting to workout using a Power Plate Machine? Also, please let us know individuals belonging to which age category are likely to benefit the most from this workout?
The range of who can use a Power Plate is immense, right from a teenager to someone in their 70's and 80's, from someone in a wheelchair to a professional athlete. The time an individual can spend working out on a power plate depends on the kind of the workout, you can use it to pre-activate your muscles for a workout, or for cooling down. You can use it for speeding up recovery of a soft tissue injury. You can do a super intensive workout that really challenges your body in less time than a conventional workout would take. There is a large body of published studies highlighting vibration training building up muscle strength and mobility in hospitalized Multiple Sclerosis patients. On the other hand, premier institutions training professional athletes like EXOS swear by it as well. In a way anybody can use and benefit from a power plate.
Would you be willing to suggest some tips to maintain optimal health for the benefit of the readers of the magazine?
Absolutely, my first and foremost piece of advice would be simply to "listen to your body". Our body is the most amazing and complex gift we have, it has an immense capacity to self-heal (I know this better than most, given my own life experience). It is highly intuitive, you just need to trust in your body and listen to the signs, when to rest and when to push through. Which brings me to the second related advice, always strive to use mindfulness when working out, pay attention to your posture and technique. Focus on what you are doing, don't be on automated mode. Also, your fitness does not depend on your' workout'. If your work and family pressures do not afford you that one hour or so you need for your workout, then break it up. Find pockets of 5 to 10 minutes every hour or so to get some movement done. I wrote a book on how to change your approach to fitness " Work It Out Without a Workout". How you can use your time commuting to do a few exercises and finding a few minutes here and there throughout your day. Our bodies were designed to move, so let's use them.
Can you let us know what has been exciting you in your profession as of today? Also, would you be willing to let us know the vision that you have for the future of Vesna's alta celo?
I love what I do, and I never sit still. I am always exploring what is new in the world of fitness and in many ways the new developments that are being highlighted are a vindication of my long-held beliefs about adding mindfulness to fitness. This pandemic and the lockdowns that have come with it gave people a lot of time to introspect, become more aware of their selves. It has injected a sense of mortality into the hubris that was taking over society. People are valuing the importance of being fitter and healthier more than ever before. I have created Vesna's alta celo to be there as a haven where people can benefit from my knowledge, skill and life experience as well as of others in our team. To be in sync with their bodies and be the best versions of themselves in a positive and nurturing environment and then to be able to pass that on to others. My vision is to expand and grow this concept I am pioneering beyond Delhi and to be able to offer it to the other cities as well as an online venture under this umbrella.
Disclaimer:
The information contained in this article is for educational and informational purposes only and is not intended as a health advice. We would ask you to consult a qualified professional or medical expert to gain additional knowledge before you choose to consume any product or perform any exercise.