In the world of home workouts, gym benches are essential tools for enhancing both strength and flexibility. Gym Benches provide a stable and versatile platform for a wide range of exercises, making it easier to achieve your fitness goals. Gym benches offer stability and safety, enabling you to exercise without concerns about wobbling. Their versatility allows for diverse workouts targeting various muscle groups, and adjustable angles make it possible to focus on specific areas. The compact design of many gym benches makes them suitable for home use, eliminating the need for a spacious gym room. With a home gym bench, convenience and flexibility are at your fingertips, allowing you to work out at any time, even in the comfort of your own home.
Best gym benches for home workout:
1. Durafit Foldable Bench: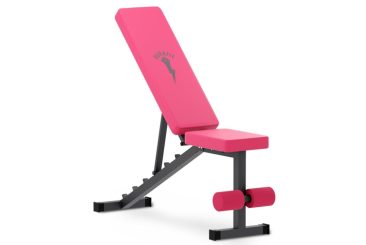 The Durafit Foldable Bench is a robust and versatile fitness tool that offers a variety of features for a well-rounded workout. With multiple incline options, it allows you to target different muscle groups effectively. You can diversify your fitness routine by utilizing its six levels of adjustable manual incline and decline workouts. Its heavy-duty steel construction ensures durability and can support weights of up to 150 kg, making it a reliable choice for various users with different fitness goals.
2. Amazon Brand Symactive 3 in 1 Bench: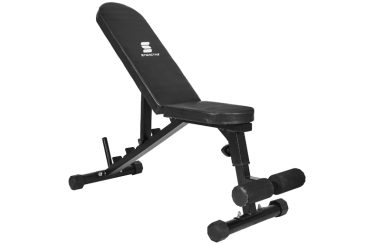 Symactive offers a 3-in-1 deal that's hard to resist. Adjustability is the name of the game here, with incline, decline and flat positions to cater to your fitness whims. Exercise your chest, arms, legs and thighs with this heavy duty machine that comes with soft foam roller pads for your feet.
3. Reach Multipurpose Gym Bench: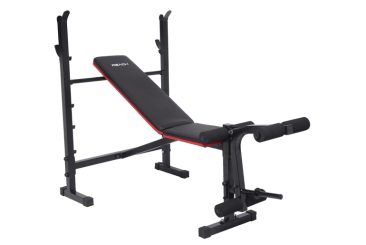 The Reach Multipurpose Gym Bench is an all-encompassing fitness solution, offering a wide range of workout possibilities to target your entire body. Its solid construction ensures durability and stability, making it an ideal choice for those who seek variety in their workouts. From bench presses to leg curls, this bench can be a valuable addition to your home gym, supporting your strength training regimen and enabling you to diversify your exercise routines.
4. National Bodyline NB800 Heavy Duty Bench: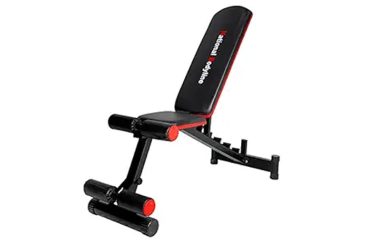 The National Bodyline adjustable workout bench is an excellent choice for those engaging in heavy-duty workouts. Its versatility allows you to explore various incline positions, making it a valuable tool for achieving your fitness goals. Whether you're targeting your lower or upper body, this stable gym equipment at home provides the support you need for effective workouts. Plus, its foldable design ensures it's easily storable when not in use, allowing you to keep your fitness goals in mind even when it's out of sight.
5. Kobo Exercise Weight Lifting Bench: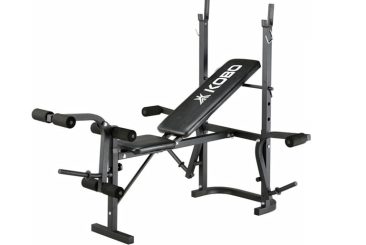 For those who value versatility in their workout equipment, Kobo offers a solution that's designed to meet your needs. With a maximum user weight of 120 kg, it's particularly suitable for weight lifting and strength training. This bench prioritizes safety, featuring weight plate locks and bar locks to ensure secure workouts. Beyond weightlifting, it's also an excellent choice for various exercises. Its foldable design not only saves space but also emphasizes durability, making it a reliable addition to your home gym setup.
Benefits of gym benches:
You've succinctly highlighted the numerous advantages of incorporating workout benches into your fitness routine. These points underscore why using the best workout benches can significantly enhance your workout experience:
Stability and Safety: Gym benches offer a stable and secure platform for a wide range of exercises, reducing the risk of injuries by ensuring your workouts are wobble-free.
Versatility: These benches provide a diverse array of exercise possibilities, from chest presses to leg lifts, essentially transforming a single piece of equipment into a mini gym with endless workout options.
Strength Gains: Utilizing gym benches effectively helps you build muscle and increase strength. Their adjustable angles allow you to target specific muscle groups and tailor your workouts.
Compact Design: Many gym benches are designed to be foldable or compact, making them an excellent choice for home use. They don't require a spacious gym room, ensuring convenient storage.
Convenience: Owning a home gym bench eliminates the need for time-consuming commutes to a gym. You can work out at your convenience, even in the comfort of your own home and your PJs.
Diverse Exercises You Can Perform with Gym Benches:
A gym bench is a versatile tool for a variety of exercises:
Chest Workouts: Master the bench press for impressive pecs.
Shoulder Exercises: Sculpt your deltoids with seated shoulder presses.
Leg Workouts: Effortlessly perform leg curls and leg extensions for strong legs.
Core Training: Elevate your core workouts with exercises like elevated planks and decline sit-ups for added challenge and effectiveness.
Dumbbell Exercises: Pair your bench with dumbbells for a multitude of strength-building exercises.
Tips for Choosing the Perfect Gym Bench:
Your succinct checklist for selecting the perfect gym bench covers essential factors like adjustability, sturdiness, size, foldability, comfort, price, and quality. It provides valuable guidance for readers looking to make an informed choice when investing in a gym bench. The disclaimer at the end ensures transparency and builds trust with your audience.
Disclaimer:
The information contained in this article is for educational and informational purposes only and is not intended as a health advice. We would ask you to consult a qualified professional or medical expert to gain additional knowledge before you choose to consume any product or perform any exercise.