Are you suffering from post-covid hair fall? Has it become a major concern and seems to add stress over the ones you already going through? Do not worry, it's called "Telogen Effluvium". Confused? Too much to understand, let me simplify this for you! Just like us, our hair has its own shares of Phases and Moods throughout its life cycle:
Let's resonate this growth cycle with our Muscle gain phase. Interesting?
Anagen: It's our "Active & Happy" Phase where we are all set for training hard, sweating it out in the gym likewise the root follicles are quite active and encourages hair growth. During this phase, the hair grows about 1 cm every 28 days. Scalp hair stays in this active phase of growth for two to six years.
Catagen: This is our" Maintenance Phase" where the quality of hair is determined. The growth period halts and it's time for club hair formation. This phase lasts for two to three weeks.
Telogen: Now comes the "Resting phase" ya you get that right where we end up losing what we gained and just like your muscles different factors determine the amount of muscle and period of the loss. Similarly, various factors determine the intensity of hair fall and the period that it happens. This phase lasts for about 100 days for hairs on the scalp and longer for hairs on the eyebrow, eyelash, arm, and leg.
Common reasons that might cause this during Covid:
Symptoms like fever which is common in Covid leads to further pushing of telogen effluvium into noticeable hair shedding. But do not worry, this may extend to few more months but then eventually the shedding stops and you can restore your hair health.
Stress! Stress! Stress! The biggest enemy of your health as you know so why would your hair skip the beat of fallouts. Extreme emotional distress over physical stress caused during covid adds to the condition. So, it's important to find yourself "ME time" to destress.
Other factors like Hormonal imbalance, Genetics, other health conditions, Medications etc. during this sudden pandemic change in all of our lives.
All these factors lead to "Acute telogen Effluvium". Usually, the patients with acute telogen effluvium or diffuse hair fall recover in 3-6-9 months, so patience is the key. For some delaying any precautions and treatment, Hair fall can become chronic and needs immediate attention.
So, what do you in such case from a Holistic Nutritionist point of view:
Have Rainbow diet: Eat plenty of colours in your meals which will provide with antioxidants and micronutrients helping fight those free radicals due to stress and help prevent deficiencies.
Exercise: We cannot be comfortably ignoring the value of the physical activity. Covid has led to minimal or no activity and has made us lethargy. So, it's crucial to engage in some home-based workouts to improve circulation and many more benefits.
Sleep well: Sound sleep is the key to restoring your health and improving your immune response. Not sleeping enough will lead to stress, inflammation and hormonal imbalance -Result??? hair fall, poor skin health, and weight gain. Trust me I can add more, so ditch those cell phones and get yourself a good sleep.
Use Sulphate free and Silicone-free shampoo and conditioners. It prevents buildup and clogging of hair follicles resulting in healthy hair. Good quality hair leads to reduced hair breakage and hair fall.
Regular scalp massage will stimulate blood circulation in turn leading to more supply of nutrients to the roots. While following Nutrient deficiencies that are the primary root cause of hair fall. (Keep a tab on nutritional deficiencies with regular blood workup)
What are the exact nutrients you should be looking for when you suffer hair fall?
B complex, Iron, Zinc, Collagen, Vitamin D3 will help you contribute to better hair quality and work towards the anti-hair fall effect. Rectifying deficiencies will itself cure 50% of your problems while combining them with anti-inflammatory foods like Turmeric, Ginger, Amla, Cumin, Mint. The most powerful one here is protein, when all nutrients are in check, it's time you focus on protein. Ensure you every meal has good quality proteins for better hair, skin health.
I end this with one mantra: Love yourself enough to take care of your body. Engage in creative activities, follow a healthy lifestyle and destress, results will follow through eventually. Trust me, it's just a phase and it will end, all you got to do is take precautions and give that extra pampering your hair needs!
About the Author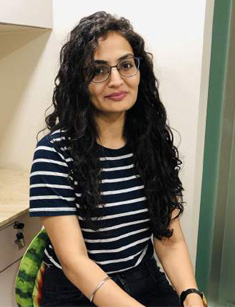 Sneha Shukla is a reputed Sports Nutrition Consultant (Master's degree with research) with a passion for Nutritional Psychiatry.
She is a Certified Bariatric Nutritionist (Obesity & Metabolic Surgery Society of India), Certified Diabetes Educator, Certified Onco Nutrition, and Life Member of Association of Sports, Nutrition & Fitness Sciences.
Her clientele includes National & International level athletes and celebrities. She has experience as a Nutrition Consultant to Tennis, Football, and Cricket under 18 teams in association with the Sports associations of Mumbai.
Disclaimer:
The information contained in this article is for educational and informational purposes only and is not intended as a health advice. We would ask you to consult a qualified professional or medical expert to gain additional knowledge before you choose to consume any product or perform any exercise.