At iThrive, we help people reverse their chronic diseases through Functional Nutrition and the integration of other holistic methods. Our first step of action is to analyze the individual's health metrics, including their blood parameters, health history, lifestyle, and more. This helps us detect the root causes or the reason behind the evolution of the disease. One of the most common root causes is nutritional deficiency.
90% of our client's health analyses showed nutritional deficiencies. To counteract these deficiencies, it's important to include health supplements. Many are averse to the idea of consuming health supplements as they band supplements together with medicines. It's far from the truth. Though they might sometimes look similar, they are vastly different. Supplements are sourced naturally through foods, while medicines are chemically formulated.
Here Are 7 Reasons Why You Should Start Including Health Supplements In Your Diet:
1.) Poor diet – In the contemporary world, we favour convenience over nutrition. With ultra-processed foods available at our fingertips, we are becoming more and more reliant on them. The reason is the fast-paced life of today's world. We even go for unhealthy snacking options rather than pick fruit as it appeals to our taste buds more.
As a result, we lack a lot of vitamins and nutrients and that's when it becomes important to supplement with those missing vitamins and nutrients.
2.) Environmental pollution – When our forefathers were alive, the world was a very different place. We come in contact with environmental toxins on a daily basis. These toxins can be airborne, present in our own household items, and more. And our bodies require additional nutrition to tolerate and resist these pollutants present in our contemporary, rapidly evolving world. When you consider all of the food we eat, which is already low in beneficial vitamins, you can see that the nutrients in food today are not up to the task.
The toxic chemicals we come into contact with on a daily basis can be mitigated by taking vitamins and supplements.
3.) Stress – Every area of your health, especially your mental health, is impacted by your nutrition. According to studies, persons who consume a diet heavy in ultra-processed food and refined sugar are more likely to perceive their stress levels to be higher.
Nutrients such as Magnesium, B-Complex, Vit D and Zinc help with mitigating the effects of stress. Deficiencies of these nutrients can worsen the impact of stress and create adrenal dysfunction. If you are someone who experiences high stress on a day to day, supplementing with these vital nutrients becomes essential.
4.) Restrictive diet – When you eliminate particular food groups from your diet, it's crucial to pay attention to the nutrients that might be missing. You run a larger risk of depleting certain nutrients if you adopt a vegan, paleo, or keto diet.
For instance, vegetarians and vegans must be very careful to eat enough high-quality sources of protein, B-complex, iodine, iron, zinc, and B12.
Any form of restrictive diet needs to accommodate deficiencies by balancing the diet with the right kind of supplementation protocols.
5.) Scarcity of local or fresh produce – A large portion of the products you find at your neighbourhood grocery store was sent from other parts of the country or possibly the entire world. Due to their extensive shipping and storage, before they ever reach the shelves, some fruits and vegetables have lost much of their nutritional content.
Produce may be harvested weeks or even months before you buy it and by the time you consume it, the nutrient levels in this produce might be sub-optimal. The greatest choice if you want to get the most nutrition out of your food, is to buy local, freshly sourced, organic products. If you are unable to do so, then the next best option is to prevent deficiencies by taking the right supplements.
6.) Agricultural quality degraded – The food you eat isn't as nutrient-dense as it once was, regardless of the diet you follow. In the name of profit, conventional farming has resulted in over-farmed land over time. The soil begins to lose nutrients without regular crop rotation, which causes nutritional deficiency in our food production.
According to research, nutrients such as calcium, phosphorus, iron, riboflavin, and vitamin C are impacted by soil depletion. Other nutrients that plants take up from the soil, such as magnesium, zinc, vitamin B6, and vitamin E, could also be impacted and that's one more reason why supplementation becomes essential.
7.) Lack of Sunlight – Lack of sunlight is one of the major issues for the deficiency of Vitamin D in the body. It comes as no surprise as people are mostly inside; it can be their home, their offices, their gyms, or shopping malls. There is a consistent lack of sunlight.
One of the numerous vitamins your body requires to keep healthy is vitamin D. It is essential for preserving the equilibrium of calcium in your blood and bones as well as for the formation and upkeep of bones.
You need vitamin D, especially so that your body can utilize calcium and phosphorus to promote healthy tissues and create bones. Ensure you are getting enough vitamin D in your diet and/or through sun exposure to prevent vitamin D insufficiency and if that's not possible then a daily good quality Vit D supplement becomes essential.
Having said that
But one must understand that though supplements help in correcting any nutritional deficiency your body might have, it is not the solution. It is supposed to be used as additional support to boost your nutrition requirement and not as a replacement. You must, essentially, focus on having a well-balanced diet that revolves around your individual nutritional needs.
About the Author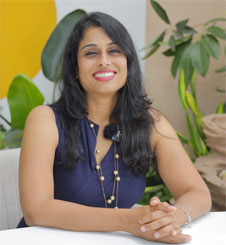 Mugdha Pradhan, CEO & Founder of iThrive, TedX speaker, Serial Entrepreneur, Author, and Orator has a Master's Degree in Nutrition. A few years ago, when she struggled with her personal health issues, learning the nuances of Functional Medicine transformed Mugdha's health and made her fit, happy and healthy. She moved from Canada to introduce Functional Nutrition for the first time in India through iThrive – Healing & Beyond in 2019.
Mugdha also delivered a Ted talk in 2019 about how she dared to reinvent the current healthcare model to reverse the chronic disease epidemic. iThrive is centred on the concept of food as a tool for disease treatment. 'How I dared to reinvent the current healthcare model to reverse the chronic disease epidemic,' says Mugdha, following a period of ill health, she was inspired to change her life for the better and began researching the functional nutritive powers of food – an approach that is revolutionizing the nutrition industry.
iThrive is a health and wellness startup that focuses on reversing chronic health conditions and lifestyle diseases through Functional Nutrition using root cause analysis. It is backed by a team of highly qualified functional nutritionists that help people in reversing a multitude of health dysfunctions through their expertise, science-backed functional nutrition coaching and real-time response.
iThrive recently raised $350,000 in a pre-Series A round, which will be used to accelerate iThrive's growth and scale all three verticals with technology: iThrive, iThrive Essentials & iThrive Academy.
Disclaimer:
The information contained in this article is for educational and informational purposes only and is not intended as a health advice. We would ask you to consult a qualified professional or medical expert to gain additional knowledge before you choose to consume any product or perform any exercise.