A cruelty-free way of life might be an avant-garde in the West but in India, veganism is deeply entrenched into the culture. People are taught to respect all living organism from early childhood and encouraged to live a life free of Ahimsa(Non-violence). The culinary tradition of this country has churned out many gems that can give burgers and stakes a run for their money. But when it comes to plumping up some biceps? The general misconception still prevails today that you have to indulge in some good-ol' chicken to be a beefcake. Amit Mehta, the CEO and founder of Unived nods in disapproval. Unived is one of the first few companies in India that introduced cruelty-free fitness supplements to the country's compassionate fitness enthusiasts. Recognized by PETA India, the Mumbai-based company is the only company in the country to offer Vitamin C from berries, DHA and Calcium from Algae and protein from chickpeas and many more. What aspirations ignited this creativity? Sportz Business delves into the deep for answer.
'Sports Nutrition space didn't take us seriously'
Mehta, the captain of Unived believe when vegetarians grow up they become vegan. His transition from a vegetarian to Vegan holds testimony to that statement. When he started Unived as a Vegan certified Indian brand in 2012, industry honchos did not pay much heed to them or consider his endeavor as a threat. There was a lack of awareness on the subject and the market practically didn't exist. Unived took the role of educatingcustomer the benefits of clean label products. It didn't take long to develop a niche industry from that step and there have been a few brands who have lunched under this umbrella.
First vegan Pea Protein, First vegan endurance gel, First Algae DHA and many other firsts
All these firsts of Unived are inspired by this radical idea that consuming animal to strengthen ourselves is not ethical. Why switch from conventional animal derived ingredients to Vegan supplements? Whey protein comes from milk, gelatin-coated capsules are made from lard or honey sweetened product. Cleaner vegan supplements are not only less hazardous to the environment and but also beneficial for the well-being of the body and mind. Unived's Pea Protein is the first plant-based protein in India. Let's take a closer look at the Pea protein and first-of-its kind products in India.
Unived Pea Protein Isolate: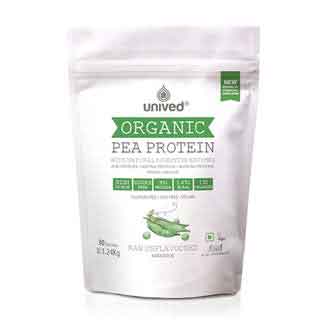 This plant-based protein supplement is soy-free, gluten-free and a source of Natural Digestive Enzymes- acid protease, natural protease, papain and amylase. The pea protein is beneficial for muscle repair and maintenance. The product draws its components from high-quality non-GMO yellow peas packed with all essential amino acids. It is also rich in arginine, glutamine, leucine and lysine. Something like this can be added bonus to your endurance training routine.
Endurance Gel:  This is an essential item for endurance athlete to cope with environmental stress. The gel is enriched with performance boosting amino acid which makes it an inseparable item for race day. Conveniently packaged, the gel is ready-to-go source of high-quality energy. Extremely easy to digest, it allows nutrients to be absorbed quickly by the system.
Acerola-C Organic Vitamin C complex:
This is probably the first time a plant-based product offered Vitamin C in India. It is free from corn-derived ascorbic acid which other products available in the market uses. It derives from GMO corn which is synthetic and manufactured in the lab.
International Visibility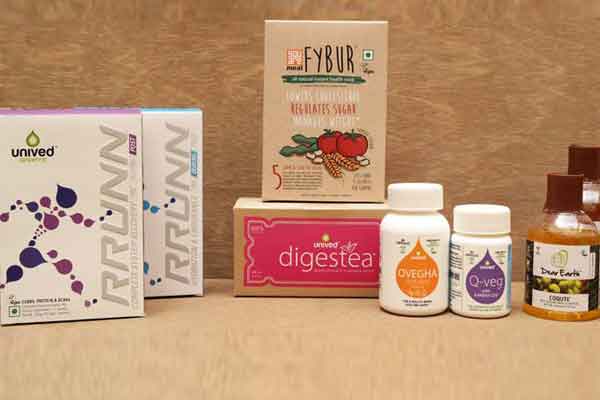 Name one Indian brand that has been approved by Vegan Society, UK? The answer is Unived. International athletes started noticing the company in early 2017 and they began tinkering with their products. Unived associated with elite athletes who were part of internationally prestigious events like Boston Marathon and Tarawera 102k. Unived's products have received generous praise by international athletes. The company recently forayed into South Asian market as well.
Miles to go
Just like rest of world, Veganism in India is changing people lives. People are becoming more aware of meat-based products and the plight of living beings behind it. In India too, the cruelty-free movement is picking up pace. Amit is hopeful that Indian athletes will play a positive role in debunking the myths regarding fitness and veganism. Through Unived's innovative research, the compassionate fitness enthusiasts of this country were introduced to many first of its kind fitness product. Hopefully, in future also we would be pleasantly surprised with what they bring next to the table.
Disclaimer:
The information contained in this article is for educational and informational purposes only and is not intended as a health advice. We would ask you to consult a qualified professional or medical expert to gain additional knowledge before you choose to consume any product or perform any exercise.