Fitness is taking on a whole new meaning, especially with regards to latest trends and workout programs. Gym centres are looking at more inventive ways to attract people and equip them with proper fitness habits. Combining Traditional Fitness, Functional Fitness and Mixed Martial Arts, UFC GYM brings a wide new range of techniques to create an experience that delivers immediate lasting results in a safe and fun environment. UFC GYM is the first major brand extension of the Ultimate Fighting Championship. Founded in 2009, UFC GYM has emerged as a home to fitness enthusiasts of all ages and abilities.
Speaking to Rajeev Biswas, from Sportz Business Fitness Magazine, Mr. Istayak Ansari, Founder & Managing Director, UFC GYM India, shares his thoughts regarding his entrepreneurial journey, in setting up this global gym chain franchise in India.
Let's read what he has to say about providing world-class training and workouts of UFC athletes through UFC GYM.
Q Please tell us about yourself and what got you started in the fitness industry?
My last assignment as a professional was with Gold's Gym. I quit Gold's Gym in 2013 as a COO to start my entrepreneurial journey. I was instrumental in building the brand from 6 gyms to 86+ gyms over a period of 9 years. I was very keen to get back in the fitness industry and kept scouting for a brand with a unique concept. I was approached by Tamer El Guindy (VP Franchising & Operations) from UFC GYM international in 2016 to explore the option for Master Franchise for India. We finally concluded our agreement in 2017 and we opened our first 10,000 sq. ft. club in Punjabi Bagh, West Delhi in 2018.
Q What has excited you the most as being the owner of a fitness gym?
We change people's life through our Train Different philosophy.
Q Explain in detail the fitness regimes/training that you offer at your UFC GYM?
UFC GYM offers a unique mix of Traditional, Functional and MMA Training as well as Group Classes under one roof. Members can do their individual workouts, opt for personal training with our internationally certified coaches and attend fun-filled and calorie-burning Group Classes like Zumba, Spinning, Step Aerobics and Yoga. Our signature Daily Ultimate Training class is a high-intensity training bootcamp. We offer MMA-style conditioning classes for the fitness enthusiasts looking for a novel conditioning workout. MMA skills and techniques classes deliver the right training for people looking to learn MMA and even for people who want to compete at championships.
Q Take us through your facilities that you offer to your members and how UFC GYM is different from other gyms?
At UFC GYM, one can find a complete Strength Training set-up inclusive of Free Weights and Strength Training equipment's which are world-class. Cardio equipment is also available. Our Functional Training area includes a large Turf, Battling Ropes, Kettlebells, Vipers, Bulgarian bags, and many other functional training equipment. There is a dedicated Group Class studio where Yoga, Zumba, Spinning, Step Aerobics, and many other classes are conducted. What separates UFC GYM from others is the MMA section. We have a boxing bag rack for Boxing Conditioning and Kickboxing Conditioning classes as well as MMA training. There is also a UFC-style Octagon present which simulates a real combat fight situation.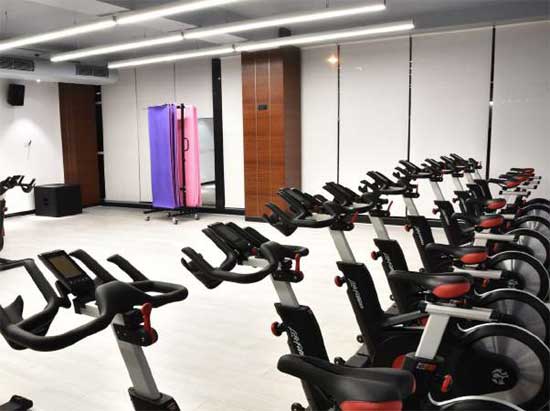 Q So far how many gyms you have covered under your brand?
So far, we have 3 open and operating outlets, Punjabi Bagh (Delhi), Bareilly and Noida at Sector 104.
Q Kindly tell us about the status of your plan of opening 100 gym locations throughout India by the year 2027?
We will have 8+ open and operating clubs in India by Dec 2021. We are targeting 12 to 15 new gyms every year 2022 onwards.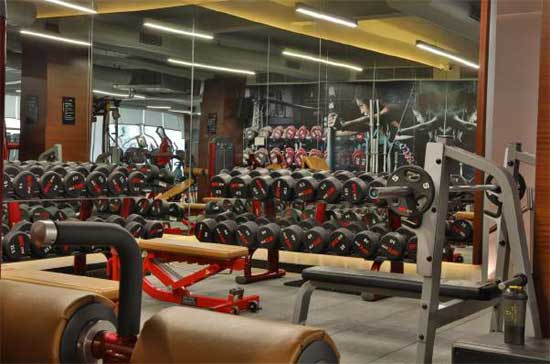 Q Tell us something about your partnership with MMA India Federation and IMMAF to develop amateur MMA talent throughout India?
UFC GYM India has gotten into a partnership with IMMAF and MMA India to groom amateur MMA talent in India. We will be supporting the selection of amateur MMA athletes by the MMA India Federation and IMMAF, by providing membership and coaching at our select gyms across India. Our goal is to collectively help create the next generation of MMA athletes who will represent India in future professional combat sports events and hopefully UFC.
Q UFC GYM is also into mixed martial art training, kindly tell us how one can pursue mixed martial art training without getting injured?
A common fear in a person's mind with regards to MMA training is the possibility of injury. Here, at UFC GYM we make sure that all our members train in a controlled environment under an expert coach's supervision. All the moves are demonstrated by a coach before they are performed by the members. We do not allow face punching which also reduces the chances of injury by a significant amount.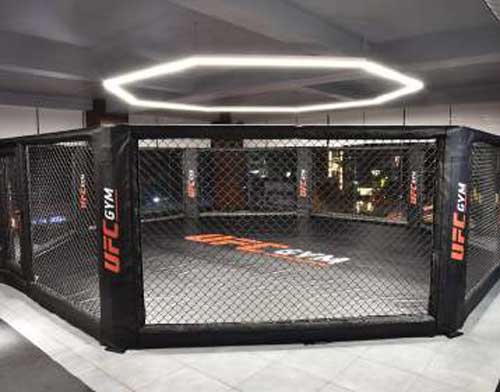 Q Kindly brief us about the safety standards that UFC GYM offers across in its gyms?
Our UFC GYM was praised for its safety and hygiene standards by our members even before the Covid-19 pandemic. Shoe wraps were placed at the reception for guests who wanted to see the club, this ensured that no outside dust enters the gym floor. Hand Sanitizer was available at the reception even before the pandemic started. We sanitized our Yoga mats and MMA floor after each use. We used RFID keys for member attendance which also helps in promoting contactless access to the club.
Post the pandemic also we have continued the above SOPs and additionally we have incorporated all Govt and WHO issued guidelines like temperature screening, regular sanitization and fumigation, workout slot bookings, Aarogya Setu App and spacing of equipment for a safer and hygienic workout.
Q Share some details about your trainers, their various accreditations and tell us about your client base?
All our trainers are certified by UFC GYM International in addition to the various certifications that they already hold to be eligible to join as our coach. Our coaches are certified from ACE, ACSM, NASM, EREPS and other internationally acclaimed organizations. Our client base is a mix of bodybuilders, fitness enthusiasts as well as MMA aspirants looking to make it big in the MMA world globally.
Q How has UFC GYM sustained in past during COVID lockdown?
To sustain the business operations, we will have to infuse capital for another one year. Our current market penetration is less than 1% which is currently lowest in the world. However, we anticipate a much larger population engaging in health and fitness activity post lock down.
Disclaimer:
The information contained in this article is for educational and informational purposes only and is not intended as a health advice. We would ask you to consult a qualified professional or medical expert to gain additional knowledge before you choose to consume any product or perform any exercise.