Workout gloves have been a daily need accessory for many gym enthusiasts. This accessory not only adds an element to the tour style statement but it offers you safety, comfort and proper grip to handle heavy weights and also to undergo rigorous training with them. These gloves are a surprisingly polarizing training accessory. A lot of gym goers consider gloves to be a compulsory training aid. But just as many others wouldn't be seen dead in them, viewing gloves as an affront to their grit and hardiness.
To enjoy your weight lifting workouts and have lesser chances of injuries a glove is highly recommended to evade any type of injury or irritation such as abrasion. You may choose to wear lifting gloves to avoid calluses, but weight-lifting gloves offer many benefits beyond protecting your hands and can even help you burst through workout plateaus. The right pair of these gloves for you fit easily into your gym bag, absorb sweat, slide on and off with ease and provide odour protection.
Workout gloves are considered a must-have essential needed to prevent any sought of injuries during exercises. It offers added support to your hand, wrist, and palm and guess what; it also protects your hand and makes you comfortable to work out without any worries. Whether it is to reduce belly fat, strengthening training or bodybuilding training, any sought exercise is liable to welcome injuries, especially in the gym. Being injured, your day-to-day exercises and fitness goals will be kept to a halt, making you less motivated and unfit. In such a scenario, it is recommended to have these gloves that will evade all possible worries and will also keep your hands soft and sweat-free.
Advantages of Wearing Gloves During Workout
Wearing or not wearing gloves is a personal choice, but to have the best from your workout it is recommended to consider them. Here are some of the advantages that you should look at before buying workout gloves.
Protects your fingers – Lifting heavy weight loads on inexperienced hands may stress the tendons of your fingers. Typically, the middle finger takes the brunt of the force and if the tendons are overstressed, you may experience symptoms of tendonitis. These include swelling, pain, inflammation, tenderness to the touch or an inability to bend your finger. Even a small injury or feeling of pain affects your workout progress. Wearing workout gloves provides extra support for your hands and fingers. Instead of the weight load making complete contact with your fingers, the gloves provide a protective barrier.
Decreases Calluses – Calluses are small rough spots on your hands that accumulate from friction. Friction occurs during weight lifting when the handle of the bar repeatedly rubs against your palms. Although calluses are not dangerous, if you continue to exercise without protecting your hands, the calluses may become painful, crack or rip open. These injuries may delay your fitness progress as you will be unable to use proper form while lifting.
Prevents the risk of dropping weights – If you are working out intensely, you are sweating. It's unavoidable. Sweat is your body's way of regulating your internal temperature. Some people sweat on their hands or may use their hands to wipe away sweat from a forehead or face. When your hands are wet, you have an increased chance for a barbell or dumbbell to slip. The weight may slip onto your foot, leg, chest or head depending on the exercise. Contact in any of these areas can cause minor to severe injuries. Wearing workout gloves reduces the chances of the weights slipping, especially if the material, such as neoprene, absorbs sweat.
Increases stability – Workout gloves provide stability for your hands and some types even have added security for your wrists. If you have previously injured your fingers, hands, or wrists, you may need this extra protection. Even without injuries, gloves provide a strong base of support for your lifting movements. The gloves add a thin but stable platform around your hands to increase your grip stability and help you hold onto the weights for a longer duration. This leads to increased strength improvements, improved muscular endurance and enhanced grip strength.
Top 10 Workout Gloves for your Daily Workout
In the market, there are many gloves that are widely available from various brands. Sometimes it is very difficult to get the right one, but with the help of this article, we will try to figure out the best gloves that you should buy for your workout session.
1.) Open-Face Gloves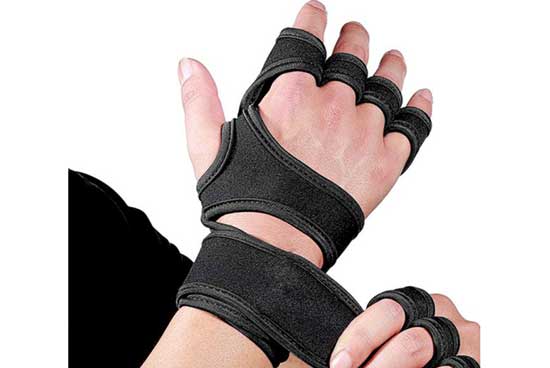 Open-faced gloves are considered the best for exercises that need hand and wrist mobility. These gloves are open from the back and are made from microfiber breathable material, thus allowing airflow to minimize sweat. The lesser amount of sweat makes lower the chances of getting injured during a workout.
2.) Kobo CTG-03 Mesh Gloves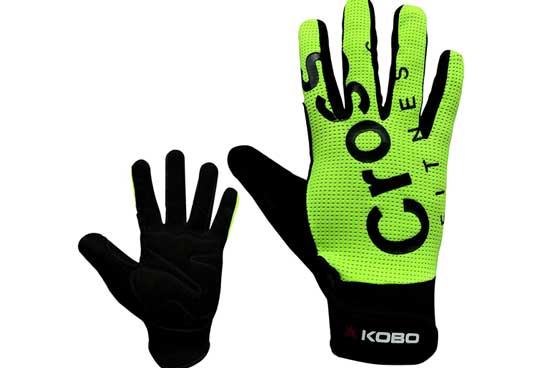 These full-finger workout gloves are very much useful for extreme powerlifting training. Being full-fingered gloves, it has reliable padding and offers full protection to your hand. The grip at the palm is made of synthetic leather and the top is made of mesh breathable material to allow proper airflow ventilation.
3.) Kobo Leather Gloves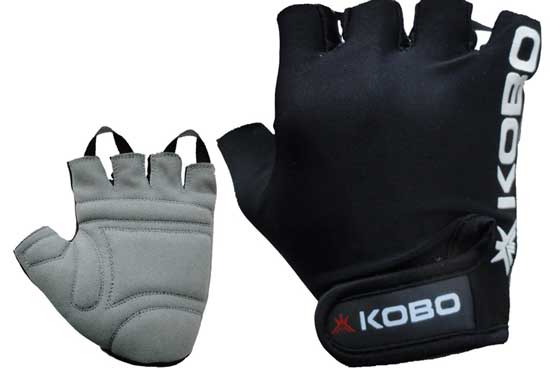 If you are looking for workout gloves with the best wrist support then this one is certainly for you. These leather gloves from kobo increase your comfort by reducing the chances of injuries. It also has an adjustable wrist wrap, which provides great support to your wrist while doing a workout.
4.) Nivia Python Sports Gloves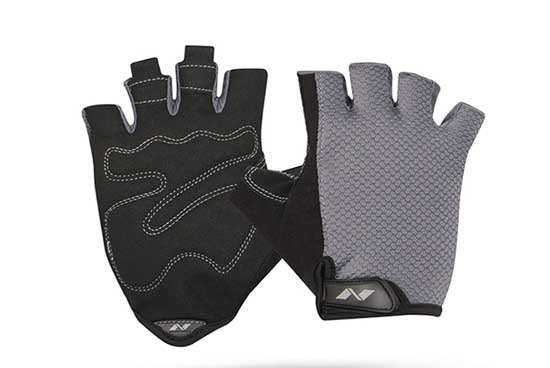 These gloves from nivia offer support to your palms during a workout. The glove is made of microfiber material and is washable for everyday use. Being half-finger gloves, it is ideal for casual gym-goers.
5.) Kobo Weight Lifting Gloves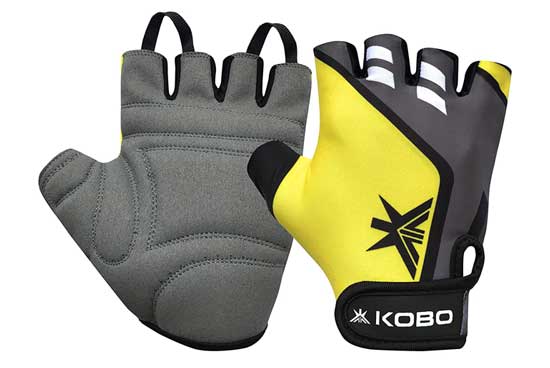 These leather and mesh material gloves reduce the unwanted pressure on your wrists during your weight-lifting training. It has a rubberized stretchy wrap, which reduces the possibility of a wrist injury during a workout. Being washable, this weightlifting glove absorbs all the pressure and reduces the strain that impacts your hands.
6.) Burnlab Flex Workout Gloves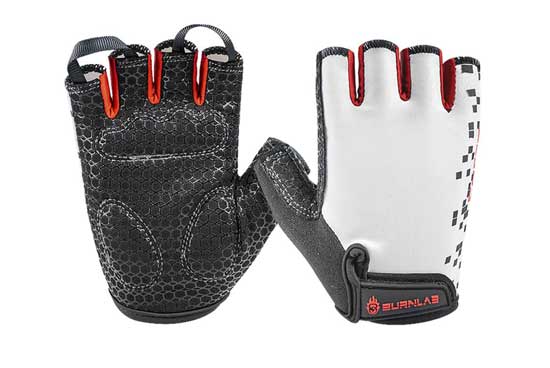 This glove has an extra layer of padding, thus offering you better support on your fingers and palms. It contains an aggressive robust design and is suitable for doing all types of exercises containing weightlifting, CrossFit and cycling.
7.) XTRIM AEGIS Leather Gloves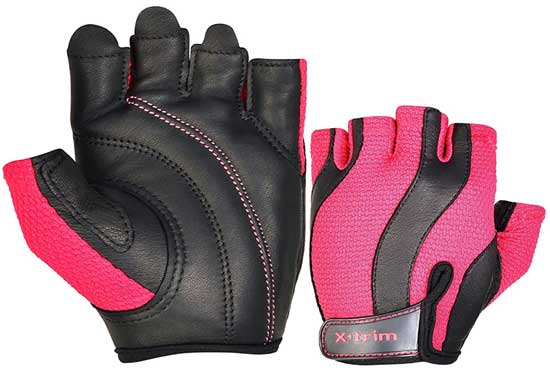 This glove is good for beginners and offers full support to your palms. Besides all, it provides strength, comfort, durability and better grip during any extreme workout. While lifting heavy weights relieves pressure placed on your hands and helps to make any type of movement beyond the limitation of your hands.
8.) FITSY Workout Gloves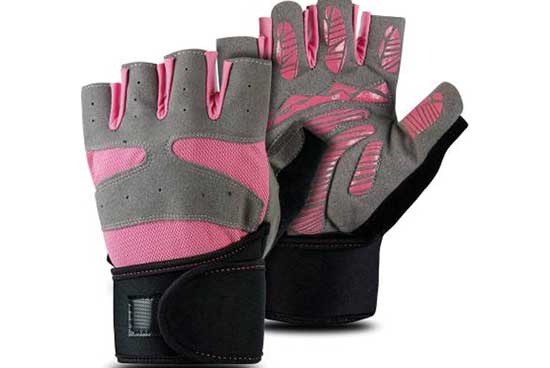 Being ideal for women, this glove is a perfect essential to protect your skin from peeling off while lifting weights. With perfect foam padding, this glove offers good stability and makes your workout session fruitful. It also provides a silicon grip on your palms, which strengthens your grip on the weights and prevents any sought of injuries.
9.) XTRIM X Macho Men's Workout Gloves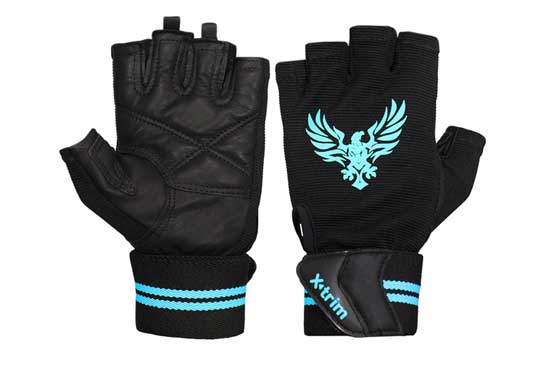 Made especially for weightlifters, this glove will provide you with a great grip and will prohibit any mishap during weightlifting. It has natural grain leather for providing enhanced grip to weightlifters. Ideal for all fitness enthusiasts of different stages, including beginners, professionals, and advanced levels.
10.) Hykes Workout Gloves for Women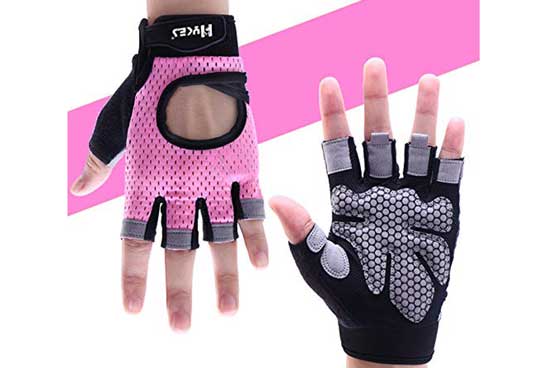 While lifting heavy weights blisters and calluses are quite often on women's hands. With the usage of Hykes gloves, you can keep your hands soft and smooth without any worries. The gloves have breathable meshes and vents behind them to keep your hands dry and non-slippery at all times. Its silicon-printed neoprene provides an added firm grip on the weights, barbell, dumbbell and pull-up bar exercises that you do to make yourself fit.
Disclaimer:
The information contained in this article is for educational and informational purposes only and is not intended as a health advice. We would ask you to consult a qualified professional or medical expert to gain additional knowledge before you choose to consume any product or perform any exercise.