In first of its kind, in collaboration with Superdry and other chief sponsors, Reignite organized India's first Fitness fest viz. Superdry Reignite Fitness Fest from 22nd to 23rd February 2020 in DLF Avenue. 
At a time, when fitness has set all its marks to rejuvenate millions of people across the nation, the event posed to be a holistic approach to meet Delhiites' fitness quest. In an attempt to educate people about fitness and raise awareness about the different forms of fitness regimes, the two-day running event Reignite Fitness Fest has sparked the venue with its electrifying ambiance and rejuvenating fitness sessions.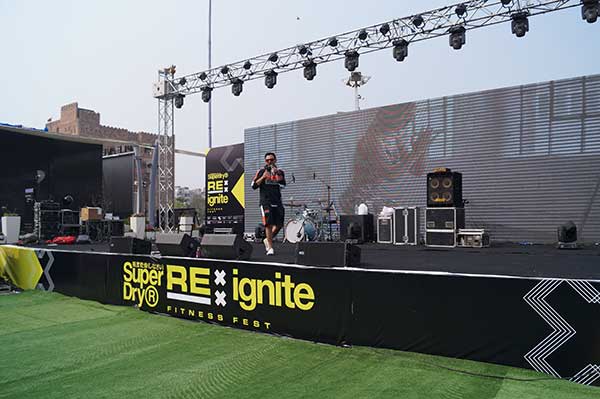 As the show started, Jatin Sapru a famous TV cricket commentator and host of several cricket talk shows addressed the exuberant fitness enthusiasts gathered at the venue.  With his tacky punchlines and catchy voices, Jatin transfixed the audience and fitness enthusiasts who were there to witness the event.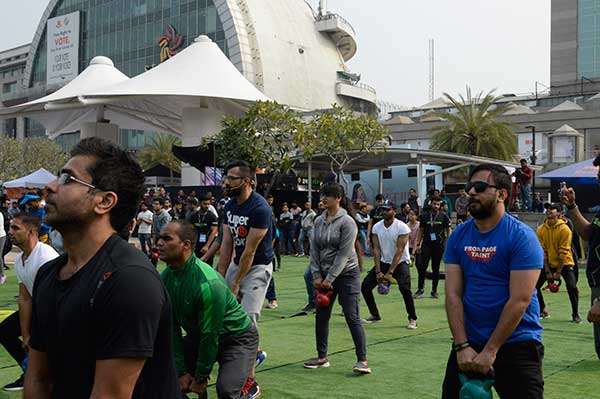 The show kickstarts with Vinay Sagwan a.k.a Bababell on the stage, who is an expert Kettlebell master trainer coach at Anytime Fitness Gym. Without wasting time, Vinay engaged the whole mass of fitness enthusiasts with his Kettlebells exercises moves and Bollywood Hit tracks making people to groove. Vinay Sagwan talks to Sportz business and shared his insight about the fitness fest and said, "It was an electrifying environment, there were a lot of exuberant fitness enthusiasts gathered here". Talking more about the fitness industry at present in the country, Vinay said, "The fitness industry is growing at present, and It is going to be better only in the next few years to come".
As the show progresses, more people and fitness enthusiasts joined the open ground of DLF Avenue. Now, after Bababell session, it was time for World Kickboxing Champion and celebrity trainer, Drew Neal to be on the stage. Drew Neal being a Kickboxer draw fitness enthusiasts with some real-life kickboxing style including punches and kicks to start.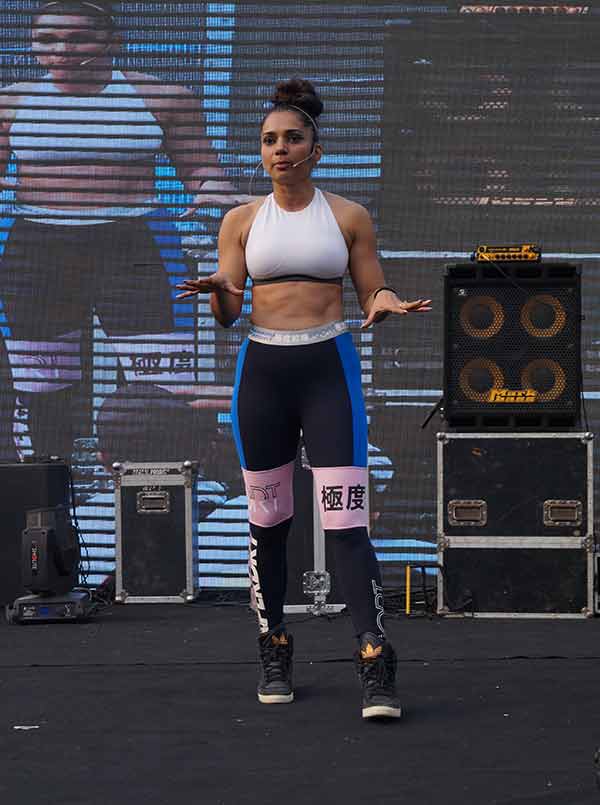 In the later part of the fest, as the day progresses and flashlights starks in more fitness exuberant public swamped in and why not, there was still the main event of the fest was yet to come. Taking ahead the session, Sonali Swami, an IBBF athlete and one of India's leading women bodybuilders, showcased some effective strength and conditioning exercises to the people gathered at the event. 
While talking about the Reignite fitness fest Sonali expressed her happiness over such an influx of people for the session and said, "the response from the crowd was great and yes people are liking it a lot. The coordination among organizers was great as everything is happening smoothly as per schedule. Making it interesting and something new to try, the team of the organizer has brought different fitness regimes including Strength and Conditioning, Zumba, MMA, and Yoga at the same platform which even makes it a knowledgeable event for people to learn a lot from''.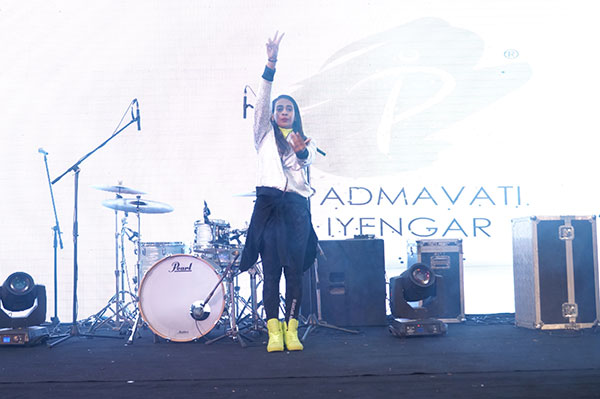 Padmavati Iyengar yet another social media icon and star Zumba trainer talks to SB about her session and the response from the crowd and said, " I completely had a blast here amid such an exuberant crowd who were quite amazing," While answering about the future of fitness in India, She forecasted and said, " I think there will be lot many innovations coming in the industry because already everything is getting digital these days so I feel and I believe that fitness will be available and accessible to everybody in next few years."
On the final note, Siddharth Singh, CEO of Cross-train Fight Club and Co-Founder, ADCC India Nationals talked about their journey and what made them bring such an extravagant event of fitness said, " When we started me along with my partners Anu and Rajiv, the three of us dreamt of bringing authentic fitness event to India and here we are with Superdry Reignite Fitness Fest which is going to be noted as the most successful fitness event in India".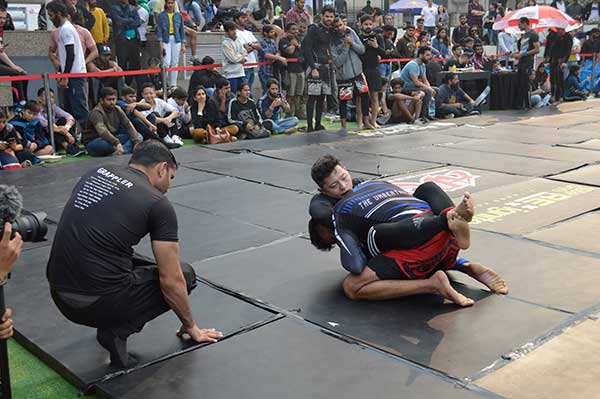 On the 2nd day of the event, organizers have brought in ADCC to Indian for its first-ever grappling tournament in India with ADCC India Nationals.  The event started at 11 am in the morning, was open for all and featured around 300 grapplers grappling on a single day. As the event was for grappling, relatively there was a fewer number of spectators attending the event in comparison to the 1st day of the event. 
Having grapplers from across the country, ADCC India Nationals have shown there is a magnificent future ahead for this sport of Grappling that not only required stamina but also utter fitness level. According to the Co-founder of ADCC India Nationals and former grappler Siddharth Singh, " the winner of this grappling tournament will win a ticket to go to the ADCC Singapore championship which is going to happen this year". 
This how India's first-ever grappling tournament and Fitness Fest concluded on a positive note that there's a huge market in India and grappling is one of the rising combat sports that Indians are liking. 
Disclaimer:
The information contained in this article is for educational and informational purposes only and is not intended as a health advice. We would ask you to consult a qualified professional or medical expert to gain additional knowledge before you choose to consume any product or perform any exercise.