My Bollywood Body as its name suggests comprises the clout, dexterity and the fame which keeps the brand at par with their name. My Bollywood Body has 500+ MILLION Views over Social Media and Over 5 Million followers across Social Media. It is Canada's Most Watched Fitness Channel Featured in over 250+ Media Outlets and if that's not it, Sunny is a official media partner and National Fitness Judge for Canadian Physique Alliance (CPA) which is Canada's largest fitness federation. Keeping the South Asian bodybuilding and fitness skills and catering to the Bollywoodcrony audience, Riz Sunny for years now has been a Social Media Influencer. Niloy from Sportz Business sweats out the words while e-strolling with Sunny the man behind My Bollywood Body that has made the firm an affluent name in the global fitness industry, ahead plans, business model and trying to explore Sunny's unheard success journey. An Interesting and Inspiring Nub Below.
An anecdotal story of the name behind 'My Bollywood Body', idea, people and establishment of the esteemed firm?
Sunny has been in the fitness industry since 2003 and has logged over 150,000 personal training sessions. When social media became the "it" thing, he wanted to create a platform where people from all around the world can be connected. Bollywood celebrities are known for their physiques. Men and women both dream of becoming chiseled like the celebrities they see on the big screen. The idea of being able to attain those fitness goals gave birth to "My Bollywood Body". My Bollywood Body, the YouTube channel has more than 680 videos which include complete workout routines, diet plans as well as general fitness questions and answers helping everyone achieve their fitness goals. My Bollywood Body gym is located in Toronto, Canada. With over 500 active members of this exclusive gym, this fitness facility is a gym goer's dream.
State-of-the-art facility, other prime services and courses you muscle-on for your clients?
My Bollywood Body gym is one of a kind gym. It is the only fitness facility that caters especially to South Asian clients outside of India. Everything in this fitness centre is geared towards Bollywood; from its name "My Bollywood Body", to the music being played at all times of the day, to the posters hung on the wall, Bill is everywhere. The gym is equipped with more than 106 pieces of the latest equipment. This is the only gym that has a "highway of dumbbells" which contains more than 100 pairs of dumbbells. Besides regular membership for the gym, Sunny offers personal training, in which a client is trained in person. Sunny also offers online coaching for those who wish to train with him but aren't able to due to distance, or availability, etc.
Impact of the pandemic and your strategies that kept you relevant in the business?
Covid19 has affected every sector of the economy. Long before the pandemic, Sunny started offering online coaching in which he offers customized diet plan and workouts for his clients with biweekly check-ins. In March, due to Covid19, the whole world went into a lockdown; so did My Bollywood Body. However, we were able to pull through the closure due to the revenue generated from online coaching.
Given the growing knack for fitness, new techniques, regimes and sports are been induced in the gyms (HIIT, Functional Training etc.) giving great engagement opportunities for clients. Your workout sessions to keep the clients busy 'FIT-in' themselves?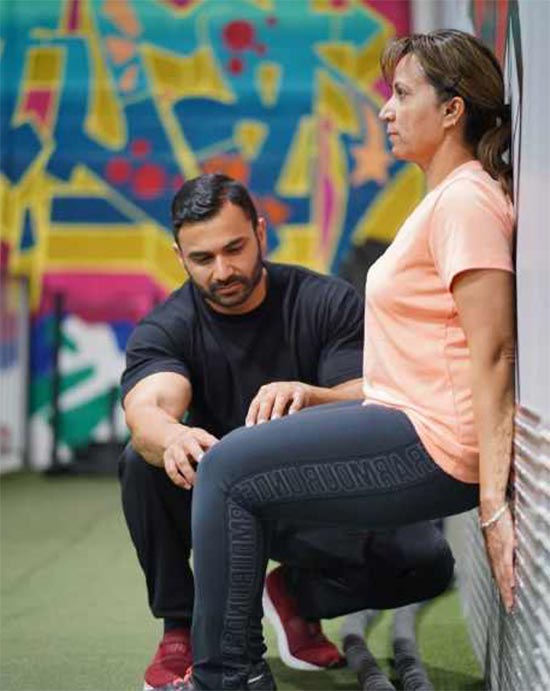 Sunny considers himself as an expert in training gym virgins. His style of training is old school. He believes in conditioning a client first before getting them introduced to any type of high-intensity workout. In a matter of weeks, a beginner can be fully conditioned; gain stamina, strength, agility, and flexibility to tackle hard-core workouts. He truly believes that building a body takes time and patience. His favorite quote is "slow and steady, wins the race." All the new techniques and trends in fitness will come and go, but classic style of working out will never go out of style.
You have a whooping more than Million Subscribers on YouTube, can you share what made it stand out in a scenario where online fitness training and coaching is so competitive?
As of today, My Bollywood Body stands at 5 million+ followers on social platforms combined, making it the world's most watched and followed Hindi/Punjabi Channel. Compared to other fitness channels, Sunny's has a very comedic touch. He makes working out fun, therefore the viewers stay engaged. He speaks with his audiences like a friend and makes them feel comfortable. He is very likeable and lively person; therefore people are automatically drawn to him.
What are the trends you foresee as E-Gymming becomes the new age trend?
Going to the gym and working out at home; both have their own pros and cons. Because of the pandemic, many people are afraid of going and working out at the gyms. E-Gymming will definitely be the preferred way of working out for many.
Riz Sunny, you have more than a decade of experience in the industry, what are the challenges and scopes you witnessed during this tenaciousfitness journey?
I have been training people for almost 2 decades. The hardest part of the fitness industry is to obtain a trusted name and build a loyal clientele that trusts you even more. When it comes to running a business you have to be willing to make sacrifices. I have had to make many, in order to stand where I stand today. For example, I have worked 16 hours a day and didn't take any day off for months. I have missed out on so many important family celebrations because I had to be at my business.
Importance of right marketing of gym and what has been your USP?
When it comes to selling memberships of our fitness facility, we relied completely on social media. Since we have a massive audience on our social media, majority of our members are our YouTube subscribers.
Any plans to expand your business across the real land of Bollywood?
We would love to! Let's see what the future holds for us.
Emerging diet science and veganism, you're idea of diet to keep fit?
I'm a big proponent of eating healthy. The more you eat, the stronger you are, the more it helps one excel in fitness. Through my online coaching platform, I have been blessed to be able to assist clients in reaching their fitness goals. Not one of them but a handsome amount. Would say that they had to starve in order to lose weight. Eat more, lift heavy, get enough sleep and repeat.
Disclaimer:
The information contained in this article is for educational and informational purposes only and is not intended as a health advice. We would ask you to consult a qualified professional or medical expert to gain additional knowledge before you choose to consume any product or perform any exercise.