"Eat well, sleep well "is an adage referring to risks in trade off generally used in business and investment.
But has anyone of you ever thought that it has a deep meaning in the field of nutrition, health and well-being as well? One who eats well sleeps well and one who sleeps well works well. Our nutrition depends upon our diet, and diet and sleep go hand in hand. They are intertwined with each other which simply means that the healthier diet you consume, the better you sleep and vice versa. You cannot expect to manage one and ignore the other.
Let's understand how and why? When we consume a balanced diet full of veggies, fruits, whole grains and lean protein we get better sleep at night. This adequate and deep sleep allows our muscles to recover well, energizes us and we wake up into an attentive and energetic individual who works harder towards a better life. Also when we consume a complete balanced diet, the body is able to absorb all nutrients in the right quantity. Hence, the brain is able to produce such neurotransmitters ghrelin and leptin which are very necessary for deep sleep.
Also, When we take enough sleep we wake up fresh and full of zeal. Enough sleep includes both the timings and the quantity of sleep. Good night's sleep keeps our mind, body and soul happy and hearty and we only move towards healthy food choices and good decisions in life.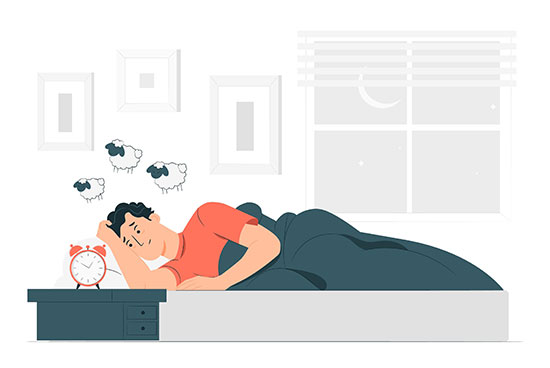 On the other hand, an unbalanced diet full of high carbohydrates, high fat and caffeine can cause indigestion, heartburn, restlessness and disturbed sleep. This sleep pattern makes us lethargic, inattentive, tired and irritable. Hence a person is not able to concentrate on work, let alone feel satisfied. Sleeping at the wrong timings or for less than the required hours leaves us feeling low and anxious and hence we indulge in excessive eating or poor quality diet. Anxiety results in disturbed sleep and poor food choices and this all becomes a vicious cycle
The lighter, less restorative sleep also leads to metabolic disorders and increased craving for high sugar and fried foods. Sleep deprivation pushes you toward high-calorie food. Chronic sleep loss results in overeating and choosing unhealthy options leading to increased waist-hip ratio and risk of obesity. It is also responsible for loss of vigour to exercise and reduced muscle strength.
In short, we can say that disturbed or inadequate sleep is not only the cause of wrong and unhealthy food choices but also results because of consumption of less fibre, high saturated, fried and refined food items. The data has been collected through various surveys which clearly shows that disturbed sleep is directly related to the consumption of unhealthy food like chips, chocolates, fried, and refined flour items whereas consumption of nuts, seeds, tofu, fruits, vegetables and whole grains leads you to get a better night's sleep because they fulfil all nutrient requirement of our body.
So, always remember " If you will dine well, you will sleep well, and if you will sleep well, you will think well."
And thinking in the right direction is the key to a happy successful life. This clearly explains the entangled role of diet and sleep in a healthy, happy and peaceful life.
In nutshell, with regards to sleep and nutrition, Dietitian Rajat Jain, Founder & Director of Health Wealth Diet Clinic says that nutrition plays an important role in sound sleep. For example, a person who has an abundant amount of food and only thinks about food all day is a case of overnutrition and complains of a poor sleep cycle. Whereas a person who eats food as per the body's requirement and has a balanced diet in moderation has a better sleep cycle. Hence nutrition is the key to good sleep.
About the Author: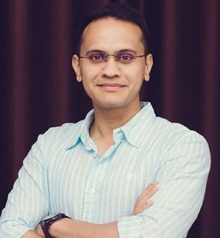 Dietitian Rajat Jain is the Founder & Director of Health Wealth Diet Clinic, the leading nutrition and weight loss clinic in North West India as recommended by numerous fitness platforms. Dr Rajat is a weight loss expert, clinical & sports nutritionist and certified diabetes & wellness educator. He is one of the most trusted and award-winning dietitians in North-West India.
With his experience of more than 5+ years including working with reputed hospitals and fitness centres, Rajat has positively influenced the health of over 7000+ people from different walks of life. Rajat enjoys his distinctiveness of being affiliated with various fitness centres and gyms across West India where he works with the members as a nutrition and diet consultant and engages with their workout and performance on the floor, which offers him a deep understanding of his client's unique level of nutritional response towards their body.
Dt. Rajat Jain has been awarded 5 times in a row as the 'Best Dietitian in Rajasthan' and ranked among the 'Top 10 Most Promising Dietitians in India'. Among various associations, he also works with the Rajasthan Police Academy and Rajasthan Royals Colts & Sparks as their official and consulting sports nutritionist.
Disclaimer:
The information contained in this article is for educational and informational purposes only and is not intended as a health advice. We would ask you to consult a qualified professional or medical expert to gain additional knowledge before you choose to consume any product or perform any exercise.