Soccer International Pvt Ltd (SIPL), an integral founder member of Sports Goods Foundation Of India, has been playing a crucial role in transforming Indian soccer accessories manufacturing industries since its inception.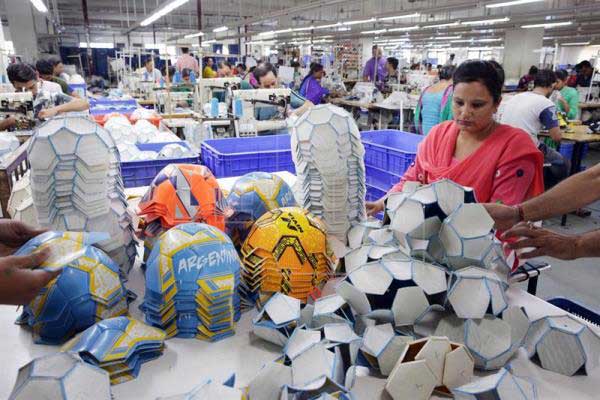 Established in 1976, SIPL has emerged as the first Indian Sports goods Manufacturing Company to introduce range of Shin Guards of international quality.
The SIPL is based in India's major sports goods manufacturing district, Jalandhar and houses around 500 trained professionals, dedicated workers. At present, the sports goods manufacturer and exporter works under five production units stretched up to 3,00,000 square feet.
Owing to its best in class quality, The Company always finds its product including for Hand Sewn & Machine Sewn Professional Inflatable Balls, Soccer Shin pads, Sports Bags and Soccer Accessories In high demand meeting the requirement of international clienteles.
The company gets its list of clientele featured with importers from across UK, Germany, Italy, Denmark, Australia and USA as well as the company also plays as O.E.M for some major brands. The company sets an example for the contemporary Indigenous sports goods manufactures by hitting production up to 3 million inflatable balls annually generating revenue around US$ 12.5 out of it. The company offers inflatable balls with a brand name of Vector X.
The company has also been participating actively in working methodologies of World Federation of Sporting Goods Industry since 1998.
Backed By skilled professional SIPL undertakes quality control precisely right from the beginning process staring from procuring of Raw material  to finally finished product's packaging.
Owing to meet International grade of inflatable balls, SIPL has been recognised with ISO-9001 certification from the coveted Dutch Council of Accreditation DNV, Netherlands. Besides, The Company also holds other credentials including:
Highest Export Award for the Export of Sports Goods for two consecutive years 2001-2002 & 2002-2003
2nd Highest Export Award for the Export of Sports Goods for the years 2003-2004, 2004-2005, 2005-2006, 2006-2007 & 2007-2008.
The Company incorporates a healthy and ethical mode of business due to its association with Sports Goods Foundation of India which works for abolishing child labor from Indian Sports goods manufacturing industry.  This is quite evident with the fact that SIPL maintains these guidelines while following an objective of 'pleasant work environment is base of good quality':
The major work areas are –
Fire Prevention
a) Committee ensures that the factory is having the necessary fire precautions.
b) Ensures that factory housekeeping priorities reducing the risk of fire from – open flames, electrical wiring, flammable materials etc.
c) Ensures that the factory has suitable fire extinguishers which are regularly checked.
d) Ensures that factory has suitable fire exits.
e) Ensures that smoking is not allowed on the factory floor.
f) Ensures that there is a recognised fire alarm and that all workers know how to raise the alarm.
g) Ensures that there is a fire evacuation drill which is well known to all the workers and is regularly practiced, timed and recorded.
h) Ensures that name and trained workers are on duty as fire officers during working hours.
Control of Hazardous Substances
a) Committee lists out what materials are used in the factory.
b) Know the hazards associated with different materials.
c) Ensures that materials are clearly labelled in the local language.
d) Ensures that materials are stored safely.
e) Ensures that workers are trained to handle hazardous material safely and appropriately.
f) Ensures that hazardous wastes are disposed off appropriately.
Machinery and Personal Protective Equipment (PPE)
a) Committee keeps an up to date list of machinery and knows the hazards and risks associated with each machine.
b) Ensures that machines are regularly maintained with special attention to risk areas.
c) Ensures that workers are trained to operate machines with the minimum of risk.
d) Ensures that safety features are always used and adequate ventilation is provided in the factory.
e) Ensures that appropriate PPE is always used.
Worker Health
a) Committee understands health risks associated with production.
b) Have a system to manage health issues.
c) Communicate health system and risk to workers.
d) Monitors health of workers.
e) Having First Aid boxes at least one per floor.
f) Keeping record of accidents.
g) Provides toilets as per the factory laws.
h) Also maintains other health issues as per the Factory Act.
CHILD LABOUR PROGRAMME
a) Committee maintains the law concerning Child Labourers and young workers.
b) Maintains documentation of the ages of young workers
Disclaimer:
The information contained in this article is for educational and informational purposes only and is not intended as a health advice. We would ask you to consult a qualified professional or medical expert to gain additional knowledge before you choose to consume any product or perform any exercise.