An Maizo Worldwide established in Jalandhar in 1992 – has brought immense specialisation in producing high-quality sports equipment including Outdoor sports, boxing gloves and many other sports gear.
The company markets its highend sports equipment with a brand name of 'Maizo' and has earned 'an international repute for the brand. Following highest level of precision, while designing and manufacturing sports gears, Maizo meets its well-defined quality protocol based on ISO 9001:2008 Standard every time.
Standing strong at the verge of completing its third decade since establishment, this reputed indigenous manufacturer of sports equipment, Maizo, has established two major manufacturing units each spreading around 10000 square feet and houses some of the state-of-the-art infrastructure facilities.
Detailing more about its workforce and production unit and how they have planned for next decade, Anup Kharbanda, Director, An Maizo Worldwide speaks to Kumar Abhinav SubEditor-Sportz Business Insights.
Q Given the size and success of An Maizo Worldwide, what goals have you set yourself for the next decade?
Our main focus is on health and fitness. Maizo is working on the innovation of futuristic products for the industry. We hope to replace Chinese-manufactured sports equipment with the goods we make in India.
Q How does your work at the An Maizo Worldwide differ from what others in the same category had been doing?
Maizo is focussed on sustainable, long-term goals that will benefit us and the society we are part of. We strive for innovation and excellence as well as equality and opportunity. Through participation in (charity), Maizo has continued to give back to the communities that support our business.
As a first-generation business, An Maizo Worldwide represents the entrepreneurial spirit that exists in every Indian and the promise of self-made success.
We are working to increase our online presence and can be found on Facebook as Maizo and on Instagram as maizo_ fitness_equipment.
Q Please, could you talk us through the typical process behind your work on a new product?
We believe that necessity is the mother of innovation. At An Maizo Worldwide, we focus on the needs of our customers and focus on providing top-quality equipment to satisfy their needs. Product innovation can begin anywhere; in an office meeting, in a factory discussion, at a sports fair; and once an idea is born Maizo will find a way to bring it to life.
Q What has been the most significant project you've worked on since you established An Maizo Worldwide?
The manufacture of our Mixed Martial Arts wrestling dummy was a huge project. An Maizo Worldwide holds the All-India patent for the MMA wrestling dummy and is the Original Equipment Manufacturer of this innovative product for many worldrenowned brands like Everlast, Ringside and Combat sports
An Maizo Worldwide also holds a wide range of top-quality, long-lasting, and innovative boxing and MMA timers.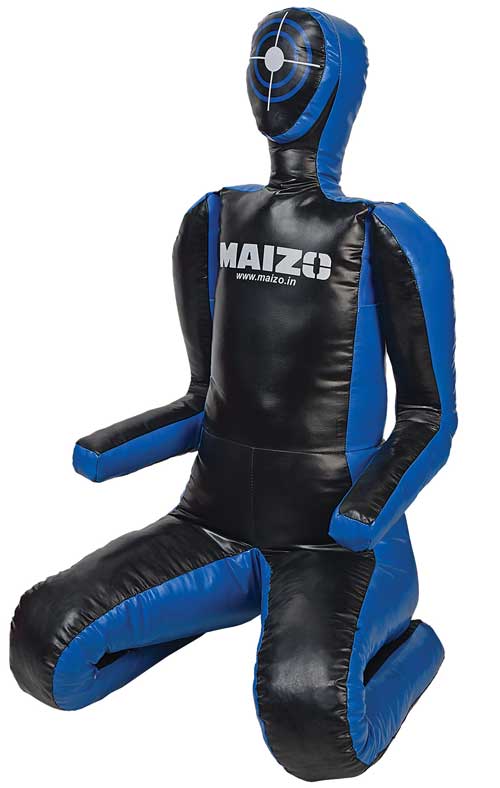 Q In last 28 years of your company, what is the biggest lesson that you have learned?
"Karmanya Vibhadhikaraste, ma phaleshu kada chana, ma karma phala hetur bhurmatey sangostva akarmani" It is a quote from the Bhagavad Geeta at it speaks true for when facing any challenges in life. It says that one should focus on the deed and the not the fruit it may bear. An Maizo Worldwide has seen its ups and downs but has grown and flourished despite many challenges. I have learnt that it is unwise to focus too much on reaching your end goal. With continuous effort, a resilient mind, and focus on the current task, sucess will come to you.
Q What do you do to keep your ideas fresh?
An Maizo Worldwide tries to be where the action is. We interact with buyers and distributors through trade fairs but also reach out directly to customers through sports events and competitions. This keeps us updated on new challenges as well as new expectations from the customers, allowing us to continue innovating our products and providing the best equipment.
Q What is the 1 most important advice for those young entrepreneurs, who want to venture into a start-up in this sector?
D o n ' t b e disheartened. Businesses don't often take off like we expect them to. They don't always flourish and they don't always bring profit. But if continue to make efforts in the right direction, entrepreneurship is the most amazing thing the market can offer you. Quality is important, but innovation should be the top priority. More than that, know your customer base and their demands so that you can steer your business in the right direction.
Disclaimer:
The information contained in this article is for educational and informational purposes only and is not intended as a health advice. We would ask you to consult a qualified professional or medical expert to gain additional knowledge before you choose to consume any product or perform any exercise.