Having versatility at first, Proskate Pvt. Limited is an Indian manufacturer and supplier of world class skates and allied accessories based in Karnal, Haryana.
Recently, the Proskate Pvt. Limited has added UNICORN CONCORD 110MMX4 IRS 2in its inline pro skates product category. Unicorn 110MMX4 is precisely designed using adept quality material under the precision of skilled professionals. The product Uniconr110 MMX4 comes with 3 months guarantee and company pledged to give quick replacement to any physical damage to the product. The product is equipped with ultra -high speed Fast and furious wheels which provide an overall optimum performance.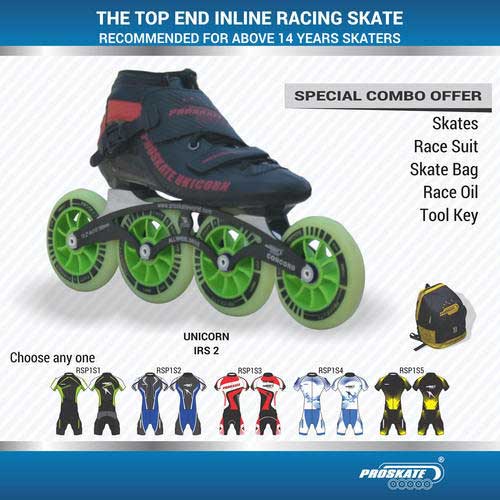 If we talk about the ball bearing of the product, then the manufacturer has used ABEC – 11 racing series of bearing in the product. One can order the UNICORN CONCORD 110MMX4 IRS 2 online as well as avail it offline with different paying modes accepted by the company. At present, the product is available the product which comes at a sum of rupees 29700 which includes a combo of skate bag, skate tools, skate racing oil along with  piece digitally printed high performing racing suit.
Here are a few others skates variation available at the company end :
PROSKATE UNICORN CONCORD 110MMX4 IRS 2 (Rs31,400)
PROSKATE UNICORN BP 110MMX3 IRS 4(Rs31,300)
PROSKATE UNICORN HI LO CRUISER IRS 55 (Rs30,000)
PROSKATE UNICORN BP 110MMX3 IRS 4 (Rs29700)