It's not just LBS or revving oneself up from undraping a sari to showcasing the toil of a women's chiseled body in a bikini. This story of Karuna Waghmare, (India's First International Level IFBB women's Physique Athlete, winner of IFBB IBBFF AFBF ASIAN Championship 2015) is not just inside the gym and being an affluent bodybuilder but being out in the world dominated by men muscles. Recognised with the most prestigious award of Maharashtra – Shivchtrapati this athlete has been bestowed in many global platforms(mentioned in the end). Niloy from Sportz Business back turns the pages of Karuna's personal and professional life and career and jots down her part of the intricating journey of what it's like being a star in the Indian fitness industry and her ahead plans. Unfold the edited excerpts below.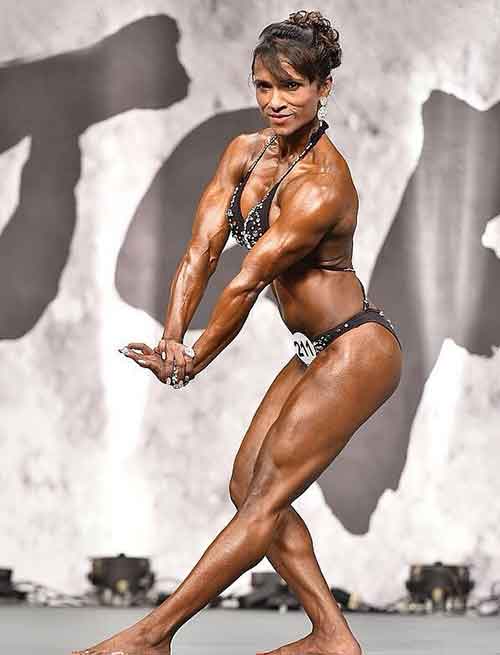 1. How and when did you come into bodybuilding business?
I started preparing for my competition in 2009 and finally set out for my maiden competition in 2011. This was also India's first ever women's competition which took place in Hyderabad, Bidar. The competition held was not much organized as the judging panel mixed all the girls in the same group, the industry was still nascent and being a novice in this industry positioning myself without any guidance was challenging but surely let me go off with huge memories and experience.
2. Challenges you faced being a woman bodybuilder and how do you see the scene of women bodybuilding in India?
The major challenge I faced was to find myself a good coach; an expert, trainer, mentor who can guide me all through the women's category. As destiny worships your life, with lot of research and study I finally got the appointment to meet Mr. Kaizad Kapadia, Founder of K11 Academy. Thereafter, he trained me for the next two(2) years and guided me about the women's division and its different categories. He was the first person and expert under whom I started my training and gave me the advice to find myself an international coach who can train me better and make me ready for International events and competitions.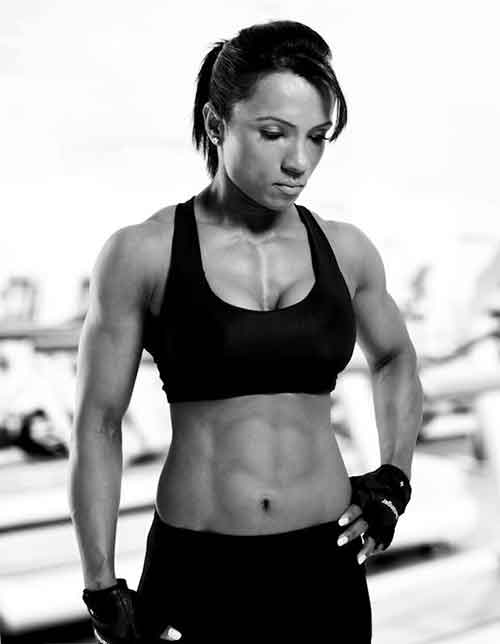 If ever, just finding the right coach was a challenge, one always finds collective deters who dissuade you including friends. Just when my physique started sculpting, I used to hear jibes mentioning me as, 'Man, You're too muscular, You will gain nothing out of it, Quit competitions'. Also, few men use to indirectly compare their physique with me. Oh! I loved seeing their faces as I contended them(wink)*.
Also, men passed comments on me, stating, "She has taken steroids and it's very easy to achieve a physique like her (anybody can do it)."
The women's category in India is much better than before, when I started there were not many girls in my category (women's physique). From that scenario to today, situations have literally revolutionized as in women's category has a lot of women competitors showcasing their adroitness in a bikini, and beefed-up physiques. The future is promising and is set to improve day by day.
3. How professional are the training facilities, infrastructure, and environment for professional bodybuilding in India?
 Structured-based workout plans and diet for athletes is the biggest lacuna. Also, online coaching specifically on YouTube is not organized as every other chap sharing videos without any guidelines to just fetch clients and views has become a hazard to the industry. Already the industry being not organized the grey part is majority of professional trainers (Guru) feed their ego and lacks the overall vision of upgrading the industry delivering zero learning ending many athletes career.
Here, the professional trainer's primary focus is PEDS (performance enhancement drugs) and containing lack of knowledge and experience often ends up with major health issues. Overall, the environment and ecosystem here is not helpful and lucrative for bodybuilding.
The gym's in India lacks a global industry standard. Equipment and gyms here are made for just weight loss and basic fitness. Compared to western countries we're 15-20 years behind, in terms of facilities.   Food is also a major factor especially in cities where we mostly eat adulterated food which is obviously not good for health, so dieting here is again a big issue, because finally, bodybuilding is a game of dieting.
4. Who has been your inspiration, mentor helping you reinforce into the rough-tough industry?
 Might sound weird but I got inspired by a Magazine cover which illustrated a 'Mother of Six Having a Six Pack.' Thereafter that incidence, I didn't look behind gave my very stride to achieve a chiseled body.  My Mentor is Viraj Sarmalkar Sir (AKA Maverickviraj), he has helped me a lot during my tough times and kept me going into the game. My respect and appreciation for him is towering. His words are like gold dust for my husband and me
5. Karuna, you have bagged India's First IFBB Women's Physique Athlete, a bit about the journey, and also are you preparing for any upcoming esteem competitions?
Following the national championship, the International championship was altogether a different experience and platform. As aforementioned, we lack good facilities regardless of that I started my preparation for Asian championship (AFBF) 2015 which held in Japan. I remember the day I landed in Japan airport, I went towards the registration where I was welcomed with a huge queue with Athlete's from 29 countries. Anyways, when I finally reached to the registration desk and said to enroll myself in women's physique division, I noticed a sarcastic smile on the official's face.  After registration when I removed my jacket for my height check and the picture I only could see there surprised face and flashes of camera, it was sheer bliss!
That was almost the moment made me realize that what is to come ahead on the stage. Finally, I won the IFBB IBBFF AFBF ASIAN Championship 2015 and announcing myself as the 1st IFBB women's physique athlete from India.
On the note on what I've been preparing for next is all that awaits in 2021 as 2020 events has all been stalled because of the pandemic. Till then, I will have time to recover from surgeries (right hand and both the knees).
6. A bit about your diet and training schedule. Indian diets, are these compatible to meet a bodybuilder's daily calorie intake?
Considerably my diet is a bit different from other female athletes who compete. Generally, athletes go on high proteins low carb diets. For me, I train and eat to loose muscle, genetically I am blessed to build big muscles but my category requires more conditioning and symmetry and not big muscle, so I have to maintain my weight under 55kg to be the best on the stage. My diet is little low in protein and high in fibre, I consume averagely around 12 to 15gm of protein per meal and my protein sources are majorly fish, eggs, chicken and mutton. I also eat a lot of green vegetables. Daily calorie intake of any bodybuilding is different and if you are only concerned about completing, the calories (in number) according to me it should be sufficient (quantity wise) I cannot guarantee about the quality. 
7. Any comments on the growing trend of Veganism?
An individual has all the right to do any type of diet S/he urges for as far as they are happy and healthy. They can do a vegan diet, keto, paleo, vegetarian etc. eventually it doesn't matter. All it matters is they should be happy and consistently doing the diet they are into.
8. Failures are common, how do you keep your mental and physical strength intact during difficult times?
Considering me, I'm a very positive person. I believe in lifting peoples moral and not demotivate. I'm a taciturn, resisting myself from unnecessary discourses.  Also, I don't have a big friend and social circle. Generally people who don't know me they consider me as pricey or akdu(Hindi). I definitely have experienced failures in every aspect of my life, but to be a professional athlete one has to have a tunnel vision. Injuries can make you stumble in the course of your training and be a big set-back. I just try to be out of it and start my work again towards the goal. This is the only way one can achieve what they want. I never seek for sympathy or not even appreciation; I just carry on with my work and keep every toe ahead no matter what the situation compels and draws too.
9. As Bodybuilding does not seem to be a money minting Sport, what fundamental changes you wanted to be there in the sport?
Definitely, bodybuilding is not a money minting sport in India and even internationally few bodybuilder's make a decent amount of money (as in say like top 30 Bodybuilder's in the world). But athletes abroad have a leverage of bagging good sponsorship, they get a decent amount of cash and supplement stock every month adding they also get air ticket and general hotel to stay for international competition and this little help takes out a big burden from the athletes.
But in India the scene is penny worth or maybe a coin tossed on the ground. Athletes here merely gets sponsorship and if they manage to get few one has to be happy with worth Rs. 10,000 supplements and no cash, no air travel and no hotel stay as well. I think the supplement companies should consider giving Indian athletes these facilities. If this happens, I'm pretty sure that our athletes will bring more international glory for our country. Gender-equality should also be taken on the view in this industry where female competitors should also be encouraged through sponsorships and other amenities.
10. There has been a tremendous fuss about Sheru classics in the market, can you give your insight over the same?
 I have never competed in Sheru Classics, so I can hardly educate you about it.
11. Lastly, a bit about your personal life, hobbies, lifestyle, family, friends etc.
We're a family of 5 sisters and 1 brother. All my sisters are teachers in school and my brother is working for an MNC. We all are married. My husband (Rahul Karus) and I, both are professional fitness consultants. My father's name is Pandurang Waghmare, he is 84yr old and my mother's name is Pramila waghmare (she passed away 2 years ago). Talking about hobbies, workout is pinnacle. Other hobbies are training people, listening to old Bollywood Songs. And yes, I'm a huge Michael Jackson(MJ) fan.  Talking about social life, I hardly have one and I keep myself busy in improving and improvising on myself and my dear ones.
Know Karuna Pandurang Waghmare
Karuna Pandurang Waghmare hails from Mumbai. She brings along mammoth accolades and recognitions in body building (women's physique division).
Karuna has participated in World championship in 2012 and has won a 4th place, followed by her eminent competitor in 2013, 2014 shows.
The stellar has also participated in Asian championship in 2012 winning 4th place, 2014 the 5th place, in 2015 won bronze medal and in 2018 secured the 6th place respectively.
Karuna has also vouched the center-staged of Miss India in 2012, 2015, 2016 and has won the winning winner, and in 2018 bagged the bronze medal.
She has won the Miss Maharashtra title winner in 2012,2015,2016,2018
She has been the Miss Mumbai 2018 title winner and has been the 3rd runner-up in Amateur Olympia 2015.  This year, Karuna Waghmare was recognized with the most prestigious award of Maharashtra, the state sports award (Shivchtrapati).
Disclaimer:
The information contained in this article is for educational and informational purposes only and is not intended as a health advice. We would ask you to consult a qualified professional or medical expert to gain additional knowledge before you choose to consume any product or perform any exercise.