Started in 2017, MyHealthBuddy has been transforming many lives that are living a sedentary lifestyle by offering holistic solutions to improve their health and fitness. The scientifically simplified solutions are designed to focus on the important aspects of health and fitness including Exercise, Sleep, Stress, Nutrition, and Habit Formation.
An online fitness solutions aggregator, MyHealthBuddy is a brainchild project of Asheesh Grewal, a Computer Science graduate and a corporate wizard. Asheesh Grewal, the CEO and Founder of MyHealthBuddy introduced the online platform being inspired by his transformation journey after quitting the sedentary lifestyle of a corporate job. Continuing the momentum of bringing transformation into the lives of many people living a sedentary life, Asheesh finally instituted MyHealthBuddy in 2017. 
Backed by more than 26 highly skilled internationally certified coaches, MyHealthBuddy cherishes to cater to clients not only from India but also from overseas.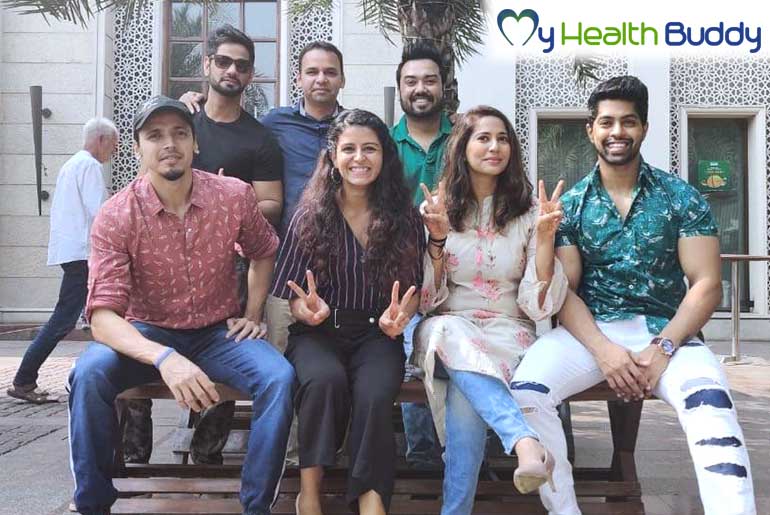 Knowing more about this life-changing online fitness solutions platform, Abhinav from Sportz Business Magazine presents an exclusive interview of Asheesh Grewal, the CEO, and Founder of MyHealthBuddy where he talks about his venture and offered online fitness solutions.
Starting a community-based health and fitness platform in 2017, what organizational goals had you set then and how much you think, you have attained so far?
I started MyHealthBuddy with a vision to transform people who lead a sedentary lifestyle by offering them holistic solutions to improve their health and fitness. The idea was to introduce a program with certain essentials.
Easy to be followed by anyone and everyone, regardless of their current situation and circumstances
Accessible through a cloud based platform so that location never becomes a constraint, either for the coaches or the clients. Currently, MyHealthBuddy has over 26 coaches who are working remotely and are catering to clients across the globe
The program offers a holistic solution to achieve an overall healthy and sustainable lifestyle. The initiative focuses on the important aspects of health & fitness including Exercise, Sleep, Stress, Nutrition, and Habit Formation.
All Coaches are internationally certified – either in nutrition or fitness with a strong focus on a science-based approach. The coaches are strictly against gimmicks like Fat Burners and Herbs to speed up the transformation process.
MyHealthBuddy today enjoys over 170K followers on Instagram. 
You Left a corporate job to bring a change in the society through your venture MyHealthBuddy, can you share a little bit about the transition in your role and vision.
In my 12 years of corporate life, I noticed that people around me were victims of a sedentary lifestyle. They wanted to lead a healthy life but did not have adequate time and knowledge to incorporate a healthy regimen into their routine.
As I was also undergoing a sedentary lifestyle, I decided to quit my job and worked on my fitness – losing 12kgs. During my transformation process, I extensively studied health and nutrition, and moved on to earn ISSA certification in Nutrition. Seeing my transformation journey, I realized that it is not as difficult as it seems and I can help millions of individuals who are struggling with their fitness. I finalized the name "MyHealthBuddy" before I put in my papers at RBS and decided to move forward with a few program structures in mind, such as Yoga Studios and Marathons. By 2017, when we officially launched, we had zeroed down on the current offerings and decided to go ahead with our unique 5 point approach of Nutrition, Exercise, Sleep, Stress, and Habit Formation.
How did you build up the whole community of MyHealthBuddy and who are the key members of the community? 
Being a Gurgaon-based company, during our initial days, the greater portion of our clientele came from Gurgaon. I feel fortunate that I discovered some Gurgaon-based fitness enthusiasts: Gaurav Bansal, Abhishek Verma, and Vivek Singh who joined me in our weekend client sessions called "Buddy Connects". These sessions were held in local parks.
This was the budding period of our local community which eventually went on to become an online community on FB and Instagram as we grew geographically.
As you have well-trained doctors, certified trainers and nutritionist on board, how do you see the need of fitness education and right coaching over nutrition in India? 
As a traditional practice, most Nutritionists and Dieticians in India follow a single dimensional approach that only focuses on the 'exercise and diet' aspects of fitness. There is a huge vacuum in this space which MyHealthBuddy aims to fill, alongside other players in the industry. The market here is so huge that we must have to train/educate upcoming fitness coaches to do it the right way.
Last year 2020 was all about online training and healthy eating, how did you perform during the period? Can you share some data with us?
While 2020 carried a negative sentiment overall, it really shed the light on the importance of health. As the demand for virtual health coaching increased after the implementation of the lockdown, our growth rate amplified exponentially. MyHealthBuddy's client base and team size saw a five-fold growth from Dec 2019 to Dec 2020.
Can you shed some light on your Online Community, how does it work and what are the things it takes care of before going ahead with a peculiar client?
Our focus has strictly been:
To deliver "Science-simplified" content that our audience can follow in their daily lives even if they are not enrolled with us.
Delivering results to our clients with a set intent to help them accomplish their fitness goals. We aim to give our clients an experience where they always feel connected with the brand even after the program is concluded.
Out of the different programmes that you offer to your clients, which one is the most demanding and why? 
Catering to 95% of women clientele, our USP is Postpartum Weight Loss. As we deal with 60-70% of new mothers, our program is designed to help them get back to their desired shape and size. Through especially designed workout routines, we help women deal with issues like PCOD, Postpartum Depression, and Self Image Issues.
Being a fitness entrepreneur how do you see its viability in India? Kindly share your word of suggestion for the one, who wants to venture into the Industry?
The future of the fitness industry is promising as people have now started to take their health seriously especially post COVID-19. Digitalization of the health and fitness industry is helping people in the remotest areas avail online health coaching. With the growing "Work from Home" culture, online health coaching is now receiving its long due worth.
My word of advice for budding coaches is, to not venture into this industry unless they have passion & compassion for people as they deal with their struggles and situations. In their journey to a healthy lifestyle, most people try and fail multiple times, and we need coaches who are emphatic and motivated to push them beyond their comfort zone.
Disclaimer:
The information contained in this article is for educational and informational purposes only and is not intended as a health advice. We would ask you to consult a qualified professional or medical expert to gain additional knowledge before you choose to consume any product or perform any exercise.