We all want to stay fit and healthy and depending on the types of body types like Ectomorphs, Endomorphs and Mesomorphs, some need to lose weight or some need to gain weight. The perfect body weight gives you the confident to stand out and look attractive. In this article we will be talking about the people who wants to gain weight and develop muscle mass. Exercising is the key to achieve any fitness goal but to add more power you can have mass gainers to bring improvement and instant results to your current body type. Here are the Top 10 Best Mass Gainers Available in India
1 ) Dymatize Super Mass Gainer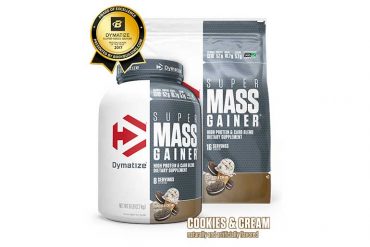 Dymatize Super Mass Gainer assures maximized mass muscle growth with vital nutrition to develop muscle and mass. It gives the benefit of the Informed-Choice seal of approval. Every serving includes 1 gram of creatine monohydrate. Having a very busy lifestyle and rapid metabolism makes it even more challenging to get the calories and protein you require for muscle development. Unlike any other mass gainer, this tastes excellent. The BCAA quickly includes stimulating Muscle Protein Synthesis, which consists of the method of building muscles allowing you to get stronger. Each serving holds 17 grams of Branched Chain Amino Acids (BCAAs) that boost the development of speed and protein restoration. It limits the breaking down of muscle, which is also called catabolism. Also, it promotes your immune system, which helps in decreasing the probabilities of infection/illness.
2) Optimum Nutrition Pro Gainer with High Protein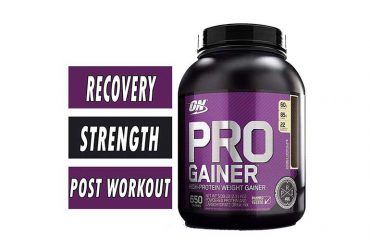 The Optimum Nutrition Pro Gainer gives a higher percentage of calories, just like other weight gainers that are packed with fat and simple sugars. It is also the ideal gainer packed with dietary fiber, carbohydrates, medium-chain triglycerides (MCTs), digestive enzymes, necessary minerals, and vitamins. Each serving of Optimum Nutrition Pro Gainer holds a 60-gram dose, is composed of seven grams of different sources, five grams of fiber, six grams of sugar, and 8 grams of carbs. It also has the necessary minerals and more than 25 vitamins. Moreover, its high-protein formula gives 650 calories, which is a vegetarian supplement with high-protein composition. It gives you a balanced amount of protein, vitamins, and minerals through which you can gain muscle mass according to your necessities. Optimum Nutrition Pro Gainer has two different sizes, such as 5.08 lbs and 10.16 lbs, and holds 85 grams of carbohydrates.
3) Muscletech Performance Series Mass Tech Extreme 2000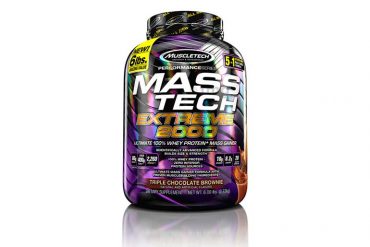 MuscleTech Performance Series Mass tech Extreme 2000 is an advanced muscle mass gainer that has 1170 calories and 80 grams of protein. Its superior formula helps in building muscles and muscle protein synthesis. One can get more amount of protein, which is almost up to 80 grams, compared to other mass gainers. It also boosts muscle replenishment and offers more than 400 grams of carbohydrates. Mass-tech performance series give low and medium digesting proteins with all the essential amino acids and comes with two distinct segments that you can usually consume without facing any risk. It also highlights less saturated fat and comprises five grams of omega-rich fats, which gives energy-dense calories and is pretty suitable for those who encounter a lot of difficulties to improve their muscle mass by in-taking high-quality calories.
4) Optimum Nutrition Serious Mass Weight Gainer Powder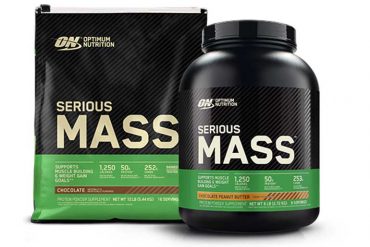 Optimum Nutrition (ON) can be the best choice as it comes with 50 grams of protein and 1250 grams of calories per serving. So, you can get some extra calories from your mass gainer to maintain a better lifestyle along with a better body metabolic rate. Optimum nutrition mass weight gainer is one of the excellent mass gainer supplements for gaining weight as well as muscles as it is free from added sugar and contains 250 grams of carbohydrates. It also offers creatine, glutamic acid, glutamine, and more than 25 vital minerals for promoting the overall growth of your muscles. The vitamins are also helpful in improving your immune system, metabolism, and brain capacities. Optimum nutrition mass weight gainer is a non-vegetarian supplement and made of low-fat milk and is free from any kind of side effect and gives the right calories for gaining weight quickly.
5) Muscle blaze Gold Gainer XXL Mass Gainer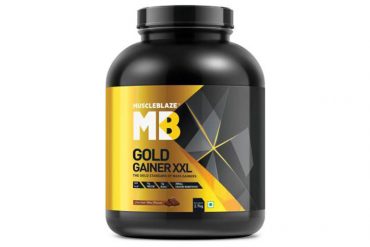 If you desire to improve your body weight and muscle mass and like to take it from proteins, and then go for MuscleBlaze Gold Gainer XXL weight gainer. It is one of the high-quality mass gainers across the world that contains the finest protein substances made of casein and whey. The carbohydrates are made of Maize starch, Palatinose TM, and oats fiber and have 890 calories and store 13 grams of BCAA and 75 grams of protein along with 1500 mg of creatine Monohydrate and 2000 mg of MCT per serving. MCT in this mass gainer is beneficial for regulating the ingestion and digestion process. On the other hand, Palatinose TM supports producing energy and enhancing fat oxidation. Due to the high-quality protein and BCAA MuscleBlaze, Gold Gainer XXL is also beneficial for a quick metabolism rate.
6) BSN 1200 True Mass Weight Gainer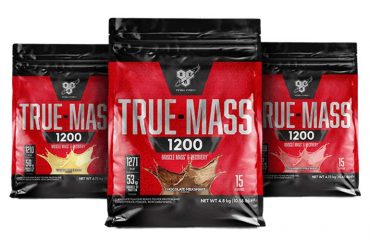 BSN 1200 true mass weight gainer is the best ultra-premium mass gainer that has more than 1200 calories and 50 grams of multi-source protein per serving and comes with 215 grams of carbohydrates. It has rolled oats along with necessary and non-essential amino acids and a unique carbohydrate matrix and effective in muscle recovery after a heavy workout. It can provide you 25 grams of EAAs per serving. It is also a good source of fiber and most suitable for post-workout sessions. If you are seeking a mass gainer for obtaining multi-functional proteins and carbohydrates, then this is the most suitable choice for sure. It is a combination of an exact number of BCAAs and a good balance of vital and non-essential amino acids. It helps in improving your metabolism rate and digestive power without any complications.
7) GNC AMP Mass XXX Mass Weight Gainer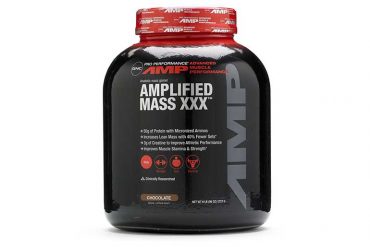 GNC AMP mass gainer has the essential ingredients that lead to leaning your muscle mass and holds 10 grams of BCAAs, 748 grams of calories, and 125 grams of carbohydrates. It also has 50 grams of fast and medium absorbable proteins along with healthy fats and three grams of creatine that increases your workout strength. Its micronized amino acids help in the restoration and improvement of muscle mass. It is beneficial for gaining body muscle as well as maintaining your body weight and can be used as a pre and post-workout supplement. You can also use it frequently without having any side-effects as it is a gluten-free and zero sugar mass gainer supplement which is suitable for gaining weight, boosting muscle mass, and endurance. The presence of creatine supports muscle protein synthesis and the mass gainer comes with flavors like chocolate, raspberry, and truffle.
8) GNC Pro Performance Mass Weight Gainer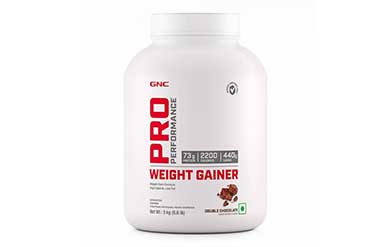 GNC pro performance weight gainer is among the excellent and most effective mass gainers, that have a perfect blend of performance and flavor. It gives 73 grams of protein, 2200 calories, and 440grams of carbs in six servings and helps in gaining body mass as well as muscle strength. GNC pro performance weight gainer also keeps you energetic round the clock. The mass gainer is rich in BCAAs and is useful in improving your immune system. It also improves your digestive body power.
Disclaimer:
The information contained in this article is for educational and informational purposes only and is not intended as a health advice. We would ask you to consult a qualified professional or medical expert to gain additional knowledge before you choose to consume any product or perform any exercise.