Holding a gun and flashing it on the screen, not only takes courage but strength to keep it steady and ready. Our on-screen badass Gangsta from Amazon Prime Crime Series, Mirzapur not only exhibited her young and angry cast of Golu Gupta in the series but also flashed her remarkable physical attributes in most of the scenes featuring her. 
Here we are talking about the beautiful Shweta Tripathi alias Golu Gupta who always broke stereotypes and sets bars high with her each performance. Besides, Mirzapur Shweta is also known for her amazing characters in series like 'Made in Heaven', 'Masaan', and many more.
In a fun and interactive chit-chat with Paayel from Sportz Business Magazine, Shweta Tripathi talked about her fitness routine, her preparations to strengthen her upper body to hold guns, her diet, and much more. She also reveals more about how did she balance her mental wellbeing while playing the intense role of Golu Gupta in Mirzapur 2.
Let's hear Shweta Tripathi about her transformation for Mirzapur 2 and lots more.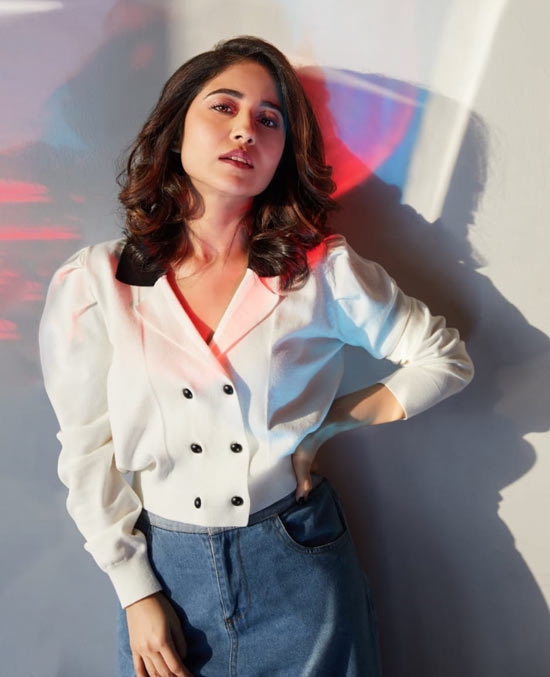 Excerpts Ahead
Q: You have presented the badass gangsta role in Mirzapur, how have you physically prepared yourself for this sort of character?
For any character you play, physical transformation is really important as when your directors imagine your character you need to look different to feel different and this will also help the audience to accept you as the character. I want whenever people see me on screen, they should see my character first and then me as an actor. For season 2, I wanted to be fitter as Golu is handling a gun and there is revenge on her mind so she had to look fit.
Q: Not only in Mirzapur, but your earlier roles of tomboy girl are popular among the audience so what really makes you mentally prepare yourself for these particular roles?
There is a lot of input and help that we get from the script and director and I try to understand the vision that they have and how they see the character. It's really important for me to emotionally invest myself in the character. I have learned a lot from my character and before preparing my character physically I prepare the emotional side of it. Being an actor if you don't feel your character, you won't be able to put it up on the screen.
Q: How do you think women's health is important and what all you follow to stay fit and you look so lovely so please tell us about your skincare routine?
For skincare, I believe that my genes are good and I thank my parents for that. Also, I feel your thoughts and staying positive also help in you adding a glow to your skin. Of course, I too have my mood swings and bad days, but how you react is important and I carry my water everywhere and I don't use plastic bottles. I have started contemporary dance with Mukta Nagal that is again making me fit and flexible. Also, I say a big no to packaged food and I always prefer 'Ghar ka Khana'. Also, listen to your body and pay attention if you are getting pain or anything. Do whatever makes you comfortable. I believe in eating and controlling but not in overeating and controlling. I don't like sweets so that is an advantage for me and since my childhood, I used to have green chilies with my food that I have stopped and again my whole concern is to eat healthily.
Q: You have played two different phases of a girl in both the series of Mirzapur, what special physical training you did for Mirzapur 2?
For Mirzapur season 2, I knew that I have to look strong and the guns we are using are real and heavy and to hold that and carry it perfectly my upper body should be strong so that my hands are not shaking while holding it. I did a lot of upper body exercises, chest, shoulders, weights, and weightless exercises. Also, you can get inspired by anyone but you should know about your body type and body goal so discussing your exercise routine with your trainer is important.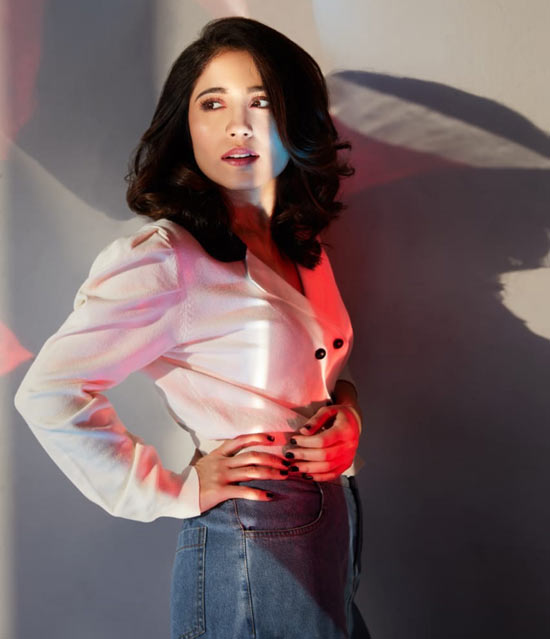 Q: As you experienced COVID so how it has affected your fitness routine and what inspires you towards fitness?
I really feel that I have come down to lifting so low weight and feeling weak. I request people to please go easy as the strength dropped. Don't be so tough and slowly your body will be back to the shape you just need time to make this happen. I am really inspired by Ali and Tahir as I have seen them working so hard for their body that they used to work out even after the shoot. My co-actors have really inspired me towards fitness and now I have promised myself to workout daily even on shoot no matter what.
Q: There's a myth that women shouldn't be doing exercises during menstruation, so what is your exercising regime during PMS?
I listen to my body! If you are feeling uncomfortable during your PMS then you should try avoiding or do as much as you can and are comfortable doing. The only thing to remind us that you should listen to your body that how much it can bear and how it can feel comfortable. I like to stay away from medicines and do not take any medication. I try avoiding exercises that lead to pressure on your stomach and avoid lifting weight. You can even take a break from the gym and can rest if your body wants and not if you are lazy. I also use the menstrual cup as it makes things easy as compared to pads and tampons.
Q: After playing with so many guns and bloodshed sequences on-screen how did you balance your mental wellbeing and how much it took time for you to come out from an intense role?
It does take time! My husband is a huge contributor as I used to get nightmares after playing the character of Golu that my family is being attacked and he used to make us laugh before we go to sleep. Being an actor, you will have to imagine yourself in someone else's shoes. You will have to feel and think like your character. I surround myself with the people who are my reality check and I try to distract myself by watching or listening to something. I keep on reminding myself that these are my on-screen emotions and I create a boundary around me to control my emotions.
Q: What are your upcoming projects and how we can expect to see Golu Gupta in Mirzapur 3?
I am also waiting for Mirzapur 3, I am still thinking about what Golu is planning, What Beena is planning, and What Guddu is doing. So, we all are waiting to know more about what's going to happen. Apart from this, I am shooting for a show named Escaype Live and another show the Gone Game Season 2.
Disclaimer:
The information contained in this article is for educational and informational purposes only and is not intended as a health advice. We would ask you to consult a qualified professional or medical expert to gain additional knowledge before you choose to consume any product or perform any exercise.