Indian Western states are known for its prosperous economy as well as huge length of Coastline. Owing to its versatile demography and climatic variations, the Indian western states cherishes to have World's largest Salt desert located in Gujarat (Rann of Kutch) to the mysterious plateau range of Maharashtra's Western Ghats.
In this article, we have tried to enlist some of the adventurous sports available in the western states of India which got developed with the course of period.
Rajasthan
The land of Rajasthan, a beautiful western Indian state cherishes to remain invincible amid steadfast citadels, strong walls of great palaces and daring kingdom. Always known for its vibrant rich culture and colorful cuisine, the state has a lot many things reserved in its demography to quench the thirst of wanderlusts.
As the fading month of February and starting the month of March provides a perfect timing to head to this colorful state of Rajasthan.
One can be part of these adventurous activities being in Rajasthan.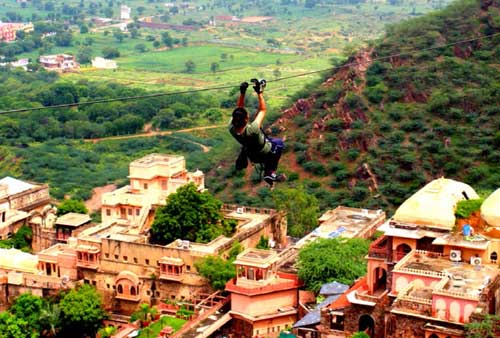 1. Hot air balloon trip in Jaipur
In Capital city of Rajathan, Jaipur Hot air balloon is hosted near Amber Fort. Available at two time slots, you can ride the balloon either at 5:00 am or at 4:00 depending on your schedule. During the course of adventure sport, the organizers take you on an aerial ride for an hour taking lump-sum couple of hours in gearing up and inflating the balloon. The balloons which can accommodate 6-7 people in one go and can take you to a maximum height of 1200 feet from the launching site. Pregnant ladies as well as infants below the age of five are not allowed to come on-board as there is a need to keep standing across the entire flight.
2. Zipline adventure over Neemrana Fort
Have you ever seen an aerial view of a gigantic fort with your bare eyes? If the answer is no, then come to Delhi-Jaipur highway based Neemrana Fort and Try zip lining available there at nominal charges.
3. Dune Bashing in Jaisalmer
Digging more into the wilderness of the mighty Thar, One can head to Sam Dunes Jaisalmer for Dune bashing which is available in two mode here in India. One can either book an SUV i.e. Dubai Style to enthrall the mighty Thar desert or he or she can make it in Indian style hiring a camel to check out the dunes along with an instructor on Board. Moreover, one can always try their hands over the ridge bashing also available at the site.
4. Trekking
Trekking is yet another adventure sports in Rajasthan. One can laced up their trekking shoes to witness the beautiful terrain of Udaipur-Kumbhalgarh, Mount Abu or the Sariska-Alwar-Amer belt which are some of the best trails for trekking in Rajasthan.
Gujarat
A quintessential example of Indian Western state Gujarat is known many of its attributes including keeping endangered species of Asiatic Lions. The State which remains always ready to do business has many things in its ambit for adventures. Let's see how:
1. Surfing
Having a wide coastline of 1600 Kilometers, Gujarat, offers an excellent spot for Surfing on its powder sand beaches. One can enjoy the real thrill of surfing on these well-maintained and relatively developed beaches of the state. Chorwad Beach and Dumas Beach are the most popular beaches for surfing.
2. Water Skiing
Water Skiing is quite famous in Gujarat however, it is solely restricted to the Ahmedpur Mandvi beach along with other sports like water scooters, deep sea diving, paragliding and snorkeling.
3. Motorbike ride to Rann of Kutch
What thing can beat a motorbike ride into a whole void salt desert of Great Thar where there won't be any traffic light or road rule to abide by? So, don't bring second thought to gear up for a trip to nowhere which promises to give instant adrenaline jerks.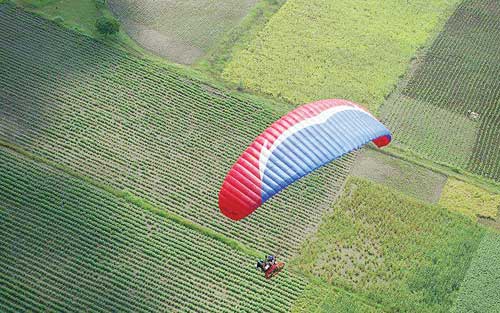 4. Paragliding in Satpura
Satpura, being one of the most popular hill stations located in the western state of Gujarat, offers paragliding as a sport as well as the festival. One can enjoy this adventurous activity by reaching the Dang area an unexplored green belt to be a part of this year-long running carnival-like festival.
Once you reach here, try your hands on different flying packages available there including cross country or advanced flying after getting some training. If you don't find any content in these packages then other options are available at the site including packages for amateurs where you will get an instructor on boards along with you.
Goa- the land of beaches
Goa is the smallest western state of India surrounded by Maharashtra to the North, Karnataka to the East and South and the Arabian Sea to the Western Coast. Being the land of beautiful beaches, India's smallest western state of Goa does not let anyone to stop making it again to the city. As after the first visit, it turns into a desire and after the second a tradition. Now, in order to sum what are the major things that one can do being in the state, here are a few adventurous sports to try your hands:
1. White Water Rafting:
T h e G o a T o u r i s m D e v e l o p m e n t Corporation (GTDC) recently started White Water River Rafting in Goa on the Mhadei River at a small village called Ustem in Valpoi, Sattari. The water sport is mainly dedicated to the people who love to apply both physical and mental strength overcoming the powerful of the river current. Quite famous amongst, the foreign travelers who visit the site in huge number every year, the site is enveloped by beautiful trees and plant vegetation.
2. Paragliding in Goa:
How about having an aerial view of the magical beauty of long white sand beaches crossing over the beautiful lush envelope of Palm and Coconut trees and that even under the clear blue sky? Yes, you can grab such a divine sight being in goa by going for a paragliding action in goa available at every other prominent beach.
3. Scuba Diving at Grande Island
Goa which is famous for its rich marine life provides excellent scuba diving sites at the shallow shores of Goa. However, there won't be any bigger coral reefs; it will be exciting to see the glittering underwater life. Goa has some of the beautiful underwater sites around the Grand Island which are just a few kilometers away from South Goa. Divers can enjoy the beautiful coral garden underneath the sea surface which has crystal clear visibility of more than 5 meters. Scuba diving at Grand Island is one of such adventurous activities which one can't afford to miss being in Goa.
4. Wind Surfing at Baga Beach
Yet another Water adventurous sport, Windsurfing is emerging as the most popular and widely-performed water sports so much liked by a large number of travelers. Quite famous amongst foreigners, who love to try something thrilling and exciting sport to do, the sport is performed on a Windsurf board, which scaled around 2-4 meters long and Is powered by the wind on a sail, attached to the windsurf board. Talking about its perfect season for performing, January to March suits the most.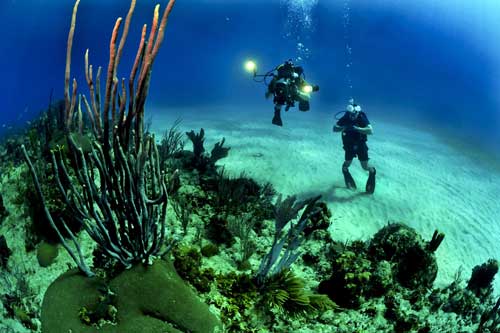 Maharashtra
The Indian Western state of Maharashtra is one of the richest and prosperous states, also known for its several adventure sporting spots. The most popular ones include Camping, Trekking, Scuba Diving, River Rafting, and others. Here are a few handpicked options on which one can try their hands.
1. Camping in Lonavala
The picturesque and spectacular landscape of Lonavala makes the site an excellent destination for camping in Maharashtra. The place which houses scenic hills and mountain lush meadows and several sports for camping, one can also enjoy the thrills of Waterfall, rappelling, and Ziplining.
2. Harishchandra Trek
If you are a person who loves to go on treks, then Ahmednagar district of Maharashtra based Harischandragad can suffice your desire. The trek which is known as the most challenging treks in the Western Ghats can be reached from multiple routes, Popular among climbers and experienced trekkers, the trail involves a near 80-degree climb, involving steep rock patches. The trail begins on a stream bed filled with large man-sized rocks and eventually leads to the foot of the gorge. In spite of carvedout niches and chiseled slits in the rock, certain sections are very challenging and it is advisable to carry climbing gear.
3. Paragliding-Panchgani
In Maharashtra travelers who want to go for aerial adventurous sport, they can head to Mahabaleshwar, Panchgani, and Kashmet as these places provide some perfect cliff for adventurous sport. Majorly the adventurous sport can be performed across the year however; months of October to the end of May are considered as the best season for paragliding.
4. Scuba Diving in Malvan
Travelers can visit Malvan Town situated at the heart of Maharashtra in order to make an exciting dive into the sea under the sport of Scuba Diving. They can be enthralled by a large group of intricate coral life, heart beating view of shocking fishes and vivid vivacity of several plants and stones.
5. River Rafting in Kundalika
Saje is a famous river rafting spot located around 120 kilometers from Mumbai, a quaint hamlet that stands on the banks of Kundalika River. Owing to its location amid pristine woods below Mulshi and Bhira dams, one can enjoy the amazing view around the rafting sites. Once being there, one can raft there for approximately two dot hours in the artificially controlled water stream which is also perfect for surfing and Swimming as well.
Disclaimer:
The information contained in this article is for educational and informational purposes only and is not intended as a health advice. We would ask you to consult a qualified professional or medical expert to gain additional knowledge before you choose to consume any product or perform any exercise.