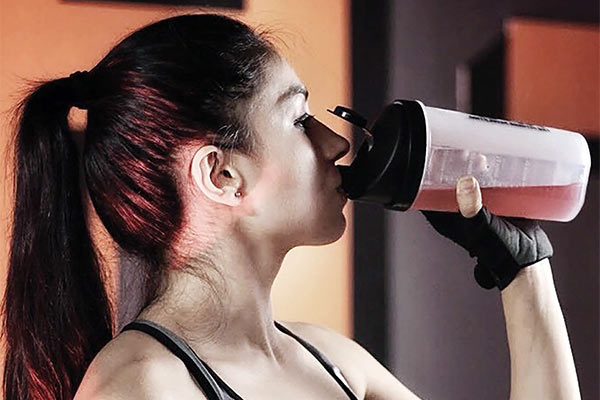 The road from CA finalist to fitness consultant wasn't a smooth flight for Delhi-based wellness coach Simran Khosla. On the way, she battled depression and body image issues and came out of the tunnel to run a 21 km Marathon. Through her enterprise, Butt like An Apricot, she provides nutrition and diet plans and changes people's lives. In a light-hearted conversation with Jayita from Sportz Business, she discussed about fitness, wellness and many more.
Q How did your journey towards fitness begin?
It wasn't something that was related to weight loss or muscle gain. I was suffering from depression for a very long time and that one fine day I accidentally hit the gym as it was too late to go outside for a walk. From walking from 15 minutes on the treadmill to running 21 kms marathon. The journey has been amazing.
Q What are some important takeaways from your journey you can give to other fitness enthusiasts?
I would like to tell few things that will work in any area of life. First, persistence can change failure into an extraordinary achievement. Second, it won't be easy. You have to keep going. Third, you just have one body. How can you not take care of it.
Q What are some rookie mistakes millennials make in terms of fitness and healthy living?
They are focused on just looking good and aesthetics. Working out at the gym and smoking right after that won't make them fit from outside. They should give up on bad habits and lifestyle.
Q Tell us all about 'Butt like an Apricot' and how did you come up with it?
When I was working in a corporate, I had gained a lot of weight and had health issues but because of my timings, it wasn't easy to visit doctors or nutritionists. I had to skip with to visit them. Idea came to be back in 2015 when I started working out to start something online but it all happened in April 2016.
Q Ever since you started BLAP, how has been the experience?
My life has completely changed. I eat good, I workout and help people achieve their goals and receive their blessings. What else do you need? I am making them change their lifestyles and that's a big thing in itself.
Q What are some easily accessible Indian super foods?
Spinach, Almonds, Walnuts, rice, ghee etc. the list is never ending. All our natural locally produced food is a super food in itself. By having the right quantity one can easily maintain a healthy body and a healthy weight.
Q What's your daily workout schedule look like?
I workout 5 days a week. I give 3-4 days to strength training. 3-4 days to yoga and run twice a week. So probably 2 workouts in a day.
Q Why should fitness enthusiasts become vegan?
It's a personal choice. No one should become a reason for gaining weight or losing weight. There are emotions involved behind people who turn vegan. So it's a personal choice.
Q What are you future goals regarding BLAP?
To make it one of the biggest nutrition consultancies in India and help people cure diseases just through the power of food.
Q What are some staple food that can be found daily in your diet?
Nuts, rice, dal and eggs.
Q What are some helpful fitness reads?
I read a lot of research papers and books about all the diseases.
Q What do you like to do for fun?
I like to watch movies! Play or watch a sport or I go for running if I want to have fun! Else, hang out with family and friends.
Disclaimer:
The information contained in this article is for educational and informational purposes only and is not intended as a health advice. We would ask you to consult a qualified professional or medical expert to gain additional knowledge before you choose to consume any product or perform any exercise.