After a severe sports injury, Businessman, Karateka and Fitness Enthusiast, Bhavesh Sheth was introduced to Marine Collagen by a friend from Japan to help with his post-injury recovery and the rest is history.
In the year 2009, while playing badminton, Bhavesh landed up with a serious injury, causing a ligament tear in his left knee. He was forced to get surgery after which he could not walk without crutches. From working out 6 days a week to not being able to do anything, was getting frustrating. It was then, that his friend from Japan gifted him 2 months of supply of Marine Collagen, which helped him recover from his injury.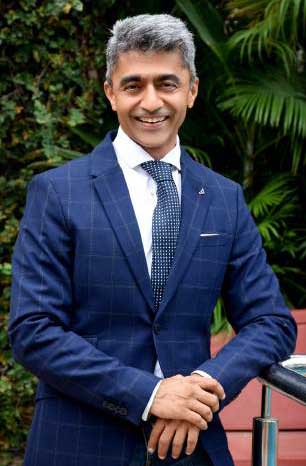 Being a vegetarian, he was hesitant at first; but upon reading about its virtues, Bhavesh decided to give it a shot. After about a week of regular consumption, he started feeling a difference not only in his recovery, but he also noticed that his hair started growing faster and skin started glowing. After a couple of months of consuming Collagen alongside his physiotherapy, he was back to working out, practising Karate and even running.
A few years later, in 2014, after a heavy workout, he felt some pain in that area and decided to look out for Marine Collagen in India. To his surprise, he found out it was not available in India; that was the eureka moment that led to the creation of INJA Wellness. He knew that everyone needed to experience the virtues Collagen had to offer, not just for recovery, but also for the health of people's skin, hair and overall body function.
About INJA Wellness
INJA Wellness is the first and only brand in India with its primary focus on Collagen. With multiple products of different flavours and different formulations, the core strength of INJA is QUALITY. "We primarily focus on high quality, because we believe, anything that enters the human body should never be of a compromised quality," says Mr. Sheth.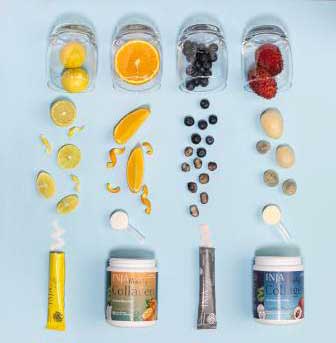 The company provides the finest quality of Collagen supplements without any sugar and gluten. Being one of the pioneering brands in India with Collagen products, INJA Wellness, promises to deliver overall health-benefits for the entire body, especially for skin, hair, joints and gut-health. Having such an array of benefits, the brand delivers an unmatched range of pure and vital products, which enhances beauty covering the mind, body and complete well-being for human health.
Collagen is the most abundant structural protein in the human body. 30% of all protein in the body and 80% of all protein in the skin is Collagen. The function of Collagen is basically to keep our cells together. The consumption of Collagen has wholesome benefits. It is one of the main components of our skin, hair, muscles, bones, connective tissues, gut-lining, cartilages, tendons, ligaments and nails.
INJA Wellness' Marine Collagen is natural hydrolysed Collagen Peptide powder derived from the scales & skin of fish. Marine Collagen works from within to promote optimal skin function, by delivering essential micronutrients to the collagen matrix below the dermis. Hydrolysed Collagen Peptide is highly bioavailable, with an absorption rate of above 90%. According to clinical studies, Collagen supplementation can increase skin's hydration by up to 91%. Marine Collagen does wonders for the skin as it helps to preserve the youthfulness of the skin, thus improving skin tone and texture, and also helps in plumping the skin to smooth-out fine lines and wrinkles.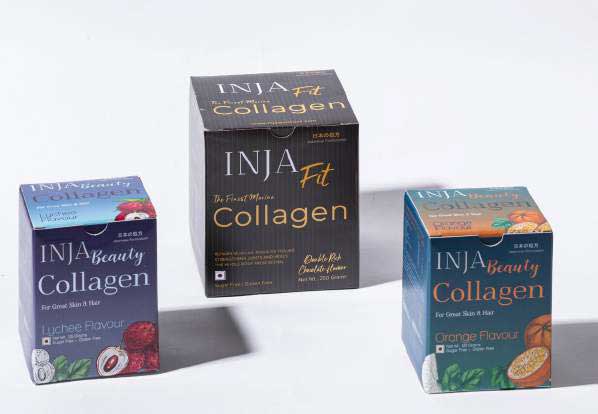 Whereas for hair-care, scientific studies on marine Collagen supplementation have also shown significant improvements to the quality of hair and nails. The benefits for hair consists of increasing hair-regeneration, hair-strength, hair-shine and overall improvement in hair-health.
Collagen is one of the primary building blocks of our joints too. Studies have shown that taking Collagen supplements may help improve symptoms of osteoarthiritis, reduce overall joint pain and lowers inflammation.
These are just few of the many benefits consuming Collagen offers.
INJA Wellness has products that use the finest quality of Collagen from Japan & India. Besides being a consumer brand, INJA Wellness also supplies Japanese & Indian Collagen as a raw material to Pharmaceutical, Nutraceutical & FMCG companies. Additionally, the brand has also tied up with a renowned NGO, Water.org and pledges a percentage of its website sales to help people get access to clean water. "We hope to live in a world where people do not need to worry about having access to safe water. We are and we will continue to do our bit to help this cause," says Mr. Bhavesh Sheth, owner of INJA Wellness.
Where to find INJA products
INJA Wellness products are available on their website www.injawellness.com, and all other major marketplaces such as Amazon, Flipkart, Nykaa & 1MG to name a few. They also offer free shipping all over India. INJA Wellness is the go-to brand for everyone's Collagen needs. If you are not sure which of their products to go for, feel free to get in touch with the brand to know what is best for you. Do not wait for your ligaments to tear & your joints to pain, do not wait for your skin to sag & wrinkle and do not wait till you start losing a lot of hair & get brittle nails. Have INJA Collagen so that you embark on repairing your body from within, at the cellular level; and also to avoid going through traumatic experiences of rapid, untimely ageing.
Disclaimer:
The information contained in this article is for educational and informational purposes only and is not intended as a health advice. We would ask you to consult a qualified professional or medical expert to gain additional knowledge before you choose to consume any product or perform any exercise.