Bagging two times the title of 'The Most Luxurious Gyms in India'; 21Fitness is well equipped to be lauded in the highend gym fraternity. Within 3 years span, 21Fitness has won the most coveted awards, i.e. FEA (Fitness Excellence Awards) for consecutive two years.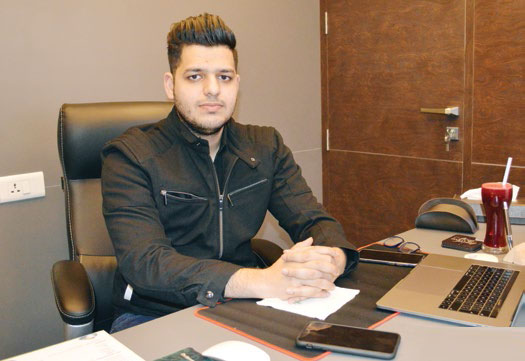 Keeping fitness at the pinnacle, 21Fitness started its operation on 21st January 2017 from its East Delhi based centre (272 AGCR Enclave) giving a one-month deliberate trial run where clients were invited to give their feedback that eventually turned out to be complementing.
Plying across to tap more fitness enthusiasts, today, 21Fitness has a leading fitness facility in the heart of South Delhi. In its GK2 state-of-the-art facility, 21Fitness brings a complete male-female grooming unit that houses a four-floor multi-facilitated workout station viz. 21Fitness, a unisex salon Palette, and one diet-centric Lean 21Cafe.
Sportz Business Magazine brings a detailed reportage of this luxurious gym 21Fitness and talks with the owner of the gym edifice, Sunny Chopra. Sunny, a young entrepreneur who has a lot more to say about his channels of 21Fitness gym.
The Luxurious Setup
In terms of luxuries, the gym offers its clientele every possible service to groom their lifestyle. Posing as a one-stop service provider for all its clients' lifestyle requisites, the 21Fitness offers a workout station, a cafe and a salon in just one building. Having all these facilities in just one building, the gym enables its clients to work out on different floors, refresh themselves by taking steam or spa, catch a healthy diet in the cafe located on the top floor and eventually get groomed at unit's unisex salon palette before hitting to wherever they want to go.
Variations on the floor
Highlighting the specification of variety of fitness regimens on the floor, the 21Fitness gym allocates Cardio, Strength training, Zumba, Crossfit and Pilates a discrete floor to practice. Notably, both of its channels space around 15,000 square feet, however, the South Delhi based unit has an extra floor where they conduct group classes including Zumba, Body Cardio, Pilates, Yoga, Cross-fit, HIIT and boxing classes.
Inside the Splendor Experience
For any random gym, its assortment of fitness equipment plays a major role in defining the effectiveness of the gym in the market and in general, clients love to practice on the best-in-class set of fitness equipment.
In pursuit of the same temperament, Sunny told Sportz Business that they have world-class fitness equipment from Life Fitness. And these are the top range of Life Fitness. In the Cardio section, they are using the Elevation series and in the strength segment, they have Insignia series.
Describing more about their top version of Life Fitness equipment, Sunny specified how technically driven their equipment are and said that their fitness equipment are technically driven. All from the Elevation Series of Life Fitness, the treadmills and other cardio machines they have FlexDeck Shock Absorption system that makes your joints of lower body safe and sound following prolong usages. Besides, while using these cardio machines, clients can watch their favorite videos from zillions of options available on the Life Fitness cardio machines.
Coming to its strength segment, the gym houses the Insignia series of Life Fitness, the top most range of fitness equipment in this category. These equipment have some inbuilt timer and self-assisting kinds of rep counters which not only indicates users how many reps they have done but also keeps a track over their resting time.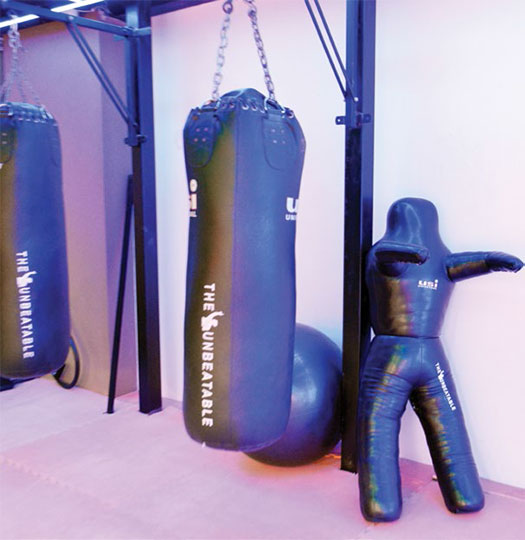 Operational timing and subscription charges of the gym
21 Fitness vehemently realizes the need for awareness for women's fitness and this is the sole reason, they came up with subsidized rates for women's membership. He briefs SB (Sportz Business) about their annual membership tally which is as follows:
For Male: 60 – 65,000/annum at GK2 Branch,
Female: 54 -59,000/annum at GK 2.
For Male: 40,000/annum at AGCR Enclave,
Female: 30,000/annum at AGCR Enclave.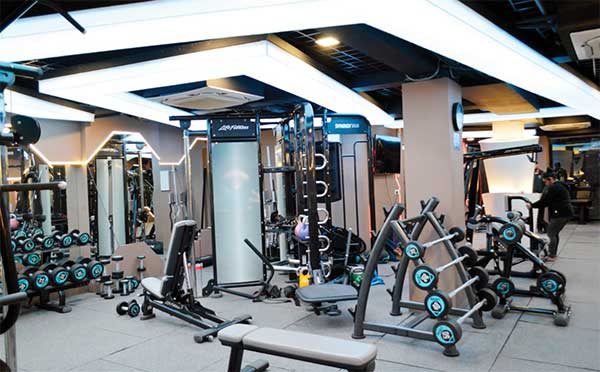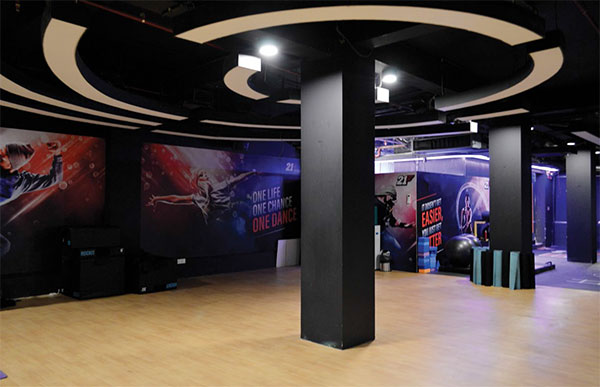 In the wake of meeting a huge mass of fitness enthusiasts working incorporates as well as school and college attending young ones, the gym remains open at 6 am in the morning till 11 pm late night on weekdays. However, on Sundays, it remains open between 8 am to 8 pm to keep motivated the weekend vibes.
Training With Equal Vision for All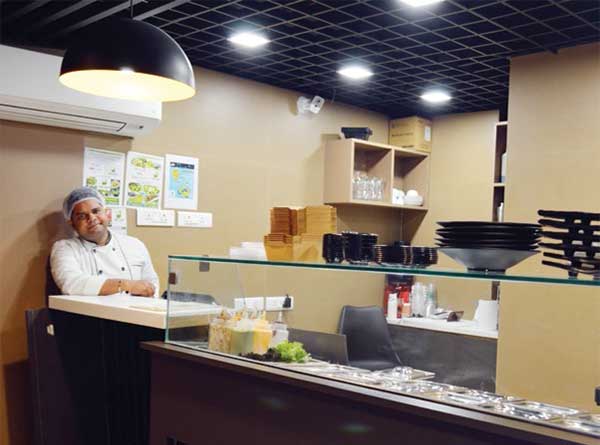 Treating each and every client with the same care is quite rare in this gym business. Nevertheless, considering each member with an equal value the 21Fitness gym inculcates several general training schedules and group training under the guidance of adept trainers.
Talking about the footfall of clients, sunny told SB that they cater to people from different walks of life, clients ranging from an early age of 14 to old age of 70 attend the vibrant training programs available in the gym. There is a good male and female ratio maintained on the floor.
Group exercise to energize
Group exercises are the best way to make exercise more fun. Encouraging inclusive fitness session, 21Fitness has dedicated group classes including Zumba, Pilates, Yoga, and Boxing. Talking about boxing classes, Sunny Chopra informed SB that following a row of requests for bringing in Boxing training in their existing fitness regime, the facility recently added dedicated boxing only studio in the gym setup. Athletes, as well as fitness enthusiasts who love to box, can be part of boxing lessons that are being taught by adept national level boxers available in the house.
Later, Sunny enlists a few top-ranking trainers including Imran, Ankit, and Jitender who are well versed in client handling as well as precisely running group classes.
Talking about their newly introduced fitness regime in the gym, Sunny acknowledged about pilates and said that they have incorporated pilates as one of the newest fitness regimes to their existing training program. Sunny said that he does not want their clients to go some other places in quest of Pilates, that is why they have inculcated such an amazing fitness regime in their offered services. Quite unconventional in nature, 21Fitness, as the name suggests entertains all kinds of fitness regimes and always remains open to incorporate new forms of training. In order to incorporate a new model of training, 21Fitness has trainers like Jitender who train athletes for Olympic competition through strength training.
Unconventional Training
Pinning unconventional training, Sunny informed SB about their Olympic module of training schedule and said that they have trainers like Jitender who is training Indian athletes for the Olympic Games 2020. By working on clients' muscles, joints and muscle movement transforming them quite fit and flexible, these trainers do a great job by training athletes for the 2020 Olympic games. These athletes are not into conventional bodybuilding but in a different set of regimes that makes them fit and agile in every way.
Sunny later described the color scheme he has used to renovate his gym set up and said that they try to make their workout station an electrifying site that can give you all the required kick to start your workout just like what does a pre-workout supplement do.
Blending more aesthetic to the gym's luxuries, the gym designed a spinning studio, a specified big hall that houses a bunch of stationary bikes with a central master bike designated for the trainers to address batches.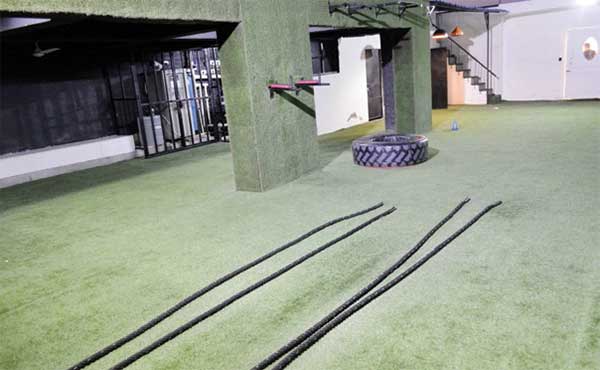 Sportz Business takes trivia across the gym set up finding the facets and ways 21Fitness has blended aesthetic design and scientific tech-savvy equipment. Solving the understanding of what makes it "the most luxurious gym in the region", 21Fitness adds more contrast to their bright eclectic color schemes and the euphoria it flaunts. Giving a sheer adrenaline rush with its ambiance and music, 21Fitness certainly fits itself in the grandeur of the future fitness industry. Don't stop and just groove in your fitness!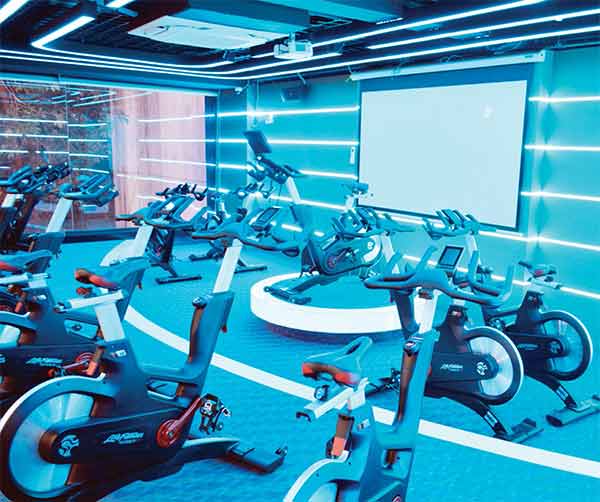 Disclaimer:
The information contained in this article is for educational and informational purposes only and is not intended as a health advice. We would ask you to consult a qualified professional or medical expert to gain additional knowledge before you choose to consume any product or perform any exercise.