We always talk about girl child's education but what about the dreams and passion a girl's eyes are filled with. We always talk about hard work but never talks about the restriction we made on women that restricts them to do hard work. After being educated parents we start running behind academics more than what exactly your daughter wants. We become more conservative than protective. We often restrict our daughters to join the bodybuilding or fitness industry! Your daughter can do anything and make you feel proud!
Here's an inspiration for all the girls sitting and thinking about her passion and future! Supriya, IFBB bikini overall (US) and lifestyle coach, who was well in her academics and followed her heart and achieved what she wanted!
In an inspiring conversation with Sportz Business Magazine, Supriya told the journey of fitness and bikini model.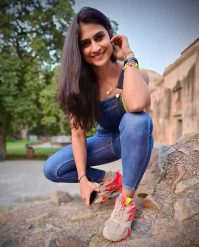 Q: A brilliant student from JNU turned to a fitness coach. Where do you see yourself in the next 5 years? 
Answer- I have always believed in giving my 100% in whatever I envision of achieving, may it be academics or fitness. Fitness is my passion and academics is my strength. In five years, I will move onto digitalizing and turning my fitness and lifestyle coaching into an even bigger business. Since my Ph.D focuses on sports politics, on the academic front, I see myself working as a sports policy analyst with a top international organization.
Q: You have achieved the title IFBB bikini overall (US) hard work behind this success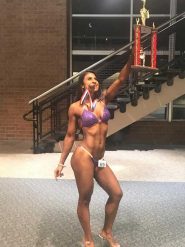 Answer: Bodybuilding, as a sport, demands a lot of discipline, hard work, consistency, and dedication. Winning an overall bikini title, that too at an international stage and that too in my first competition ever was a dream come true. I had worked very very hard for it, may it be counting my macros or working out at the gym. 6 hours of gym training and a whole day of counting what you eat, it's a lot of work but it was definitely worth it. I just kept working hard, honestly without thinking much of what the outcome will be. In life, whenever we truly work for something, success is certain. I am proud of myself.
Q: Some fitness suggestions to combat the pandemic. 
Answer: Covid-19 has impacted the mental health of many due to the prolonged lockdown and in order to keep our mental health, it is extremely important to work out. All of us should invest in building a small gym in our homes because COVID-19 is our new normal and will stay with us for a while or perhaps forever. We do not know what will be the new policies when gyms open, and therefore, its the best for all of us to have basic equipment at home. Apart from that, a park run never hurts. Fitness is the solution to almost everything, may it be boredom or looking good.
Q: What is your favorite diet and exercise?
Answer- I love doing high-intensity workouts. Any diet, low carb, high protein is preferred.
Q: Is online coaching better than offline coaching? 
Answer: I think both are great in their own ways. I have been taking most of my clients online due to the pandemic. However, in online training, the exclusive attention of the trainer always helps in pushing a great workout in the right postures.
Q: A special message you want to give to your female admirers
Answer- I am always well connected especially with all my female following on social media. That encourages the girls to remain motivated. I always guide everybody to ensure they're eating healthy, working out properly but the most important message is to never give up on your passion. Always do what you love with purity and it will always result in success.
Disclaimer:
The information contained in this article is for educational and informational purposes only and is not intended as a health advice. We would ask you to consult a qualified professional or medical expert to gain additional knowledge before you choose to consume any product or perform any exercise.