With the beginning of country-wide lockdown, the fitness technology has experienced an exponential growth in matter of online enrollment as well as fitness clubs conducting live classes. In contrast of ongoing countrywide gym closure, technology has opened a new turf for a number of online fitness aggregators, online trainers, and clients to switch to a virtual mode of a fitness session.
Expanding more insights over the same, we have featured three Fitness Tech Startups to share their notions. In this exclusive coverage, Sportz Business features Saurabh Tyagi, Director of InstaFitness , Amresh Ojha, Founder & CEO, Gympik, and Shivjeet Ghatge, CEO & Co-Founder of StepSetGo where all the three Young Turks talk about the role of budding fitness aggregator in the changed topography of Indian fitness.
Technology is Shaping up the future of Indian Fitness Industry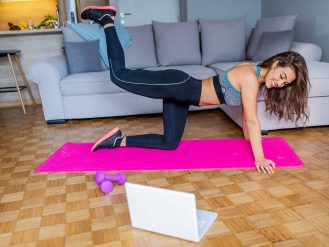 Technology is all set to bring a paradigm shift in the topography of Indian Fitness. It has opened a whole new market for online fitness aggregators to penetrate their innovative services. Addressing the subject, Amresh Ojha, Founder and CEO of Gympik states, "Technology is connecting the users and fitness & wellness providers during this tough time. Most of the fitness centers across the globe are shut and will open only with strict social distancing norms in the future. The only way a trainer or a center owner can help their members is through conducting virtual classes. Amid the coronavirus outbreak, most of the fitness brands have started seeing a growth in demand as more often than not, people at this time are more concerned about their health and well-being. While the larger fitness players have already leveraged this to adapt themselves for the new normal, the situation remains worrisome for medium & smaller gyms due to the lack of the digital infrastructure. Gympik is India's first fitness technology company to integrate virtual training in its club management software for the post COVID world. The software is designed to put businesses on the road to recovery by seamlessly helping them start operating with two revenue streams (offline & online).It also allows the centre owners to focus on increasing the member lifetime value (LTV) to keep their business moving.The live-streaming feature helps reinstate the relationship between the fitness providers and members by bringing back the same fitness experience when they are away."
Explaining more with a factual pie-chart, Amresh provides some figures:
COVID-19 has brought forth a new kind of member – 'The Virtual Member' – Since the fitness clubs are integrating technology into their member experience, the traditional definition of fitness is no longer popular as it once was. A new type of member appears in today's fitness industry: the virtual member. And it's shifting the whole business model in which fitness clubs have depended for so many years. In the post-pandemic fitness industry, members will have diverse choices on how they want to experience fitness. While some may continue to demand only the convenience of virtual formats, some may crave a sense of belonging & excitement and prefer the on-premise group fitness sessions & others may see value in accessing both kinds of plans.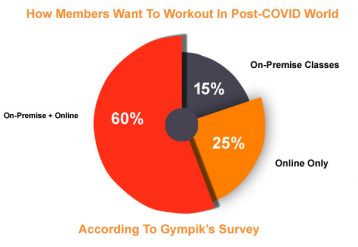 Technology to become an integral part of fitness business – Consumer behavior in the fitness industry is undergoing a paradigm shift at an accelerated pace. There seems to be a growing demand for apps & platforms that provide services like live & on-demand fitness streaming. During the lockdown, search term – 'home workout' saw the most significant surge in followed by abs, back & chest exercises. The traction for these search terms came largely from Uttarakhand, Punjab, Haryana, Delhi, Maharashtra & North East.
Elaborating the role of technology in shaping up the fitness, Saurabh Tyagi, Director of InstaFitness states, "Fitness industry has evolved immensely in the last 10 years. From conventional gyms centers to fitness trackers & apps, the evolution is huge & differential. Focusing on the present scenario, the fitness industry is exploring new ways of using technology. InstaFitness was also built on the similar concept of providing ease to our customers. May it be catering services like personal fitness training sessions at home or online diet consultancy services, our every service is designed to deliver convenience to customers. Technology is the key factor that plays a crucial role in delivering convenience."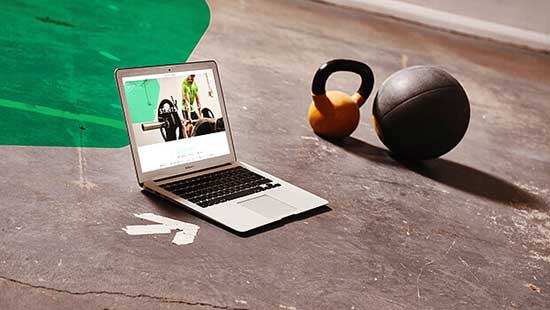 Saurabh adds more, "During this COVID crisis, the fitness industry was badly hit due to closure of gyms & health centres & most of the fitness businesses are shifting their business method from physical to online. InstaFitness was already providing online services for diet & we are doing fair in terms of revenue without laying off even a single employee during this crisis."
Speaking over the same, Shivjeet Ghatge, CEO & Co Founder of StepSetGo cites, "In the past few years, technology has revolutionised the fitness industry. Right from fitness apps and wearables to AI and chatbots, technology is disrupting the way consumers perceive fitness. Technology has enabled users to track their progress and customise their fitness regimes as per their likes and convenience. Considering the recent challenges due to COVID-19, where social distancing has become the new norm, fitness brands have sought the help of technology to stay relevant and retain users. A technologyenabled solution is the new normal for fitness companies."
Shivjeet explains by adding more inputs and added, "According to Apptopia, after the nationwide lockdown, there has been a huge spike in the fitness app downloads with over 40% increase on the Playstore, and a 35% increase on the App Store. Staying fit has become important across all age groups. To feed this excitement and the need of the user, fitness brands are consistently adding innovation, engagement, offers, and convenience to make the fitness process as smooth as possible. Complete digitalisation in holistic fitness is a trend that is here to stay. StepSetGo has witnessed an encouraging response from users and has recorded a total of 488,000 unique users participating in walking challenges since the first lockdown was announced on 24th March 2020 in the country. To monitor their daily activities, users are constantly looking for personalized fitness solutions, and we believe, home fitness will become the next big thing."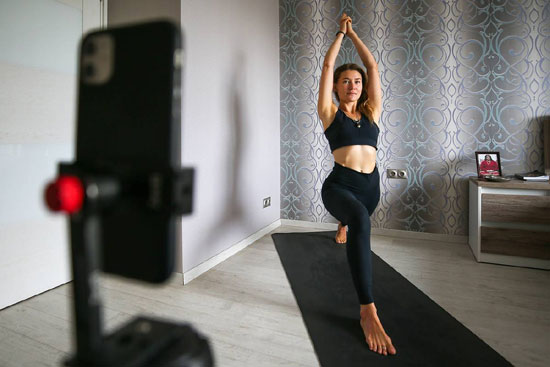 Government's Role and Recommendations to Spur Online Fitness
Appreciating the government for their active role in the proliferation of fit tech start-ups, Shivjeet Ghatge states, "The fact that the government is giving start-ups a lot of different benefits especially under the start-up India program showcases a positive trajectory. The Fit India movement is also in full swing, we can see high interest within the government to drive fitness as an important aspect to everyone. StepSetGo also has a few ideas in which we can partner with different government agencies to try and spread the importance of daily exercise, and we are hoping to create more ways to help the government drive the fitness message."
Giving a mixed response over the government's role for the betterment of fitness startups, Saurabh Tyagi says, "Being a fitness start-up, we have never experienced any precise steps taken by Government to support this industry but programs like "Start-Up India" have helped us in allotting a start-up status & have provided us knowledge about funding, traction & other related things. We recommend that an Industry-specific program should be launched to support & guide fitness startups. A program that can help connect with Investors, Guides, Accelerators & more."
Suggesting some steps for the government of India to consider in the wake of bolstering Indian Fitness industry, Amresh Ojha explains and cites, "COVID-19 has brought the fitness sector into a standstill and as the current situation predicts the fitness industry will continue to face unprecedented challenges until the government intervenes and takes any special initiative. At this time, people from the government and the fitness industry should work together to secure the industry's strong future and make it easier for the sector to expand, invest and hire in the aftermath of this pandemic. Similar to the $2 trillion stimulus package by the federal government, the Indian government should also come up with a COVID-19 economic relief package to support the fitness industry during this crisis. One of the biggest overheads for any fitness studio is the rentals. Many of the bigger players like PVR, WeWork have claimed a complete waiver of rentals for the lockdown period. Since rentals are a major part of the fixed cost and cutting this down will bring down the cash outflow, the government should consider discussing a waiver of the rental for the lockdown period with the property owners to support the fitness fraternity."
Business Model During Pandemic and Staying Relevant at Long-Run
Saurabh Tyagi explains how InstaFitness works and what is their core plan during this pandemic and states, "InstaFitness provides Personal fitness/yoga trainers at customer's doorstep & online diet & workout consultancy services. We focus on both diet & workout that help a person in achieving complete fitness. A balanced combination of human empathy & artificial intelligence has given us strength to deliver best results." Adding more Saurabh cites, This pandemic has not only given a challenge to human survival but to our economy too. Many businesses are in bad dip but fortunately our business model has given us a chance to prove ourselves & we have done well in terms of revenue, without laying off a single employee, & this feels as an achievement to us. We as a Team has refined our processes, skills & strategies so that we can perform well in all good & bad times to come."
While talking about the need that caused Shivjeet Ghatge to start StepSetGo, he explains, "According to multiple reports, the overall fitness industry is expected to grow at an annual rate of 27 percent and is estimated to hit $6 billion by 2023. With home workouts becoming popular, it is safe to say that 'convenience' and 'flexibility' have become the key growth drivers. Over the past few years, people have become more aware and health-conscious. Additionally, initiatives like Fit India Movement have encouraged consumers to adopt a healthy lifestyle and contribute to their physical and mental well-being. Despite having the sentiment of becoming fit, we observed that there was a constant challenge to follow the routine. Understanding the need of the hour, and intending to offer a hassle-free fitness solution, we introduced StepSetGo, an app that rewards users for walking. Our growth has been exponential and we are fortunate to have acquired more than 90% of our users organically, through our referral program and word of mouth. We have a very healthy number of daily active users, and so far we have hit the 6 million downloads mark in just about a year and a half. While the COVID-19 pandemic has affected businesses across sectors, we believe the key to sustaining a business is to constantly engage with your customers, offer innovative solutions and stay relevant."
Explaining their business know-how, Amresh Ojha speaks about the inception of Gympik, "Its definitely tough times for the fitness industry globally and a little modification in the current offerings of the centers and optimum use of technology will help the fitness industry survive. We have compiled a curated COVID-19 survival playbook for the fitness industry to sail through this crisis. It has actionable & practical suggestions for fitness business owners to navigate the current issues and redesign their business model for the new & changing landscape. It also touches upon elements such as burn, runway, pricing, etc. that will directly affect their business continuity in the post COVID world. While it is impossible to predict which fitness studios will survive, this playbook aims to support businesses of any scale to increase their odds. " He adds more one can download the ebook from here: https://bit.ly/2VexyOw
Disclaimer:
The information contained in this article is for educational and informational purposes only and is not intended as a health advice. We would ask you to consult a qualified professional or medical expert to gain additional knowledge before you choose to consume any product or perform any exercise.