"Eat breakfast like a king, lunch like a prince and dinner like a pauper ". We all have heard this statement many times in our childhood but it's very important to understand why and how.
A good healthy breakfast is like fuel to your body. Breakfast is always linked to good health. It helps improve concentration and memory. It builds healthy habits and creates a meaningful lifestyle. Breakfast helps to fuel the body and keeps you active the whole day.
A good healthy breakfast helps in many ways. It helps improve concentration and increases productivity not only in the morning but the whole day. Glucose is the main source of energy for the brain. This gets replenished by a healthy breakfast, thus keeping you full of energy, vigour and alertness. Incorporating a healthy breakfast at the right time helps you plan all your meals throughout the day with sense. If we skip breakfast, due to our busy schedule then we don't realize when we start starving. In starvation mode, a person cannot think and ends up eating anything and everything mindlessly. This can be very harmful to health if practised every day. It is to be noted that an empty stomach leads to empty and irritated minds.
Along with this, having a healthy breakfast helps to balance the sugar levels, stimulates the brain and kick-starts our metabolism. Also, regular and healthy breakfast habits have shown an automatic shift from fried and fat fuelled food to low calorie, low fat, vitamin and mineral enriched food.
Not only a healthy breakfast fuels the mind and body but it also boosts our immunity. It also uplifts the mood and enables a person to think more clearly and rationally. All of us must have observed many times that hunger causes irritation. People who stay hungry for long hours, especially in the morning are subjected to losing their temper must faster. Right food at right time has always been regarded as a mood enhancer.
Besides all, a healthy breakfast also helps lower the LDL and cholesterol levels and reduces the risk of diabetes, heart diseases and obesity.
According to Dietitian Rajat Jain, it's very important to monitor what is being eaten in breakfast. The right choice of food, right quantity and right timings are very important in planning a breakfast. A healthy breakfast should be a combination of protein, carbs, fibre, healthy fats, vitamins and minerals. It has been advised that a proper breakfast should have a minimum of 3 of these 4 food groups i.e., fruits and veggies, cereals, dairy and protein.
Also, breakfast foods should be highly rich in calcium, iron, vitamin B and protein. Eating the right food with enough proteins and fibre as the first meal in the morning keeps you satisfied and enables you to check what you put into your mouth the whole day.
Thus, in a nutshell, we can conclude that breakfast helps in fuelling the mind and body, provides key nutrients to the body, helps fight diseases, think and act sensibly, make better decisions in life and last but not least keeps you active and energetic the whole day.
About the Author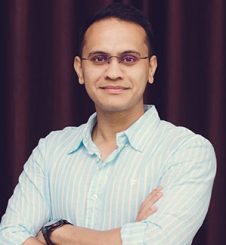 Dietitian Rajat Jain is the Founder & Director of Health Wealth Diet Clinic, the leading nutrition and weight loss clinic in North West India as recommended by numerous fitness platforms. Dr Rajat is a weight loss expert, clinical & sports nutritionist and certified diabetes & wellness educator. He is one of the most trusted and award-winning dietitians in North-West India.
With his experience of more than 5+ years including working with reputed hospitals and fitness centres, Rajat has positively influenced the health of over 7000+ people from different walks of life. Rajat enjoys his distinctiveness of being affiliated with various fitness centres and gyms across West India where he works with the members as a nutrition and diet consultant and engages with their workout and performance on the floor, which offers him a deep understanding of his client's unique level of nutritional response towards their body.
Dt. Rajat Jain has been awarded 5 times in a row as the 'Best Dietitian in Rajasthan' and ranked among the 'Top 10 Most Promising Dietitians in India'. Among various associations, he also works with the Rajasthan Police Academy and Rajasthan Royals Colts & Sparks as their official and consulting sports nutritionist.
Disclaimer:
The information contained in this article is for educational and informational purposes only and is not intended as a health advice. We would ask you to consult a qualified professional or medical expert to gain additional knowledge before you choose to consume any product or perform any exercise.