In partnership with STUDIO, Amazfit Brings a Premium Connected Treadmill with SMART GYM HUB at an Unbelievable Value
Las Vegas, United States – 7 January 2020 – Huami (NYSE: HMI), one of the world's largest wearable technology companies, announced today the new Amazfit HomeStudio, which brings together a high-end slat-belt treadmill and HD smart screen, SMART GYM HUB, to deliver the future of immersive home fitness, in partnership with fitness entertainment leader STUDIO. Bringing a comprehensive fitness experience right to your home, the multi-functional treadmill supports a wide range of training activities and the connected smart Smart Gym Hub provides immersive and social training content. Amazfit HomeStudio offers a vision of how technology, content, and social connectivity will shape the future of health and fitness in the new decade and enables people to experience what the era of 5G, AI and other cutting-edge technologies has to offer.
"At the end of 2019, Huami defined a new mission: Connect Health with Technology. STUDIO's passion for fitness has proven to be a perfect match," said Mr. Wang Huang, Founder, Chairman and CEO of Huami. "We want to bring the latest in fitness to our users, through products and services they can count on. That's how Huami Amazfit is heralding the new decade – exploratory innovation in health and technology."
A future-forward treadmill ready to support all your fitness endeavors
At the core of the Amazfit HomeStudio is an industry-leading slat-belt treadmill, comprising 55 rubber-coated aluminum slats that provide the perfect balance of comfort and support. Its spacious 53.1×20-inch running area allows you to move freely. Driven by a high-power brushless motor, the treadmill has a maximum speed of 20km/h and a 10-level powered incline reaching up to 7 degrees (13 percent grade).
At the sides treadmill are two parallel bars that offer more than just stable handrails while running. Amazfit has built them strong enough to support bodyweight training as well as serve as a barre for pre- and post-workout stretches, making the HomeStudio fit for a complete training session – all in a minimalist design that suits any home.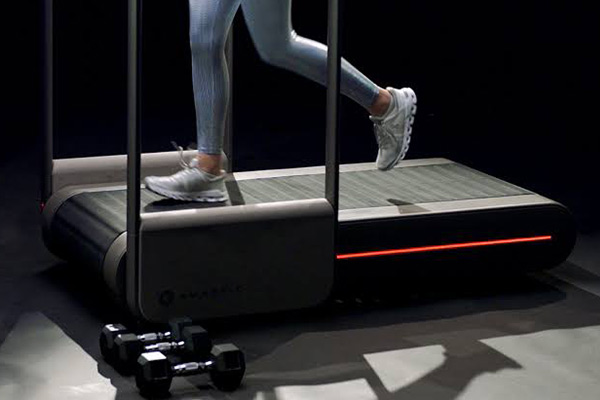 SMART GYM HUB brings thrilling, motivational studio fitness classes right to you
Amazfit HomeStudio's SMART GYM HUB, a 43" LCD HD screen, brings an immersive studio fitness experience into the home. SMART GYM HUB connects you to the over 1,000 classes of treadmill, sculpting, stretching, yoga and more offered by STUDIO, with new content added every single day. Led by some of the world's best instructors, the courses will keep you energized and motivated to pursue your fitness goals – all from the comfort and privacy of your own home. The SMART GYM HUB can also be used independently for classes that do not require a treadmill, such as body sculpting, stretching or yoga classes. The Amazfit HomeStudio SMART GYM HUB also helps you stay on top of your health by displaying detailed workout data, including time, heart rate, distance and calorie consumption.
Exploratory innovation featuring AI, 3D ToF camera, machine learning and a smart display
Much more than just a treadmill paired with a screen, Amazfit HomeStudio enhances the home fitness experience with advanced AI and computer vision technology. It features a 3D time-of-flight (ToF) camera to provide feedback on your movement and posture, helping you get a better workout and reduce injury. The camera also enables you to conveniently interact with the user interface through gestures, for seamless control mid-workout. A manually operated sliding cover provides peace of mind when you prefer privacy.
"We've spent the past several years perfecting content, community, and software across millions of workouts," said Jason L. Baptiste, co-founder and CEO of STUDIO. "Partnering with Huami, we can now deliver our content on a device that allows for a highly personal and immersive experience unlike anything else out there on the market."
Disrupting the future of home fitness
Amazfit HomeStudio elevates the home fitness experience with social engagement, music, and more. To keep you motivated, you'll be able to compete asynchronously against a virtual community of other fitness enthusiasts and see your ranking. Working out at home doesn't need to be a solo experience ever again.
Three built-in JBL full-range speakers provide premium sound for an immersive and dynamic run. Support for linkages with Amazfit's other smartwatches, earphones and other wearable devices enables heart rate data synchronization and other real-time information monitoring so you can work out smarter, not just harder, as well as more safely.
Amazfit AirRun: An immersive fitness experience that you can fold away
Huami also announced today the Amazfit AirRun, a treadmill that conveniently folds away in just five seconds[2], taking up 80% less space and able to be tucked under a sofa or bed. Despite being foldable, it features an expansive 51×20-inch high-density composite running deck that offers the stability and openness of outdoor running – 29% larger than the top 10 bestselling home treadmills sold by Amazon[3]. Its eight rubber shock-absorbers, installed between the running board and main frame, protect your knees and reduces noise even at high speeds. It also features key safety measures including an emergency stop cord, rapid slow down button and anti-slip rubber.
Like HomeStudio, Amazfit AirRun offers an immersive audio environment through its built-in surround-sound JBL speakers, helping you to get into the groove with every run. A built-in phone mount enables you to enjoy videos and other content while you work out, and connectivity with other Amazfit wearables helps you stay on top of key body metrics. Designed in a minimalist style and priced for amazing value, Amazfit AirRun has been perfectly created to fit into home, workspace and any lifestyle. Plus, AirRun is also a connected device, which can link to SMART GYM HUB as well.
Specifications
Amazfit HomeStudio
Immersive fitness design and user interactions
SMART GYM HUB: 43-inch 1080P HD smart screen, 3D TOF camera for computer vision
3 premium 20W JBL speakers (2 on the treadmill, 1 on SMART GYM HUB)
12mph slat-belt technology;
1×20-inch running surface;
10-level powered incline reaching 7º, 13 percent grade
Amazfit AirRun
Foldable design, easy and fast
9mph treadmill
51×20-inch big running surface
Can be connected to SMART GYM HUB
Pricing and availability to be announced at a later date
Disclaimer:
The information contained in this article is for educational and informational purposes only and is not intended as a health advice. We would ask you to consult a qualified professional or medical expert to gain additional knowledge before you choose to consume any product or perform any exercise.