Body Transformation is a herculean task and it becomes harder if you are dealing with someone, who never settles for less than perfection. In this talk, we have featured a professional acrobat who has worked with our very own Mr. Perfectionist, Aamir Khan for the major project of Dhoom3 and blockbuster P.K. We are talking about a Jack of every physical art, Professional Acrobat, David Poznic who has developed impeccable expertise after years of practice of martial arts, Kung Fu, Contemporary Dance and kayaking, rock climbing and many others. A great laureate and teacher of body science, David Poznic undertakes a multi-disciplinary platform viz. Poznic Training along with his wife, Prune. David who considers the current period of 'no-gym' as the great moment to explore your body movement in an equipment-free fitness world highlights some of his insights in the conversation. Abhinav from the Sportz Business Magazine brings an exclusive talk with David Poznic, (Aamir's Khan Personal Trainer for the movie Dhoom3 and P.K) and throw some light over the body transformation science and genetics.
David Poznic, you try different forms of exercises like Plyometric Push up, can you tell us how distinct your fitness regime is?
My approach to fitness and movement is heavily influenced by my experiences training, teaching, and performing acrobatics, martial arts, and contemporary dance around the world over the past 20 years. I've studied Kung Fu at a Shaolin monastery with no electricity in the mountains of China, Capoeira on an island off the coast of Brazil, and spent three years training at the Salzburg Experimental Academy of Dance in Austria. The vast majority of my coaching and training work has been professional acrobats, dancers and athletes around the world, so I've always been much more interested in how someone can actually USE their training in real life than how they look while flexing their abs alone in front of their bathroom mirror. So, my fitness work reflects that journey – and I work hard to share functional, efficient training and diet techniques, while also sharing fun and unusual exercises that will hopefully keep people inspired to find and enjoy new ways to move and work out.
As the whole world is upside-down, how do you see the current transition in the world of fitness?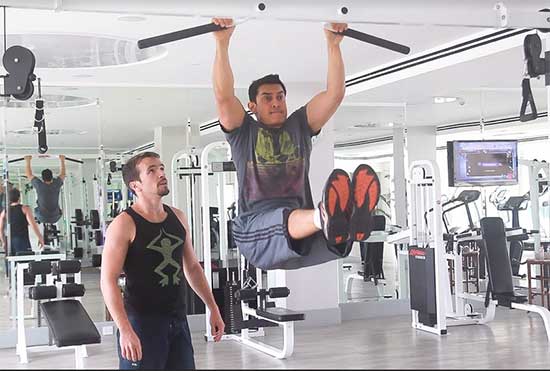 COVID has completely shifted the entire fitness world in ways we never could have imagined. The positive side of that is that folks seem to be learning to use the internet and technology to much more effectively share – and learn – diverse techniques and approaches to fitness and movement. So, I do definitely feel there has been some benefits, as people are spending more time watching, reading, and learning the skills and information that they can use to make better choices for their fitness and health.
On the other hand, there's an obvious downside to that same phenomenon, which is that people are spending more time than ever before in front of their screens, instead of using their bodies. Also, while people are connecting more online and finding more resources to learn from online, they're also meeting up less often to workout in person. In my experience, there is no single factor that can contribute more effectively to rocking a consistent workout regime than having a training partner to work out with and keep you accountable.
So, I have mixed feelings about what's going on right now in the fitness world. But while there are some obvious cons to the whole situation, I feel that if we can move consciously toward blending the best of both worlds – online and in-person – we could move out of this strange period in history with more information and connections than ever before.
Tell us about the training with Aamir Khan, how tough it was to work on a 40+ body? Share some moments with us.
Training Aamir Khan for Dhoom 3 and PK was one of the most exciting projects of my life. Not because he's a movie star, but because of the scope of the project – When I met Aamir he explained that he didn't just want to look ripped for Dhoom 3, but that he wanted to actually look, move, and feel like a professional acrobat. This was truly thrilling to me, as it meant I got to combine all of my diverse interests into one huge project, with higher stakes than ever before.
I trained Aamir HARD in the gym, lifting hard and heavy, with tons of acrobatics-based training techniques that had him sweating, screaming and swearing up a storm on a regular basis! But in the two years I trained Aamir, he only missed two workouts: once of the day his son Azad was born, and once when the prime minister asked him to fly urgently to Delhi to help with the new laws being written to protect the rights of children with learning disabilities.
So, we had no challenges in terms of Aamir's commitment. He trained like a beast from the very first workout until our last day together. He was completely committed to learning and honing his form and technique in each and every session. He was equally committed to sticking to his diet, and also to get at least 8 hours of quality sleep every single night, even when we had to meet at 4 am in the gym to train before early calls while shooting Dhom 3, which meant he had to go to sleep at 7 pm!
The challenges we did face were more about keeping it fresh. We trained 5-6 days a week for almost two years, so I had to make sure to keep things moving, both in terms of protecting his body through appropriate cycling of training techniques (alternating lifting heavy, doing higher rep ranges, balance/stability training, etc.) and also in terms of keeping him excited and motivated to rock 100% effort on every rep and every set week after week and month after month for those entire two years.
We met that challenge through a hugely diverse approach to training exercises. While we lifted plenty of weights, I also had Aamir truly training like an acrobat, jumping over walls, doing daily handstand training, and exercises from Capoeira, parkour, acrobatics, and martial arts. This approach allowed us to get him ripped and lean for his roles in Dhoom 3 and PK, but just as importantly, to reach his goals of truly moving and feeling like an acrobat for the film.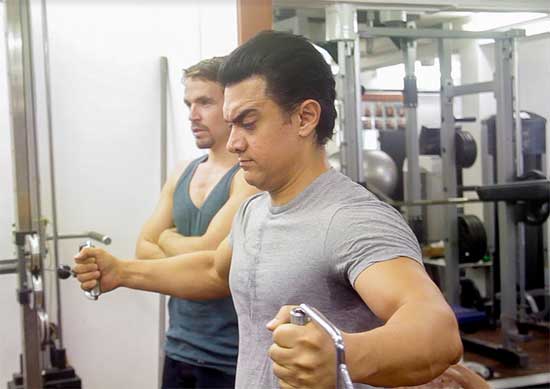 What according to you is tough and why, getting lean muscle or bulking up?
Building lean muscle or bulking up are each going to be easier or harder for each person, based on their genetics and training style. For example, during most of the first year and a half I was training Aamir, we trained together every day, and I did literally every single exercise that he did. And in fact, I would always go first, which was one of the ways I pushed him to train harder. I was about half the size of Aamir, but for the first year or so, could still outlift him on every exercise. So I'd push myself at 100% effort on each and every exercise, and then challenged him to try to beat me. That kind of fun, friendly competition was another crucial way we kept Aamir motivated and excited to hit the gym every day.
But what shocked people who watched us train was the fact that I could outlift him, even though he looked twice as strong as me. This is where genetics come into play: Aamir has to work a lot harder than I do to lose body fat and get a lean look, and I have to work a lot harder than him to build more muscle mass.
There's no one challenge or the other that's universally harder for everyone. But I feel this is an important factor to consider when setting fitness goals and building a training regime. Because so often folks come to me asking what they need to do to look like Aamir did for Dhoom 3, but when I see their body, they are clearly complete ectomorphs, who will likely struggle like mad trying to reach that kind of goal no matter what their training regime and diet.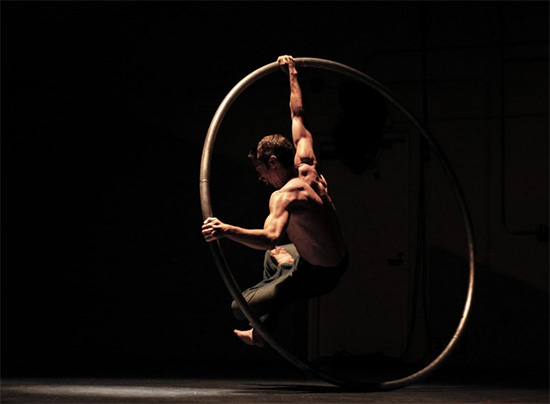 So, I feel it's really important to learn about YOUR body. What kind of body type are you? How active is your metabolism?
What's your relationship to carbs and protein? What kind of training do you enjoy, and what kind is most effective for reaching your fitness goals? By starting with an honest and thorough understanding of your own strengths and weaknesses, you can build a regime that can be fun and exciting, and that will also lead you toward realistic goals you can achieve and feel great about.
David, you blend too many functional movements in you training, can you tell us why you do this?
There are many reasons I integrated so many functional movements into my training style. The most important, to me, is that I'm always eager to train for real life. And in real life, we almost never push or pull something in a straight line while standing with our feet in parallel. In life we have to put a heavy box up on a shelf, get our keys we dropped under the car without getting our shirt filthy, carry our baby around while cleaning the house, etc. I also work as a professional acrobat, and also am an avid athlete. I enjoy kayaking, rock climbing, mountain unicycling (google it!), juggling, surf photography (from the water, in the waves with the surfers), hiking, etc.
So whenever I'm building a workout or creating a new exercise, I'm asking myself: how will this help me prepare for real life, whether on stage, in the mountains, or just while cleaning the house or moving something heavy. When I ask myself that question, it invariably leads me toward less traditional movements. In life we have to use strength in combination with flexibility. We push and pull thing while standing in unstable positions, and almost always in an asymmetrical fashion. So, I work to incorporate those principles into my training as much as possible.
Besides, Aamir with how many other high-profile clients, you worked with?
Aamir is the only high-profile client I've ever trained. While I was training him, sometimes friends of his would come by to train with us, so I occasionally had the chance to train other Bollywood actors as well for a session or two. Probably the most notable was when Tiger Shroff came over a few times to train with us. I specialize in training acrobats, dancers, and athletes, so we had a blast training together as I was able to dive right into super advanced exercises and techniques with Tiger.
But in general, you won't find me training celebrities, or even training folks in a gym. You're more likely to find me, training acrobats and dancers, while I'm on tour performing and coaching in Europe, or teaching at movement festivals around the world.
Can you tell us more about Poznic Training?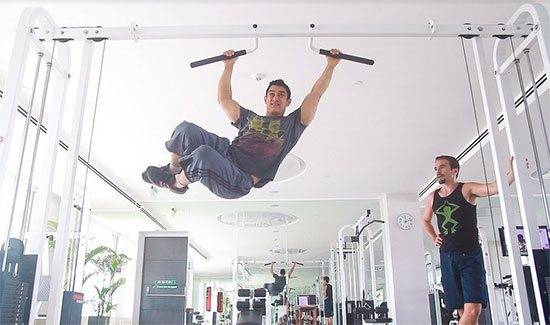 Poznic Training is a multi-disciplinary approach to movement that is inspired by fitness, acrobatics, martial arts, contermporary dance, and the French movement art Wutao, which my wife, Prune, and I both teach professionally.
The goal of Poznic Training is to help people learn to move with more strength, felxibility, freedom, awareness, and joy. Our live workshops integrate fitness, breathwork, dance, stretching, and partner work. Our work is also very personalized – Prune and I have trained professional dancers here in California, as well as yoga practicioners, parkour practicioners, and performing artists across Europe.
We currenly have a channel at youtube.com/poznictraining and a page on Instagram @poznictraining. We create videos and content on these two platforms that provides both dynamic, original exercises, as well as informative live chats and videos about the science and practice of building workouts and diets, as well as diving into the philosophies and values that are the foundation of our approach to movement.
How do you fitness industry in near future of course in a post COVID world?
I hope very much that as things eventually calm down with regards to COVID, that people will feel inspired to re-engage on a whole new level with their bodies, health, and also new ways of training. Certainly the onilne aspect of training and fitness have now reached a completely different role, and I'm grateful for the chance, for example, to share my work here on Youtube and Instagram. But I also hope that people will take advantage of this time when all the gyms are closed to learn about and explore new forms of movement and fitness – to train outdoors and to learn new ways to build equipment-free workouts into their daily lives. We are certainly living through strange times, but I feel optimistic that we can take the best of what we've learned in this chapter of our history and use it to inspire ourselves and others to reach for new heights, and to find fun, efficient ways to move and enjoy healthy lifestyles.
Disclaimer:
The information contained in this article is for educational and informational purposes only and is not intended as a health advice. We would ask you to consult a qualified professional or medical expert to gain additional knowledge before you choose to consume any product or perform any exercise.