As the global pandemic has siege local fitness enthusiasts to attend their respective gyms and health clubs, it has also opened a new window for Online Fitness regimes with their innovative digital platforms. A paradigm shift, a new cult-crony to digitalization has evidently opened new opportunities for local gyms and clubs to go global i.e. GLOCAL!!
Crush Fitness India – A rapidly expanding curator of fitness experiences is persistently transforming people from all walks of life through their interactive and intuitive group exercise sessions. Always ready to bring some Innovative ideas to their group sessions, Crush Fitness has been also running 'Crush Karona Workout from Anywhere' for last couple of months in contrast of COVID-19 Pandemic. Elaborating more over their 'Crush Karona Workout from Anywhere', the Director of Crush Fitness India, Chitwan Garg talks to Sportz Business and shares her insights over the ongoing transition in the fitness world and their prudence in the fitness industry.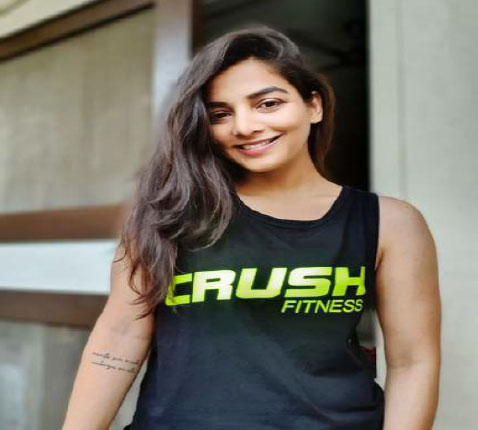 Q The impact of ongoing lockdown on the fitness industry, and your strategies to run the mill during this pandemic?
Like many other industries, the fitness industry is also crumbling during this pandemic. Downsizing, layoffs, pay cuts, shutting down gyms, etcetera has become a regular practice in the industry. During this time, the only strategy is to stay connected to our customers is via digital platforms. Not lose their trust, and offer unique products and services that they can avail while being safe at home is both critical and crucial at this point of time. Also, this is a time of great innovation for the industry and in many ways, it is what will separate the girls from the women and the men from the boys. Digital is the future and this smart organization has managed to access audiences beyond physical borders and boundaries that seemed inaccessible earlier.
Amongst the trainer community, it has become clear that only those trainers with the right balance of knowledge, communication skills, and presentation and a high degree of personal fitness can survive in the emerging environment.
Q Virtual workout sessions and fitness classes are booming, though this has brought many players in the domain suffocating the market. What makes you different, client base and business models to keep yourself relevant from others?
Crush Fitness is providing virtual training in 2 formats:
Firstly, group training via our own portal of programs which are proprietary to Crush Fitness- namely Crush Club (Dance Fitness), Crush Combat (Martial Arts), Crush Core (Pilates), Crush Combust (HIIT & functional) as well as Crush Climax (a one of a kind program that allows trainers of different styles to create a multi-disciplinary HIIT program including Dance Fitness, Combat, Functional Training and Pilates). These programs are only available on our platform and nowhere else. Also, "making fitness fun & accessible" is our only mission and vision, which makes us stand out.
Secondly, we are providing target- oriented 1 on 1 virtual personal training plans which are extremely affordable.
For B2B clients like corporates, we have designed more than 25 varieties of exclusive webinars which their employees can attend from their homes.
Q  A brief about your team, trainers and experts and your expansion plans?
We currently have a team of about 40 experts which are working full-time with us, and about 550+ certified experts from across 45 cities in India. These experts have been recruited after a stringent screening process, with the vision of providing exceptional quality of virtual trainings to all our potential clients. The team consists of experts across different training disciplines. Our entire management team wear dual hats- all of them are also fitness trainers. Whether it is me, who is the Sales Director and a Crush Club instructor or our head of Mumbai Operations, Crusher Sandy who is a track athlete as well- we literally LIVE the message that fitness is a lifestyle that can be incorporated into anyone's life no matter how busy they are.
We will be expanding via our virtual training platform: Online. crushfitnessindia.com
Q  Kindly introduce our massive audience with your trainers and live workout sessions that you are undertaking these days?
Our most popular programs online are Crush Club (dance fitness); Crush Combat (martial arts); Crush Combust (Functional Training); Crush Core (Pilates). The digital platform is allowing us to do multi-disciplinary classes like Crush Climax as well as experiment with new programs like Crush Calm – our meditation program.
Our trainers are at the top of their fields. Whether it is Crusher Sid (Siddharth Singh Negi) who is the Master Trainer for Crush Club has trained and Certified over 100 Crush Club instructors across the country, or Crusher Rahul Kumar is an international Wushu athlete and the head of our Crush Combat programwe aim to always bring the highest quality.
We also have a budding and flourishing personal training business. The services here are provided both through live or in person one on one training or customized programs with full video instruction through our fitness portal – online. crushfitnessindia.com
Our highly qualified heads of personal training- Crusher Vibhor Adhran and Crusher Gurdas- lead this team and develop programs ranging from a 19 days holistic wellness guide to a program for women suffering from PCOD.
As mentioned before, all information is available on – Online. crushfitnessindia.com
Q How do you see this emerging Fitness Industry market transiting from offline to online? Benefits and challenges?
The biggest benefit of being on online platforms is Scale and the economies attached to it. Also, being online gives us access to a global audience potentially. Challenges are many too, the most prominent one is having the right marketing strategy to target the right customer/ audience and generating traffic.
Q Tell us about your initiative at this adverse condition of lock down?
We did run FREE online fitness classes for more than 2 months on all our social media handles, so that people who genuinely want to work out with us, do not lose out on it. It was not just a marketing initiative because we have been holding not one but four free classes everyday on our pages, even over the weekends. Even for our corporate customers, we have been providing a lot of complementary workshops especially covering topics like mental health, anxiety management, sleep awareness etc.
Q Where can be Crush Fitness India be found and how can people associate themselves with your firm?
You can find all information about us on our website or on our social media handles (Facebook & Instagram). The best way to reach out to us is on our helpline number- 8882820070 , You can also find all our services on online.crushfitnessindia.com
Q What is your thought on the current situation of the fitness industry and what more is needed to get par with global standards?
Right now, the focus is to survive the current crunch that we all are facing. Adding to our economy's GDP in whatever way possible, create/ save jobs, and not lose customers shall be the point of focus. There is a tendency to want to restart gyms and fitness studios but at the moment other than it being a health risk, with potentially low attendance it will also be unprofitable for gyms to run their businesses. We need to whether the storm and use this time to invest in our skills, knowledge and infrastructure for future growth.
Q The power of social media to keep India fit, your comments?
Right now social media is the most powerful tool to keep the country fit. Several qualified trainers are conducting various types of sessions and doing their bit for their followers, which is extremely incredible. There is also increased awareness about mental health, which has not been a very hot topic in our country. The key here is how to separate the large amount of unscientific information shared by fitness influencers from high quality and sensible inputs.
Q Your strategies for a longer run in this market?
To create user- friendly platforms and provide services that provide value for money to customers, along with targeted goal achievement.
Disclaimer:
The information contained in this article is for educational and informational purposes only and is not intended as a health advice. We would ask you to consult a qualified professional or medical expert to gain additional knowledge before you choose to consume any product or perform any exercise.